Tobacco Awareness Campaign visits Primary Schools
Monday, May 26th, 2014
National Drug Abuse Control Council (NDACC) representative Kristina Romero, along with the San Pedro Alcohol and Drug Abuse Institute (SPADAI) are hosting a two week Tobacco Awareness Campaign leading up to World No Tobacco Day on Saturday, May 31st. The purpose of the campaign is to raise youth awareness regarding the dangers of tobacco. Throughout the campaign, Romero will be visiting the various primary and high schools of both San Pedro Town and Caye Caulker Village to educate the students on the consequences of first, second and third hand smoking.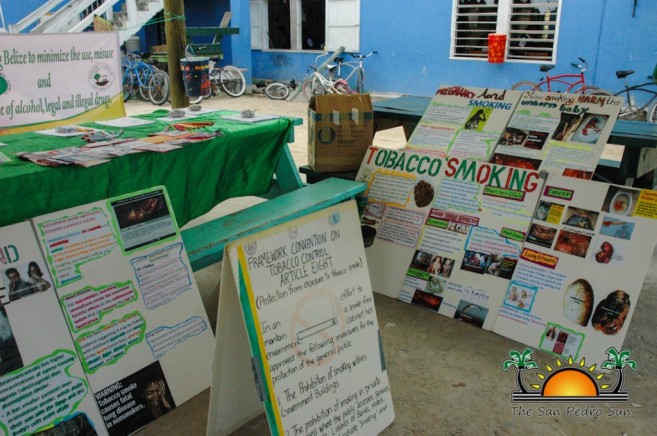 On Tuesday, May 20th, Romero visited the San Pedro Roman Catholic Primary School (SPRC). After students filed under the palapa, she explained to them the dangers of smoking and the effects it has on the human body. Apart from lung cancer, smoking is also believed to causes tongue, throat, mouth, and larynx cancer. Tobacco smoking also increases aging and dries skin. The students were all well versed in the negative effects of tobacco use and were eager to share their own knowledge.
Romero explained to the children the different chemicals found in cigarettes, chemicals that are also found in household poisons and cleaning products. Those chemicals include: carbon monoxide, nicotine, tar, arsenic (found in rat poison), ammonia, hydrogen cyanide, acetone (found in nail polish remover), butane, formaldehyde (used to preserve dead bodies), sulfuric acid, cadmium, Freon, geranic acid, methoprene and maltitol. The students were surprised at the list of these chemicals. "These chemicals are all dangerous and break down cells and body tissues. Each cigarette a person smokes takes away 14 seconds of their life," said Romero.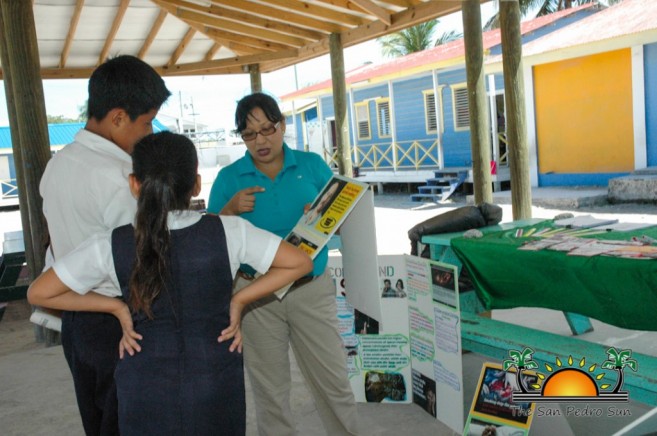 According to Romero, second and third hand smoking are far more dangerous than first-hand smoking. "Recently a young girl died at the age of 25 of lung cancer. She did not smoke, but her parents did, and she was constantly exposed to both second-hand and third-hand smoking. Her parents still live." First hand smoking is the direct act of smoking a cigarette, while second hand smoking is when a person involuntarily inhales tobacco smoke from the surrounding environment. Third hand smoking, which is considered the most dangerous, is the when people are exposed to fermented tobacco smoke and gases that have been deposited into fabrics and surfaces smokers come in contact with.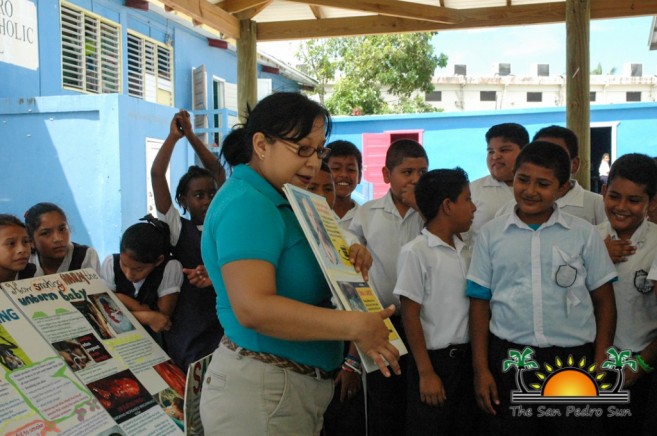 After the eye-opening presentation by Romero, students had a chance to win small prizes by answering related questions. Romero provided puzzle and handouts for students to take home and discuss tobacco use with their parents. For the rest of the campaign, Romero will be visiting the remaining schools, as well as have a booth at the Public Fair to be held at Central Park on Wednesday, May 28th.

On World No Tobacco Day, Councilor Wally Nuñez and Mayor Daniel Guerrero are sponsoring an all-day sporting event at the Honorable Louis Sylvester Sporting Arena. "The entire community is invited to come. Sports are a good way to get our youth away from such negatives as smoking," said Romero. The sports day will commence at around 9AM and should be lots of fun.
Follow The San Pedro Sun News on Twitter, become a fan on Facebook. Stay updated via RSS