New US Ambassador Carlos Moreno present credentials to Belize's Governor General
Friday, June 27th, 2014
The new United States of America (US or USA) ambassador to Belize His Excellency Carlos Moreno has presented his letters of credence to the Governor General of Belize His Excellency Sir Colville Young. The US diplomat arrived in the country accompanied with his wife Christine on Saturday June 21st from California, US and on Tuesday June 24th he presented his credentials. President Barrack Obama appointed Moreno as the US Ambassador to Belize last year but it took the US Senate ten months to approve his appointment. "The Government of the United States and the Government of Belize have an outstanding, longstanding relationship. I look forward to improving that relationship in so many ways," said Ambassador Moreno in an interview with a local television station.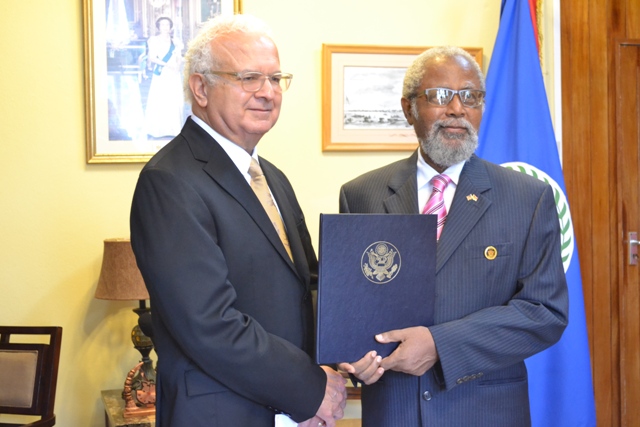 In his presentation at the Belize House in Belmopan City, Ambassador Carlos Moreno expressed his desire to work with the Government of Belize on "matters of mutual interest, issues relating to youth, culture, education, health and commerce". He further stated that there is great potential for continuing strong relations between the two countries. Belize's Head of State, the Governor General, welcomed the Ambassador Moreno and his wife and thanked him for his kind words of friendship and cooperation. He also expressed particular interest in building relations as it relates to youth.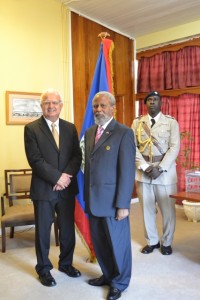 However, a group of five people gathered to protest against Ambassador Moreno. The protesters claimed that Ambassador Moreno was sent to Belize to promote the lesbian, gay, bisexual and transgender (LGBT) agenda. In 2009, Moreno as a then California Supreme Court Judge, voted in favor of same sex marriage and according to the demonstrators that is enough reason to protest his arrival. "I can affirmatively state that from the perspective of the United States there is no LGBT agenda. I think what the mission of the United States is, is to promote human rights with respect to all groups…groups that are marginalized or not marginalized. So to say that there is any kind of homosexual or LGBT agenda I think is off the mark," said Ambassador Moreno in speaking to the press about the protester's claim.
Moreno, who is of Mexican parentage, is a Yale and Stanford graduate and has served on the California Supreme Court.
The Ambassador was accompanied at the presentation of credence by the U.S. Charge d'Affaires Margaret Hawthorne. Ambassador Moreno takes over the position from former Ambassador Vinai Thummalapally.
Follow The San Pedro Sun News on Twitter, become a fan on Facebook. Stay updated via RSS