US and Belize strengthen collaboration efforts to protect cultural properties
Wednesday, October 29th, 2014
The United States Government, through their embassy in Belize and the Belize Institute of Archaeology, hosted a half- day workshop in San Pedro Town, Ambergris Caye on Wednesday October 22nd. The workshop highlighted the importance and potential benefits of protecting the country's cultural heritage. It also served to update stakeholders about an agreement between the two governments to protect cultural heritage in an effort to address looting, pillaging and illegal trading of cultural and historical artifacts and antiquity.

The agreement between Belize and the US was signed in February 2013 and falls in compliance with the 1970 UNESCO convention on the Means of Prohibition and Preventing the Illicit Import, Export and Trade of Ownership of Cultural Property. The agreement is seen as a step forward in addressing a serious concern as it relates to the looting of ancient monuments, including archaeological sites, colonial landmarks and even shipwrecks. In many instances, items found during the reckless looting is transported illegally and eventually finds its way into some illicit lucrative collectors market. In Belize, many sites have been looted over the past couple decades, more recently was El Pilar Archaeological site in western Belize.
According to the Associate Director of Belize's Institute of Archaeology Dr. Allan Moore, the workshop is just one in a series being conducted in various parts of the country. "This is a follow up to the agreement we signed with the US State department last year. We have agreed to look into each other's interest in terms of protecting cultural heritage from being traded illicitly into the US and from the US to Belize. If the US finds any artifact that is transported or trafficked to their country, there are committed to confiscate these artifacts or items and repatriate it to Belize. Belize is committed to do likewise. So what we are doing is to update our stakeholders on what the agreement is all about."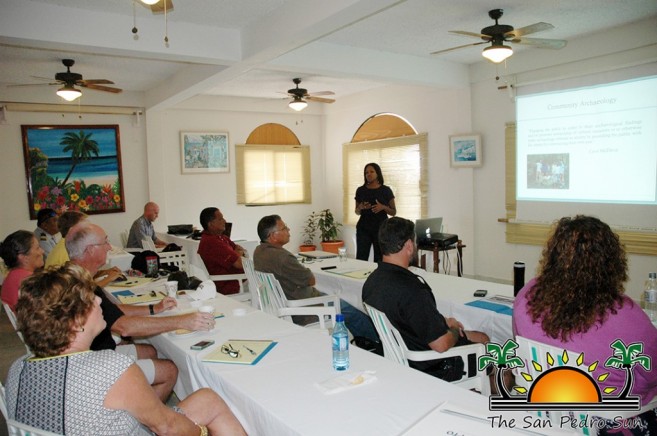 The illicit trade of antiquity and Maya artifacts has been a serious concern to the conservation community in Belize. But Belize is not the only country that is faced with the similar challenges. "It is obvious that there is a problem in the trafficking of cultural properties and that problem is not unique to Belize. It is a problem in many, many parts of the world in countries that have rich cultural heritages where properties have been stolen and trafficked to larger countries, particularly marketed in places like the US. What we try to do is to use our laws to recover those properties and return it to the country of origin," explained Archaeologist Greg Borgstede, Senior Analyst in the US State Department, Cultural Heritage Center.
The agreement between Belize and the US allows for authorities to intercept the items at the port of entry as well as investigate items up for sale that have been smuggled or taken into the country with ignorance of the law. But even as there is an agreement in place, it is important to get stakeholders all on the same page to further strengthen and develop the best ways to fight the problem. Borgstede explained "We recognize the problem that Belize is facing, and this is one way that the US is helping. One: we want to raise awareness within stakeholder groups in Belize that looting and illicit trade is happening, and secondly, to explore ways in which the US and Belize can work together in the future to better protect the cultural patrimony of both countries."
Once someone is caught with antiquities or artifacts that are being introduced illegally into the US, authorities can open an investigation, especially against those who are doing it as an illegal business. In some instances criminal charges can be pursued, and penalties vary depending on the individual case. Borgstede explained that the ultimate goal is to stop the demand for such objects.
"We have seen that looting has subsided a bit, but we need to continue to work along with the community and stakeholders to educate them and tell them that it is illegal to trade antiquities and ancient items," said Moore. Borgstede added, "What we ultimately want do is to protect and keep cultural properties in context of the submerged archaeological sites and in the museums."
Of interest to note is that such an agreement protects all ancient archaeological Maya artifacts, items and structures over 100 years old, including colonial building. The scope of the agreement also covers nautical archaeology, which is basically shipwrecks and shipwrecks items.
Follow The San Pedro Sun News on Twitter, become a fan on Facebook. Stay updated via RSS