2015 Christmas season safety tips
Saturday, December 19th, 2015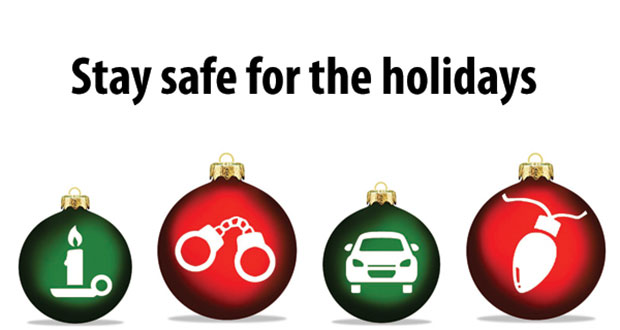 In the season of joy and sharing, to ensure your Christmas is safe and accident free, the Community Policing Unit would like to share some tips everyone can practice:
• Know your limits. The more you drink, the more likely you are to have an accident; assign a designated driver who will ensure that everyone gets home safety.
• Secrecy of cash movement is essential. Do not make cash deposits at banks a routine. Vary your timing and route to banks. Where possible, change the courier of the deposits. Remember many persons may use their cell phone to commit criminal activities.
• Ladies be careful if you are at a party. Always observe when your drinks are being mixed. When going home, ensure that you are in the company of another friend, and if escorted by a male ensure he is someone you know well and can trust. "Prevent Sexual Abuse".
• Do not leave large amounts of cash in registers or cash drawers or with gas attendants; remove at intervals during business hours and secure in a safe place.
• Large sums of cash should not be publicly displayed, i.e. gas attendants pulling out large sums of cash to give change.
• If you have a vehicle, always try to park in well-lit areas, especially at nighttime.
• Immediately change all locks when house keys are lost or stolen.
• Never leave your personal belongings un-attended, especially in crowed places like bus terminals, markets and shopping centers.
• Be alert to your surroundings and the people around you, especially if you are alone or in the dark.
• Never carry large amount of monies in your wallet or shoulder bags when going shopping or to a party. It's best to take only what you will need and secure it in a trouser pocket where possible.
• When you are out for the evening, leave a light/radio on in a room with closed curtains. Always inform a trusted neighbor when you are out.
• Do not leave your children at home without a trusted adult. Always leave a phone number or address where they can get contact with you.
• If possible, don't walk alone late at night hours. Walk in groups whenever you can – there is always safety in numbers.
• Do not leave notes outside your home announcing absence.
• Do not expose empty containers/packages of new items you bought in front of your house, do not attract burglars' interest.
• Report suspicious characters or vehicle(s) in your neighborhood/business, memorize or write down the vehicle license plate number and color, learn to describe the unknown characters coming around your neighborhood.
The San Pedro Fire Department also has several tips to help prevent fires and fire related accidents:
• Fireproof decorations are safest. Avoid using decoration made of cloth or paper.
• Keep artificial trees away from heat sources.
• Be sure to check indoor and outdoor lights each year for frayed wires, loose connection, cracked sockets and exposed wires. Do not use if damaged. Do not overload outlet or extension cords.
• Consult an electrician before inserting adapters in outlets or extension cords. Be certain that adapters, outlets and extension cords are compatible.
• You can overheat an outlet or an extension cord and start a fire by pulling several adapters and appliance unto them. Discontinue use of worn out extension cords.
• Be sure that your stove and oven is in good working condition for prolonged cooking and baking.
• Wipe away any grease from the top of the stove and inside the oven after cooking.
• Keep all flammables away from cooking appliances.
• Have someone stay up with you when baking and cooking at night so you do not fall asleep. Do not leave food cooking on the stove unattended.
• If you are faced with a grease fire, remember use your fire extinguisher or put a lid on it and turn off stove or gas supply.
• Never use lit candles as decoration on Christmas trees, also ensure that candles are away from Christmas trees or other combustibles materials. Always place candles in a candle stand or in a metal or glass container,
• Never leave lit candles unattended and ensure that they are always out of reach of children.
• Matches and lighters are tools not toys. Store them high out of the reach of children.
• ABSOLUTELY no use of fire crackers.
• Never leave children home alone.
Both the San Pedro Police Department and the San Pedro Fire department would like to wish all residents and visitors of Ambergris Caye a safe and accident-free Christmas 2015. In case of an emergency, immediately Contact the San Pedro Police Station 206-2022 or the San Pedro Fire Station at 206-2372.
Follow The San Pedro Sun News on Twitter, become a fan on Facebook. Stay updated via RSS