Blue Water Grill and The Phoenix donate to the San Pedro Lions Club
Wednesday, June 8th, 2016
The Blue Water Grill (BWG) restaurant, along with The Phoenix Resort handed over a total of $1,572 to the San Pedro Lions Club. The donation will go a long way as the San Pedro Lions Club conducts free eye screenings for children in San Pedro, Caye Caulker and Corozal. For those who are in need of glasses, and cannot afford them, this donation helps with covering the cost as well.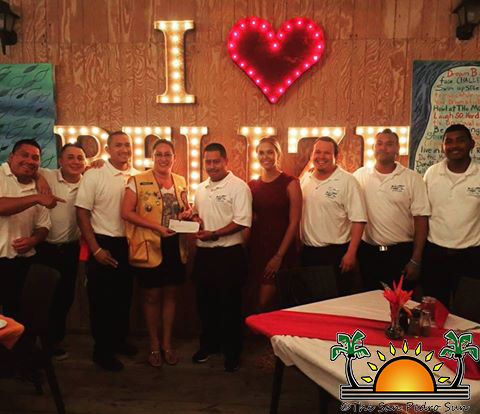 Good vision is critically important, especially when it comes to accomplishing the simplest daily tasks. For many students across Belize, having good vision is vital when entering the classroom. Looking at the chalkboard, reading, or even concentrating can be compromised by poor vision. The International Club was founded on a mission to improve vision worldwide, and locally, the San Pedro Lions have embarked on an eye-screening program to determine whether a student needs vision assistance.
In 2015, the Belize Lions Zone 59 received a grant from the Lions Club International Foundation to purchase two Portable Plus Optix Eye Screeners. With the new equipment, the Lions have visited various schools, and conducted eye screenings to the children. The camera-like device screens for near and farsightedness, amblyopia, strabismus, astigmatism, and other diseases. The San Pedro Lions Club has visited schools across San Pedro and Caye Caulker. Currently, over 1,500 children have been screened, and over 150 students have been referred for glasses.
Blue Water Grill would like to take the opportunity to thank everyone who has helped make a difference in the community. Their June Monthly Donation Program will benefit a project that is being organized by Miss San Pedro High School 2016-2017, Faith Edgar. Edgar is seeking to purchase backpacks for disadvantaged students at San Pedro High School (SPHS), and planning to build palapas around the school so students can eat lunch in the shade. SPHS needs four palapas, and each palapa costs $900. Donations can be made at BWG's cashier in any amount during their normal opening hours or online on their website at www.bluewatergrill.com/community
Follow The San Pedro Sun News on Twitter, become a fan on Facebook. Stay updated via RSS