San Pedro Lions and Leo's Install New Board of Directors and Members
Thursday, July 28th, 2016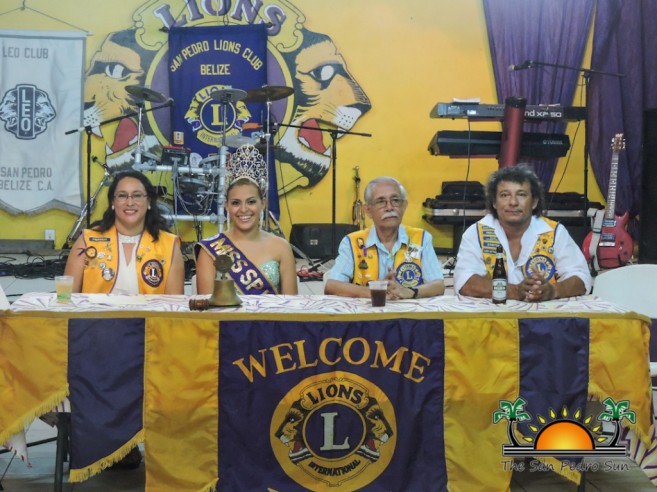 More than 40 years ago, the San Pedro Lions Club was officially chartered, and since then dozens of community-minded members have sat at the helm of this noble organization which is solely dedicated to serving the people of San Pedro. Last Saturday night, July 23rd the San Pedro Lions and Leo's installed their new slate of leaders who have volunteered to navigate the clubs through the next year of service.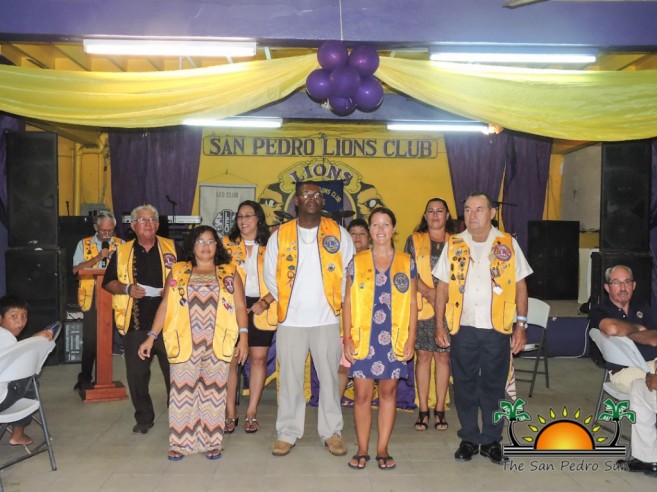 The installation ceremony began at 7PM at the Lions Den with a social hour of camaraderie, cocktails and tasty appetizers. An hour later protocol began with Lion Angel Nuñez as the Master of Ceremonies, who greeted the members, guests and distinguished invitees Mayor Daniel Guerrero and Deputy Mayor Gary Grief.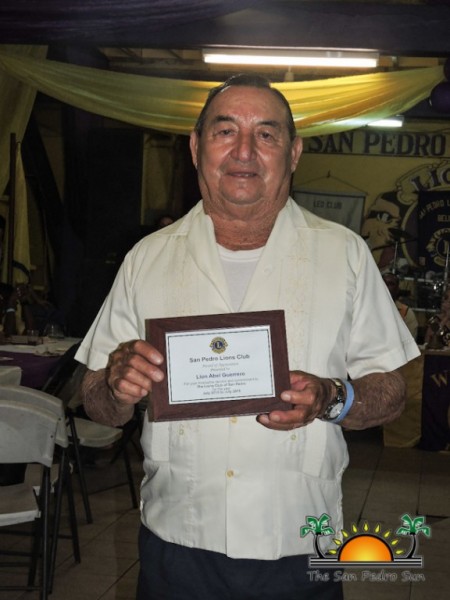 Lion Abel Guerrero led the invocation, and San Pedro Lions Queen Solani Graniel issued the welcome address. President Fatima Graniel also accepted a $1000US check for the recent fire victims from David and Debbie Reynaud on behalf of the Lutcher Gramercy Lions Club in Louisiana USA.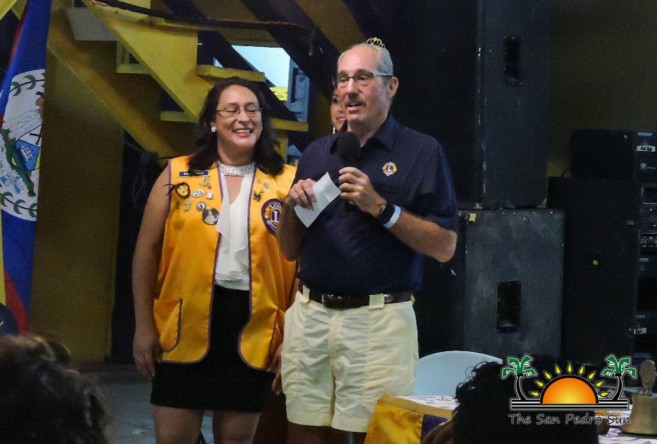 It was then time to install the new San Pedro Lions Board of Directors and Belize Lions Zone 59 Chairman Raul Castillo had the honor of doing so. Each new member was called upon to pledge their commitment to the club, with Nigel Belisle accepting the position of President.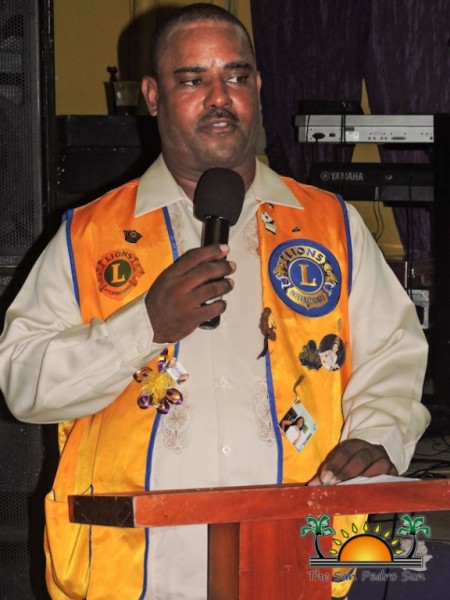 Other positions filled were Vice President – Brittney O'Daniel, 2nd Vice President – Everette Anderson, Treasurer – Abel Guerrero, Secretary – Pamela Zetina, Membership – Fatima Graniel, Lion Tamer – Laura Arnold, 1st Year Director – Rosario Tun, 2nd Year Director – Flora Ancona, Tail Twister – Angel Nuñez and Bar Manager – Nigel Belisle. Incoming President Nigel Belisle then took to the podium to accept the position and address the audience with his vision for the future of Lionism in San Pedro.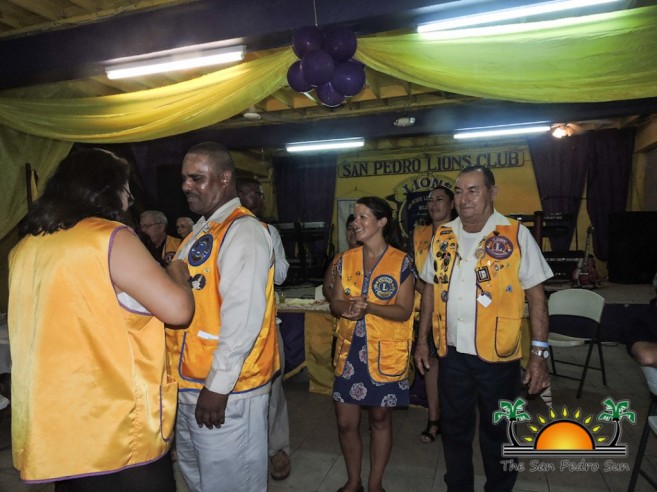 Immediate Past President Fatima Graniel then took the opportunity to reflect on her year of leadership, and present pins and awards of appreciation to select San Pedro Lions. Graniel also took the opportunity to recognize charter members Abel Guerrero, Beto Marin (posthumous), Francisco Verde, Pedro Salazar and Baldemar Graniel, with plaques of appreciation. Following her remarks, Chairman Raul Castillo led the installation of the San Pedro Leo's Club Board of Directors and new members.

Leo Randy Rivero was named President, Jorge Paz, Vice President, Liandra Bowden, 2nd Vice President, Virginia Vazquez, Secretary and Kasia Reyes, Treasurer. Eleven new Leo members were installed, including Luis Galeano, Kieran Nuñez, Alina Ventura, Ethan Solorzano, Wilmer Arias, Jenessa Sierra, Rashell Fuentez, Jaqueline Vasquez, Britney Bijil, Kristi Novelo and Nevli Molina.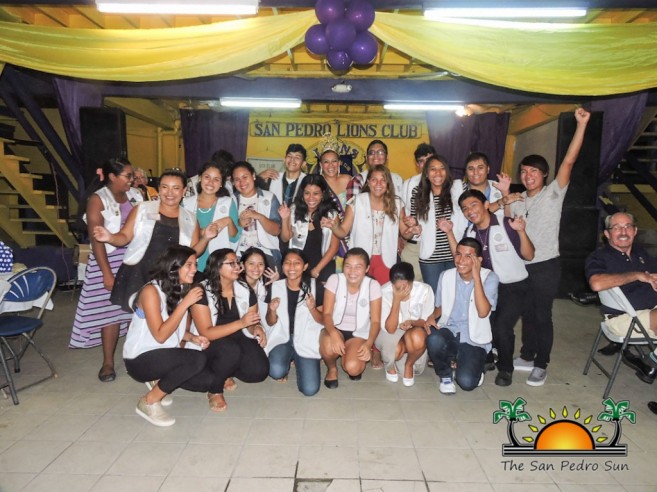 Following the installation, Lion Brittney O'Daniel gave the vote of thanks, and then it was time to celebrate the occasion in fine Lions fashion!
A delicious meal of pork pibil was enjoyed by all and then the infectious music of Caribbean Kings had the crowd dancing the night away.
Congratulations to the new board of directors for the San Pedro Lions Club and Leo's Club, your service in invaluable to our community!
Follow The San Pedro Sun News on Twitter, become a fan on Facebook. Stay updated via RSS