San Pedro Lions roar at 41st anniversary celebration
Thursday, October 20th, 2016
The San Pedro Lions Club on Ambergris Caye celebrated its 41st Anniversary on Saturday, October 15th. Guests, including Lions' club members, family and friends, gathered at the Lions Den to acknowledge past and present accomplishments with a special ceremony.

Master of Ceremonies Lion Angel Nuñez established protocol by addressing the crowd on the importance of them attending this commemoratory event. After singing the National Anthem, and an invocation by Father Scott, a moment of silence was offered to remember all deceased Lion members.

Solani Graniel, Miss San Pedro Lions Queen 2016-2017, proceeded to give a brief welcome address, while embracing the spirit of lionism, and making them feel more at home. While guests were served dinner, guest speaker Gustavo Ellis took the podium. A native of San Joaquin Village in Corozal, he moved to San Pedro 19 years ago, and has since considered himself as a San Pedrano. He is currently the Dean at the San Pedro Junior College. He expressed admiration for the work of his fellow Lions. "The Lions Club members are amazing people. I've noticed that [we] always have that smile. I always try to find out more of what the Lions Club does in San Pedro, and their past presidents' work because I have observed that those smiles have special meanings. All of the past and present members are holding and nursing the newer generations of Lion and Leo members. With the spirit, service, and care of lionism, we could accomplish anything," said Ellis.

Lion Raul Castillo had the honors to install new Lion members. A total of eight new members were inducted to the club, and three previously inactive members were reinstated. MC Nuñez also installed 13 new Leos into the San Pedro Leos Club, bringing it to total of 46 Leos and 32 Lions members. Much applause was given to Lion President Nigel Belisle for having the most membership in any Lion presidency. Each member was accompanied by their sponsor, and received their service jackets, as well as a pin.

Lion President Belisle and Lion Pamela Zetina presented awards to all past 40 Lions presidents in recognition of their hard work and commitment. President Belisle indicated how delighted he was with the turnout of the anniversary, and how dedicated he is to accomplishing many projects before the end of his presidency. "This was such a wonderful event. We sang, we danced, and we socialized with our fellow lions. I couldn't complain, and this was such a memorable night. My main project I am working on is transforming the Mosquito Coast. By the time my presidency is over, I will make sure it is very well-kept so the entire community could go over host beach parties, or enjoy a weekend there. We also have an eye clinic that will be fully functional during the first week of January 2017. We Lions are doing are part to service the community," said Belisle.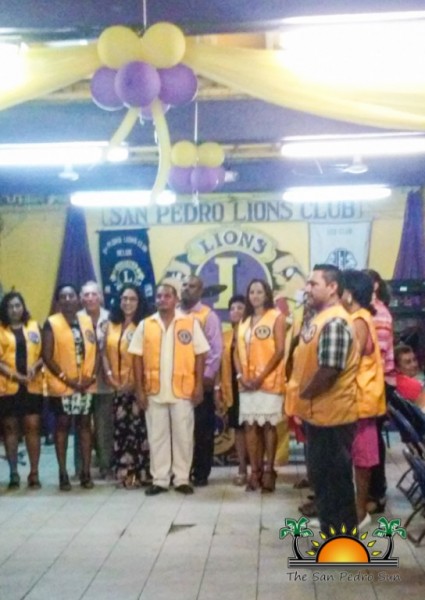 Leo Virginia Vasquez delivered the Vote of Thanks to close the ceremony. Afterwards, the guests sang the Lions song with pride. They were then entertained by San Pedro's very own, Rompe Raja, with dancing and celebration lasting until the wee hours of the morning.

The San Pedro Lions Club was established on October 25, 1975 with a total of 36 chartered members, some of whom are still an active part of the club. The San Pedro Sun joins the community in congratulating the San Pedro Lions Club for its 41 years of service to the island.
Follow The San Pedro Sun News on Twitter, become a fan on Facebook. Stay updated via RSS