Tropic Air donates to Rotary Club of Placencia
Tuesday, August 23rd, 2016
Press Release
Placencia, Belize
Monday, August 22nd, 2016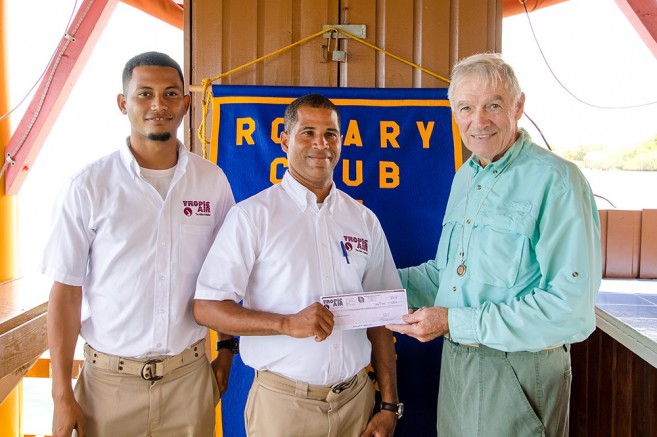 Tropic Air, The Airline of Belize, has announced the July results of its 2016 nationwide #TropicGivesBack fundraising campaign. For every ticket bought at the month's selected station, $1 is donated to an organization chosen by our staff stationed in that community. July was the chosen month for Placencia, with Belize City Municipal coming in August.
As part of the airline's largest charitable fundraiser of the year, Tropic Air business partners, staff and Customers joined efforts and raised $450 for "Seniors Sitting Together", a program of the Rotary Club of Placencia. A check was presented to Jim Weller, Acting President of the Club on Tuesday, August 16th.
"On behalf of our customers and staff, we are happy to present a check to the Rotary Club of Placencia. This donation will not only help to support one of the club's great programs, but also gives back to one of the 11 communities we serve in Belize", said John Greif III, Tropic Air's president. "At Tropic, each and every member of our staff is encouraged to get involved in their community, whether that is through direct outreach, working within a larger organization, such as Lions or Rotary, or even through mentoring or sports participation."
About Tropic Air
Founded in 1979, by John Greif III, with just a single airplane and two employees, Tropic has steadily grown to become the largest and most experienced airline in Belize. It now employs over 300 staff, and offers over 200 daily scheduled flights with 14 aircraft to 18 destinations in Belize, Mexico, Honduras and Guatemala. Tropic Air joined IATA's ISSA Registry in 2015. In the same year it carried 320,000 passengers and moved 424,000 pieces of freight system wide.
Tropic believes in giving back. It supports the development of the communities its serves through health, sports, drug prevention, education and community projects. Tropic also supports the development and growth of the wider tourism industry of Belize through promotional initiatives locally and internationally.

About the Rotary Club of Placencia
Started in 2002 serving the communities of Placencia Village and Seine Bight, the Rotary Club of Placencia is proud of its tradition of giving back to the community. Through programs like the summer reading programs, the senior luncheon, high school scholarships, the Placencia Volunteer Fire Department, and countless fundraisers, the Rotary Club of Placencia has a tremendous and profound impact on the community.
Follow The San Pedro Sun News on Twitter, become a fan on Facebook. Stay updated via RSS