Lady Dixie Bowen inducted to Brentwood High Hall of Fame
Friday, October 7th, 2016
As an alumna of Brentwood High School (BHS) Class of 1970, Lady Dixie Bowen, founder of The Island Academy (TIA), was among five others nominated and inducted into her high school's Class of 2016 Hall of Fame in Brentwood, Missouri, USA. In order to be nominated, inductees must have achieved distinction in a particular area including, academics, athletics, business, community service, science, medicine, military service, public service, performing or visual arts, and Brentwood's Alumni Association noted Bowen for being an exemplary alumna of the school.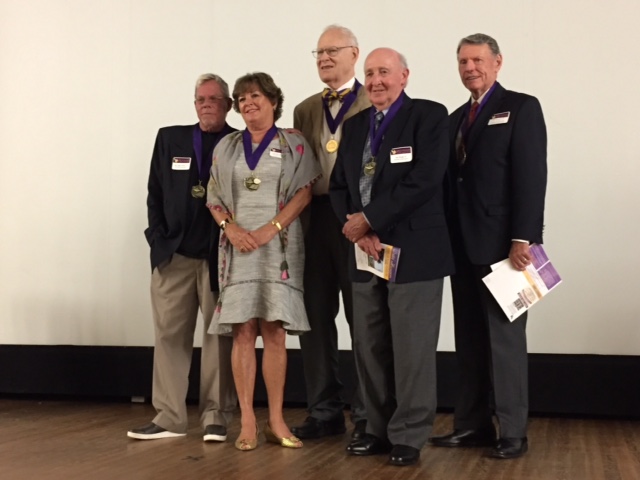 As a tradition every year, BHS selects outstanding inductees that must have graduated or attended the school for a significant part of their education, and like Lady Bowen, inductees must have also demonstrated good character and citizenship throughout their high school career.
Her early travels on a scuba diving trip to San Pedro, Ambergris Caye, Belize resulted in Bowen falling in love with the island that she now calls her home. In her address, Bowen shared her success in creating her own private educational institution on the island. "I feel so very blessed that with the support of my late husband, Sir Barry Bowen, The Island Academy became a reality, and the school opened in September of 1995. Many children and teachers from all over the globe have attended or taught at TIA. We continue to grow with the world, albeit in the technology arena we are lacking. However, our children are on par globally and etiquette and manners are still a part of our curriculum as well. So, the gentleness and kindness with the discipline and structure that was displayed and portrayed to me at BHS, in my very instrumental teenage years, has filtered down into a small tight knit school in the Caribbean," said Bowen.
TIA opened with a student body of 36, including Bowen's daughter Courtney. Today, with Bowen as Principal, TIA has approximately 75 students from all over the world. In July 2008, Bowen's husband, Barry Bowen, a sixth generation Belizean and entrepreneur, who was knighted by the Queen of England for contributions to the country of Belize. Dixie was bestowed the title of Lady Bowen.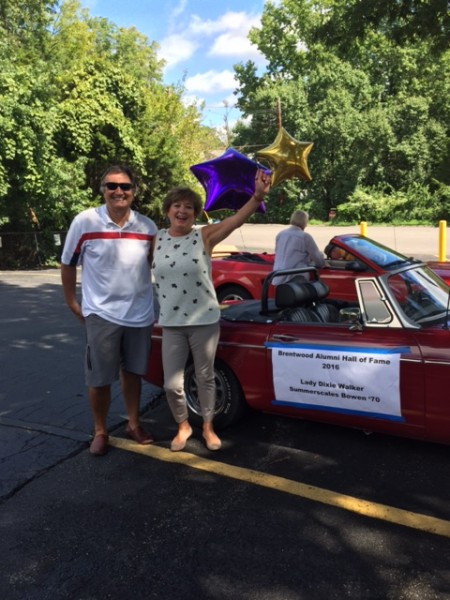 Bowen credits BHS as the foundation for her success. The guidance and enthusiasm provided by the faculty and staff in her young life always stayed with her. Today, at TIA, she continues to apply the principles and disciplines of those formative years with her entire student body. "BHS meant so much to so many of us. My experience began almost exactly 50 years ago when my father was transferred to St. Louis. I was fortunate to be entering as a Freshman and to experience four wonderful years at BHS…The care and attention that trickled down from the Principal and Vice Principal, to the teachers, the cafeteria staff, janitors, PE teachers and everyone has helped me in my journey with my small school in Belize… I am very proud to have been a student at BHS, to have had such great friends that are still part of my life today and to have been honored with many awards here."
For Bowen, receiving this award was more than a privilege. "It was a great honor to be inducted into BHS's Hall of Fame. The evening actually felt unreal or surreal. I stepped back on a stage where I gave the Graduation Speech in 1970. It was very touching to be chosen, especially living in an area where the committee that voted has not visited, so have never even seen TIA, and why it is so special. Education is huge, but I never think of myself as a person that is deserving of such an award for what I consider a very rewarding career to have come my way in this amazing country of Belize and to have such a fantastic view of the Caribbean Sea as I work all day. And most importantly, working with children is the best," said Bowen.
TIA is Bowen's dream that became a reality, and she thanks all of her teachers and administration for being a part of her success. She would also like to thank Wilema Gonzalez for her dedication and for being a major contribution to the school. Congratulations to Lady Bowen on this award!
Follow The San Pedro Sun News on Twitter, become a fan on Facebook. Stay updated via RSS