Our World project brings dance show and treats to the island
Thursday, November 3rd, 2016
For many years, Debbie and Larry Heimgartner have been visiting Ambergris Caye, and with each visit they continue bringing their love and positive vibes to the youth of the island through the 'Our World' project. On Monday, October 31st they visited the San Pedro High School (SPHS) and the San Pedro Roman Catholic School (SPRCS) where they engaged in different activities with the students. Students were happy to see them again, as they brought ballet dance and some icy cold snacks.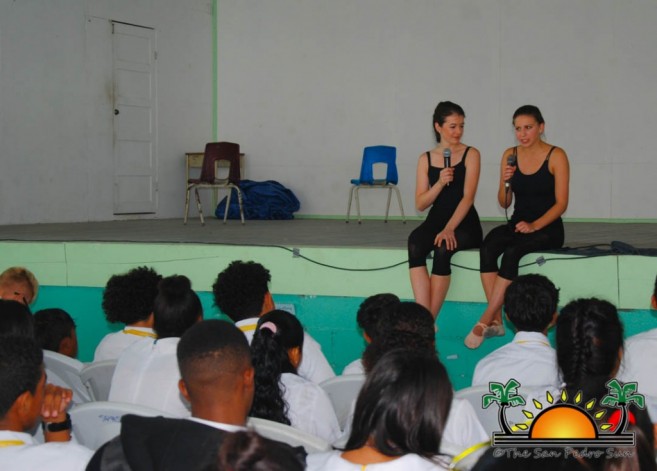 This year the Heimgartners brought with them two ballet dancers from the United Kingdom (UK) who have performed in different countries around the world. The dancers, Rosy Nevard and Jenny Morrison, are part of the international dance academy known as Nova Grace Productions. Both of them began learning ballet from the age of three, and for around 25 minutes they delighted the students of the SPHS. The dance presentation called 'A Glimpse into our World of Dance,' featured the two ballerinas graceful on stage flawlessly executing every number of their dance performance.

Later that same day, the Heimgartners, along with Neward and Morrison, visited the students of the SPRCS, where they distributed paletas to over 1,000 students. The students thanked them with smiles of gratitude as they received their icy treats. The delicious strawberry, sugar corn and chocolate paletas were enjoyed by everyone during the warm afternoon.
Heimgartner is the leader of the 'Our World' project, which seeks to highlight social issues through plays in various parts of the world, including Ambergris Caye.
Follow The San Pedro Sun News on Twitter, become a fan on Facebook. Stay updated via RSS