SPHS students to attend international exchange program
Friday, May 5th, 2017
Three students from San Pedro High School (SPHS) will be participating in an international exchange program from May 30th to June 6th in Los Angeles, California USA. Alexie Nuñez, Camilla Vasquez, and Rashawn Gonzalez have been selected to travel to California where they will be performing a play at the Los Angeles Harbor College in the presence of other exchange students from other countries.
The program is being facilitated by Our World Project which is being spearheaded by long-time visitors to the island, Larry and Debbie Heimgartner. They both visited the three students on Wednesday, May 3rd as they continue with their preparations for the trip. They are rehearsing weekly to master the skit they will be performing during their visit to Los Angeles.

According to Larry, the dramatic skit will reflect on social issues that are relevant to Belize and the island community. Larry and Debbie have been consistently working with the students, composing the skit to demonstrate the conflicts faced by many teenagers. "We want these students to have new experiences, because we believe that through this program they can find something beneficial for them, their school and their community," said Heigartner.
The performance this year will feature issues with drugs, sex, dating and depression. During a performance rehearsal, each student showed their acting talents as they recited their lines. Gonzalez reflected on the use of drugs to escape from problems. Vasquez focused on the topic of dating, and the consequences of irresponsible behaviour that could lead to teenage pregnancy. Nuñez' piece was on depression, and she expressed the frustration someone can go through, and the emptiness which can swallow a person's desire to live and fight for their goals.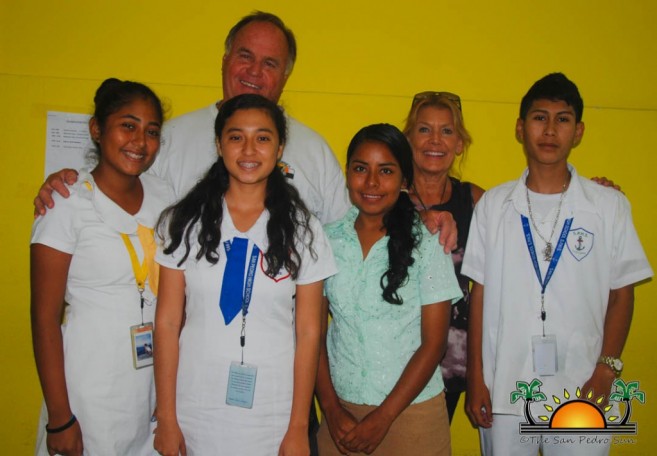 All of them are excited to be given the opportunity to be part of such a project, and are eager to meet new people and perform onstage.
In the meantime, they will continue to practice, working hard towards stabilizing each character's tone, emotion and dialogue. The SPHS is proud to be represented abroad by these young ambassadors and wishes them the best. The students will be accompanied by the school counsellor, Yassiri Cruz.
Follow The San Pedro Sun News on Twitter, become a fan on Facebook. Stay updated via RSS