Three students to participate in US exchange program
Tuesday, May 17th, 2016
For the past fifteen years, exchange programs at San Pedro High School (SPHS) have given students opportunities to explore new cultures. In the latest exchange program, three students from the SPHS drama club: Marthalicia Vasquez, Jubilee Garcia, and Bessy Gongora, have been selected to travel to Los Angeles, California, USA, to perform a skit at the Los Angeles Harbor College. The students will depart on Saturday, May 28th, and will be there for one week, along with other exchange students from Mexico and London.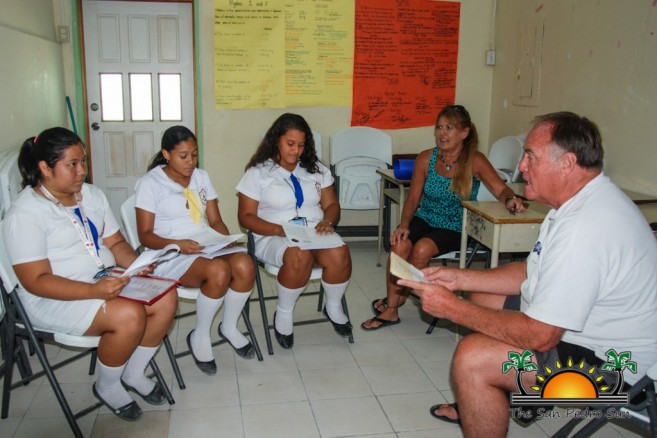 The group is rehearsing weekly to perfect their 30-minute dramatic skit at the college. The piece reflects social issues that are relevant to Belize. Coordinators Debbie and Larry Heimgartner have been consistently working with the students, composing the skit to demonstrate conflicts faced in the homes of many teenagers. "In our skit, we were able to take the problems people face here on the island and write about them on a global perspective. We are giving light to San Pedro and inviting the world to see that we experience the same problems like anyone else," said Heimgartner.
The piece includes sensitive topics such as depression, divorce, and suicide. During a performance rehearsal, it is evident that each girl has the perfect dramatic flow as they recite their lines. "Teenagers suffer when their parents get divorced. Sometimes we believe it's our fault, and then it feels like the end of the world," said Vasquez. While Garcia reflected on depression, "When a teenager is going through depression and has to go to school, getting up in the morning is the hardest task." "Sometimes you feel like the world is the better off without you, and you start to think of the easy way out," said Gongora.
These young ladies are aspiring actresses and singers who hope to learn from the other 30-40 students participating in the program. All of them are excited to be given the opportunity to travel to the United States for their first time, meeting new people, and performing onstage.
In the meantime, the Heimgartner's continue to train them, working hard towards stabilizing each character's tone, emotion, and dialogue. The SPHS is proud to be represented abroad and wishes these students the best in their upcoming performance.
Follow The San Pedro Sun News on Twitter, become a fan on Facebook. Stay updated via RSS