$1,500 Shopping Spree donated to Ambergris Caye's First Children Home
Wednesday, February 8th, 2017
Press Release – Hope Haven Children's Home – February 2017 – On Wednesday, February 1, representatives of Ambergris Caye's first upcoming children's home were presented with a gift certificate worth $1,500 in order to supply the facility with necessary equipment upon its launch. Brittney O'Daniel of Raise Me Up and San Pedro Lions Club, Kaitlin McWhorter of Raise Me Up and Britney Travis of On Eagles Wings Ministries (OEWM) gladly accepted the donation, provided by Banyan Bay Resorts (Banyan Bay Suites & Grand Colony Island Villas). The $1,500 gift certificate was part of a giveaway promotion by The Angelus Press, a retail, printing and publishing store that is geared at providing office and school essentials, located in Belize City. Banyan Bay Suites was the winner of the "Pretty Papers" sweepstakes. Shortly after their winning, news about the ground-breaking work on the shelter was announced, and Raise Me Up board members were promptly contacted by Banyan Bay Suites.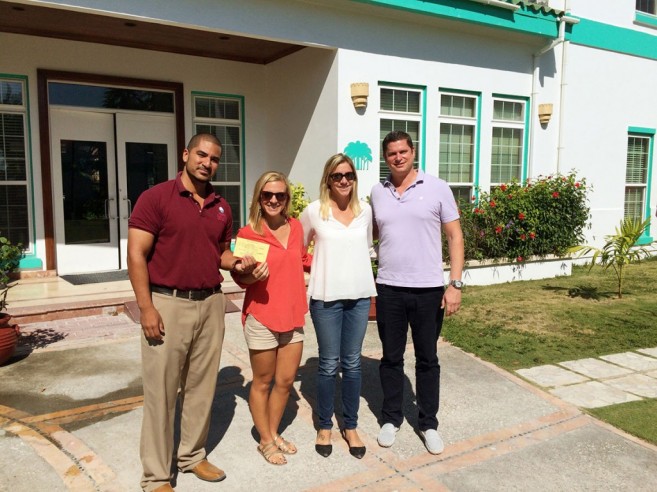 "We were very lucky to have been chosen as the winner of The Angelus Press' sweepstakes. After I read the announcement about the island's first children's home, I knew they would have a much greater need for the shopping spree than the resort did," said Lee Espejo, General Manager of Banyan Bay Suites. "Many of our staff members have children that were lucky enough to have been raised in a loving environment, and to imagine a child without a home or loving parents to care for them has really hit an emotional chord in our hearts. When I asked the staff at our resort about this donation to the children's home, our decision was unanimous." Espejo contacted The Angelus Press and requested that the gift certificate be transferred to Raise Me Up, the non-profit organization that is responsible for the Hope Haven project, and was quickly provided with confirmation that the NGO would be able to use the certificate in Banyan Bay's place. "While approaching the launch of the shelter, used office equipment was one of the many different things we were asking for. To be provided with the ability to purchase equipment that is needed for the betterment of our children is a huge blessing," stated Kaitlin McWhorter, board member of Raise Me Up. "We cannot express enough gratitude for this timely donation. This will allow us to focus our time and efforts on other areas of this project, and help open doors as soon as we can." "We could not be more thankful for people who want to help support this cause," says Britney Travis, Executive Director of On Eagles Wings Ministries. "I love seeing the community come together and cannot wait to see youth using the materials from this generous donation!"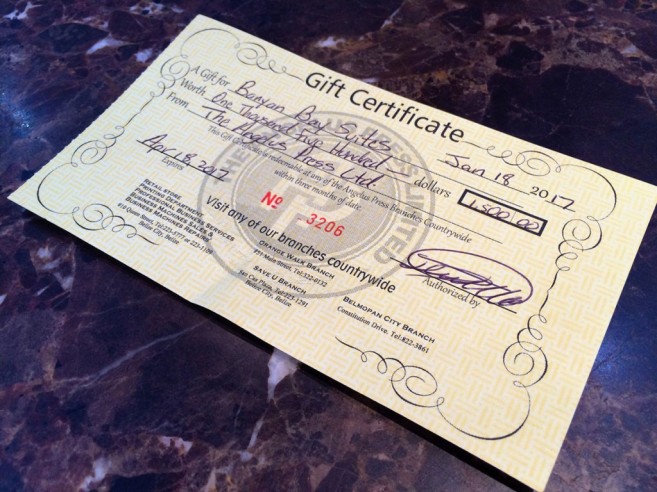 "Hope Haven" is the name of the upcoming children's home, which will include a children's shelter, play therapy room, outpatient care services, and counseling services for children and women. The partners for the project consist of three local non-profit organizations; Raise Me Up, On Eagles Wings Ministries, and the San Pedro Lions Club. The renovations of a building recently donated for use by the San Pedro Lions Club are currently underway, and construction will commence early this year. Hope Haven is expected to launch in late 2017/early 2018.
Raise Me Up (RMU) is a registered NGO in Belize (2015), located in San Pedro Town on Ambergris Caye. Originally a group who excelled at helping to organize fundraisers and hosting events, the founders of Raise Me Up realized the need and the ability for a small non-profit to be formed that could efficiently and effectively meet needs in the community. On Eagles Wings Ministries Belize (OEWM) is a faith-based nonprofit organization established in October 2014 in San Pedro, Belize. The goal is to offer hope, empowerment, and a brighter future to young women and men. The primary focus of OEWM includes outreach, aftercare, and empowerment. The San Pedro Lions Club was founded in 1975 for the purpose of serving the community of San Pedro through sincere commitment, courage, patience, and love. Throughout their history, the San Pedro Lions Club have donated hundreds of thousands of dollars to earthquake victims, fire victims, hurricane victims, sickness, funerals, and medical emergencies for the community. Banyan Bay Suites (formerly The Villas at Banyan Bay) has operated for 22 years on the island of Ambergris Caye. Under new management as of 2016, there have been many recent additions and improvements to the suites and the property. Banyan Bay Suites provides an attractive beachfront destination for tourists and locals alike.
Follow The San Pedro Sun News on Twitter, become a fan on Facebook. Stay updated via RSS