CCCCC & CBU Sign Cooperation Agreement
Sunday, April 29th, 2018
The Caribbean Community Climate Change Centre (CCCCC- 5 Cs) and the Caribbean Broadcasting Union (CBU) have signed a Memorandum of Understanding (MOU) that aims to improve the sharing of information about and coverage of climate change issues across regional media markets, beginning with the CBU 49th Annual General Assembly scheduled for Kingston, Jamaica from August 13-15, 2018. The MOU was signed in Barbados by 5Cs Chairman Dr. Leonard Nurse, on behalf of Executive Director Dr. Kenrick Leslie and CBU's Secretary General Ms. Sonia Gill.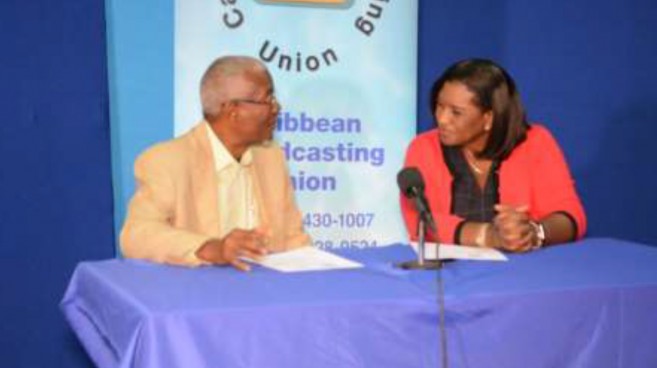 The MOU aims to strengthen the Centre's partnership with regional media and create synergies at senior levels, as it carries out its mandate to provide effective solutions and projects to combat climate change in the region. This partnership is even more critical, after the 2017 Hurricane Season, as it provides
opportunities for the Centre and Caribbean media to share the experiences that will come from more frequent and intense natural hazards, extreme weather events like hurricanes and droughts, the effects of which are becoming more visible and affecting a growing number of countries in the region. The Cooperative agreement also aims to establish a mutual pact by which the 5Cs will engage with CBU members through virtual and face to face encounters for collaboration in a number of
areas including:
 Capacity-building activities facilitated by 5Cs for CBU members
 Science writing training for journalists and journalistic writing for scientists
 Sensitising various stakeholders including the membership and policymakers to Climate Change and its associated issues
 Collaborating on the production and broadcast of information products related to issues surrounding Climate Change, and
 Collaborating on activities relating to 2018 Annual General Meeting which is being held under the Climate Change theme and related topics going forward.
In this regard the 5Cs will provide subject experts for the fora to be presented during the CBU Assembly under the theme: "Building Resilience to Climate Change: Business, Technology and Content Options for Caribbean Media". The Centre's climate change negotiator and liaison officer Mr. Carlos Fuller, will head a team of speakers looking at climate proofing the indigenous Caribbean media.
Follow The San Pedro Sun News on Twitter, become a fan on Facebook. Stay updated via RSS