San Pedro Police officers awarded for thwarting gas station robbery
Thursday, May 24th, 2018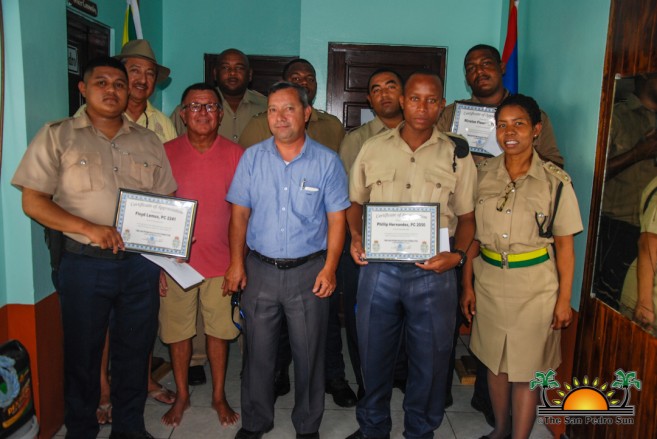 Five police officers attached to the San Pedro Police Formation were awarded on Wednesday, May 23rd for outstanding performance, after responding to a robbery in process at the Caribeña Fuels gas station south of San Pedro Town. The incident took place on Saturday, May 19th, and the rapid response of the officers led to the arrest of Zimmer Joel Perez, Jair Vincent Brown, and Arrie Kareem Gentle. The five law enforcers are PC Shamilt Chan #2183, PC Winston Flowers #1746, PC Kerwyn Neal #1778, PC Phillip Hernandez #2050 and PC Floyd Lemus #2241.
Mayor Daniel Guerrero and Minister of Tourism and Civil Aviation, Honourable Manuel Heredia Jr., joined Officer in Charge of the Coastal Executive Unit, Superintendent Henry Jemmott, Deputy Assistant Superintendent Dehanne Augustine and Caribeña Fuels representative Israel Alpuche in presenting the awards.
Jemmott commended the officers for their job well done and encouraged them to continue working hard for a better island community. "These officers have offered a lot of time and dedication to their duties," said Jemmott. "We thank them for their hard work and bravery, and for going beyond the call of duty." He acknowledged that crime has risen on the island, but that it is not out of control, and he encourages the community to continue working closely with the police department.
Guerrero and Heredia both stated that they will continue to support the police department on the island as they aim to source additional resources and police officers for Ambergris Caye. "We are a small island, and if you ever need anything, please approach us at the Council and the Minister for any assistance," said Guerrero. "I am pleased with the increase of police presence all over the island. We have to continue working together." Minister Heredia added that there should be a good relationship between the police and the people. He noted that at times people lose trust in the law, but when police start to yield significant results, they are rewarded with positive feedback and assistance from the community.
Alpuche thanked and congratulated the police officers as well, and stated that the fast response played a significant role in the detention of the culprits. He believes that if it wasn't for such an excellent job, the muggers could have escaped and continue threatening the safety of other businesses on the island.
Each police officer was then presented with a certificate and a token of recognition for a job well done. They shared their appreciation and pledged to continue the working hard for a safer island. The San Pedro Sun joins the community in congratulating the five police officers and the San Pedro Police Formation for their commitment to ensuring the well-being of Ambergris Caye.
Follow The San Pedro Sun News on Twitter, become a fan on Facebook. Stay updated via RSS