22 Graduate from Belize Youth Challenge Programme
Sunday, June 24th, 2018
Press Release – Government Press Office – June 21, 2018 – The Belize Youth Challenge Programme (BYC) today, June 21st, marked the closure of its first intake with a passing out ceremony for the 22 cadets who successfully completed the residential phase of the programme.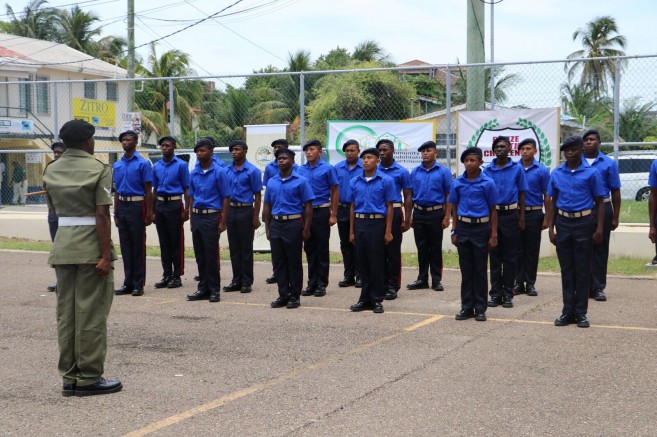 Since the start of the programme in October 2017, young men ages 15-17 have learnt discipline, leadership, and teamwork; taking academic and vocational classes and keeping fit with physical training and military drills.
In his remarks, Minister of Human Development, Social Transformation and Poverty Alleviation (MHDSTPA), Hon. Anthony Martinez applauded the cadets on completing the course: "You took up the challenge to create a new path for your lives and have successfully completed this Belize Youth Challenge journey, and for that, we are very proud of you, and you should also be proud of yourselves."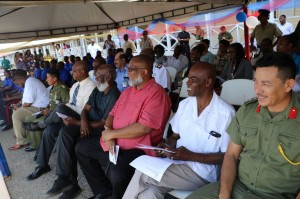 According to Commandant of the BYC, Mr. Anthony Castillo, at the start of the challenge, the recruits were warned that the BYC was not for the swift and many were not ready for the rigors of the military-style programme. He added that those who stuck with it, have much to be proud of. Mr. Castillo provided the following information on the successful cadets:
• Literacy skills have increased across the board for all cadets
• Four sat the PSE and were awarded high school scholarships by the MHDSTPA
• Two plan on attending junior college and were awarded scholarships by the MHDSTPA
• Two have been accepted into the Belize Defence Force Volunteer Battalion
• Four will be pursuing vocational skills and apprenticeship with support from the
MHDSTPA
During the ceremony, several cadets received awards and certificates for a variety of achievements:
• Most Outstanding Cadet – Cadet Sgt. Karl Tillett
• Best Physical Training – Cadet Nicozi Gentle
• Best Drill & Special Recognition for Personal Development & Perseverance – Cadet Cpl. Jamir Sutherland
• Most Improved Cadet & Most Improved Kaina High School Online – Cadet Seferino Shal
• Most Improved in Remedial Class – Cadet Wayne Perry
• Most Improved Upper/Middle Academics – Cadet Jose Velasquez
Two parents, Ms. Juliana Pott and Mr. Anthony Perry, were also recognized for the support and encouragement they gave their teen during the programme. The cadets will continue to receive support from the BYC social worker, their community rehabilitation officer, and mentors as they embark on the one-year post-residential phase of the programme.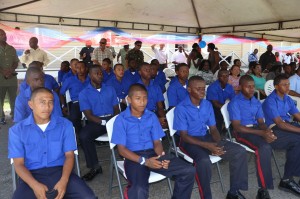 Minister of National Security, Hon. John Saldivar, urged the youths to continue walking their current path of success as they carry out their plans: "This challenge continues, it does not end today; but if you vow to live up your pledge to have integrity, to be loyal to your corps and your fellow men, and to continue to work hard and be upright Belizeans; then we will be assured that today's success will be the mark of good productive citizens that will rise to be leaders in your communities and in our country."
The Belize Youth Challenge Program was introduced in 2017 as a revision and upgrade of the National Youth Cadet Service Corps. It caters to males 15-17 years old with an aim to intervene in and reclaim the lives of at-risk youth to produce program graduates with the values, skills, education, and self-discipline necessary to succeed as adults. BYC is jointly managed by the Belize Defence Force and the Community Rehabilitation Department. The Human Development, Social Transformation and Poverty Alleviation and the Ministry of National Security have committed to continue working together to improve the BYC Programme. According to Minister Martinez, "Programmes that give our young people an opportunity to re-socialize towards a productive path have yielded much better results in the longer run. The Belize Youth Challenge is one of those promising programmes."
The Belize Youth Challenge is now accepting applications for its second intake which starts on August 27th, 2018. Application forms and more information on the programme can be found at www.humandev.gov.bz/challenge.
Follow The San Pedro Sun News on Twitter, become a fan on Facebook. Stay updated via RSS