San Pedro Police Cadets top foot drill competition in Belize City
Monday, March 20th, 2023
The San Pedro Police Cadets returned as champions after competing against cadets from across the Belize District in a foot drill competition. The event occurred in Belize City on Saturday, March 18th, at the Yabra Green Basketball Court.
The competition was spearheaded by the Community Policing Unit of the Belize Police Department. Assistant Commissioner of Police Howell Gillett shared that the activities allow young people to develop valuable skills. He said that such events also help the youth gain confidence and learn about the importance of law enforcement. Gillett added that joining the cadets gives young Belizeans an insight into what it means to be a police officer and what it takes to contribute positively to their communities.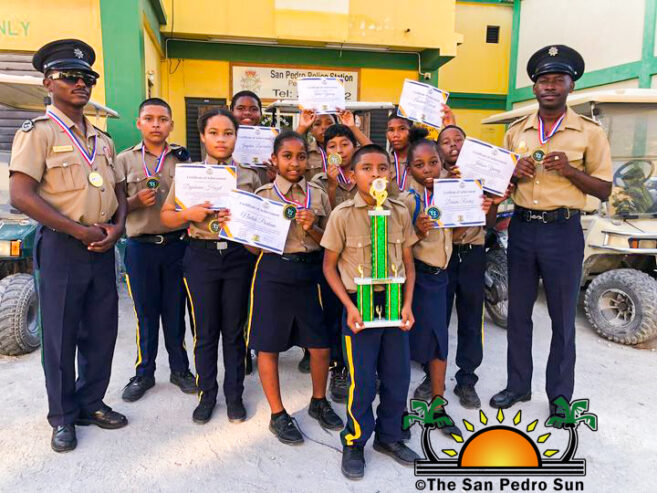 The San Pedro Police Cadets have been very active on the island. After the COVID-19 Pandemic, the San Pedro Police Formation embarked on developing the cadets on the island. Since then, they have participated in parades, such on occasions as the September celebrations and other festive events.
Under the guidance of police officers Harris Gabourel, Kenrick Gentle, Corporals Adrian Flores, and Melanie Coye, the island cadets were more than ready for the foot drill competition. Their hard work paid off, and they returned to San Pedro Town with medals and the championship trophy. The cadets are now preparing to compete in the upcoming national competition.
Corporal Flores shared with The Sun that they are proud of their cadets. He said they are working with 25 youngsters ages 8 to 17. Flores added that they also work with 30 students at the Holy Cross Anglican Primary School in San Mateo. The program's expansion is also looking to recruit another group of students from the Seventh Day Adventist Primary School in the DFC Subdivision south of San Pedro.
For more information on how to join the cadet program, please visit the San Pedro Police Station and ask the Community Policing Officer for an application.
Follow The San Pedro Sun News on Twitter, become a fan on Facebook. Stay updated via RSS