San Pedro pilot to man BERT's air medical evacuations between the islands
Tuesday, June 29th, 2021
The Belize Emergency Response Team (BERT) received a donation and support from the Blue Economy and Civil Aviation Minister, the Honourable Andre Perez, to train and hire a Belizean pilot. The pilot is Captain Henry Salgero of San Pedro, who was hired thanks to support from Perez's ministry. Salgero has accumulated more than 1,800 commercial flight hours, meeting the requirements to captain BERT's air ambulance.
For years, BERT has been working with Wings of Hope, providing Belizeans with humanitarian air medical emergency evacuations. The service assists San Pedro Town and Caye Caulker residents who need emergency medical air evacuations.
Perez commented that Belize is at a critical point in the pandemic where they can save lives by vaccinating the population and wipe out COVID-19 from the community. However, he highlights the efforts of BERT in times of emergencies. "We appreciate BERT for being there for our residents, especially the citizens of San Pedro, Caye Caulker, and our visitors alike," said Perez. He highlighted that before the availability of vaccines, BERT responded to emergencies and transferred COVID patients from both islands San Pedro and Caye Caulker, valiantly, tirelessly, and gave islanders hope during one of their darkest periods.
"We are therefore pleased to support BERT as they continue to provide hope during medical emergencies and ensure that a Belizean pilot gets a job, restoring much-needed income to one family," Perez added.
According to BERT's Executive Director Andre Carrillo, the equivalent of training and recertify a pilot at a Federal Aviation Administration (FAA) school in the United States (US) is US$15,000. "Through our partnership and with the help of Minister Perez, we were able to certify our local pilot, create a job for a Belizean captain from San Pedro, ensuring that we continue saving lives at our islands," said Carrillo.
Carrillo said that air medical evacuation services allow them to reach their patients timely and efficiently from remote locations. This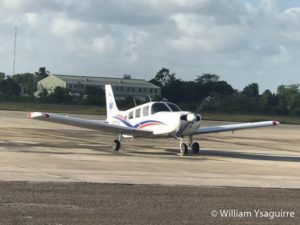 includes from Punta Gorda Town in southern Belize to Corozal District in northern Belize and the islands. "During a crisis, air medical evacuations provide hope to our patients requiring a higher level of care," said Carrillo. "Our patients are our first priority, and our air ambulance has made a tremendous difference in ensuring we meet our mandate and commitment to our community." Carrillo indicated that there are plans to increase their fleet to meet the growing needs. BERT is also collaborating in the transfer of the airplane title from Wings of Hope to take ownership of the air ambulance.
For over 30 years, BERT has provided Belizeans with humanitarian air medical evacuations across the country in partnership with Wings of Hope. Patients are usually transferred from out-of-district regional hospitals to Belize City for further medical attention. They had traditionally hired retired Wings of Hope FAA licensed pilots from the US. Salgero becomes the first islander to man their air medical evacuation program.
Follow The San Pedro Sun News on Twitter, become a fan on Facebook. Stay updated via RSS