BERT gets a helicopter for emergency situations countrywide
Friday, November 23rd, 2018
The Belize Emergency Response Team's (BERT) first helicopter landed at John Greif II Municipal Airport in San Pedro Town on Thursday, November 22nd. Arriving with the helicopter was Manager of BERT Andre Carillo, Pilot David Pearce, along with BERT medics and special guests.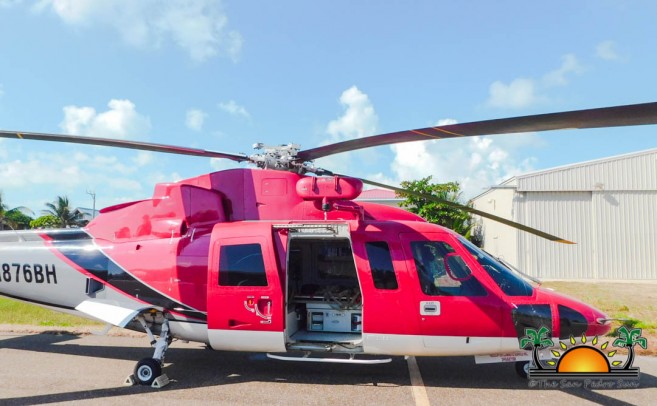 In an interview with The San Pedro Sun, Carillo stated that this new helicopter will be used for emergency response countrywide. "BERT always tries to find creative ways to get to their patients during emergencies, so with this helicopter we will be able to respond in a faster and more reliable way in various parts of the country, including San Pedro Town. We will also be able to visit areas that primarily very difficult to reach," he said. "When someone's life is in danger, every second counts, so hopefully with this helicopter, we will be able to be save someone's life," he said. Carillo further stated that with this helicopter, they can also provide International transfers to neighboring countries such as Mexico. "With this helicopter we will also be able to assist government entities in rescuing people in marine territories and remote areas," he added. The helicopter is fully equipped with all the necessary items needed to care for patients being transported.
BERT is a non-profit, non-governmental organization that specializes in pre-hospital care in the form of emergency response and transportation. They are the only qualified provider in the country of Belize. Their main mission is dedicate to serving the emergency medical needs of the Belizean people through active volunteerism and education, by providing the material necessities to assure swift, professional, life-saving measures in medical emergency situations.
Follow The San Pedro Sun News on Twitter, become a fan on Facebook. Stay updated via RSS