San Pedro mourns the tragic loss of Jeffrey Eiley
Thursday, March 6th, 2014
The residents of San Pedro Town are in shock following the death of one of their own. 30-year-old Jeffrey Eiley, member of well-known San Pedro Town family, passed away after being shot in the early hours of Thursday March 6th.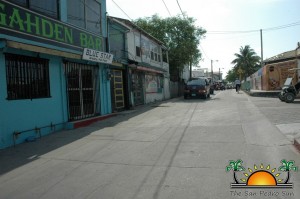 According to preliminary reports, sometime around 2AM, residents on Tarpon Street heard about four gunshots and a few second after, about six more. About 15 minutes later, residents on the southern end of Barrier Reef Drive heard someone calling and pleading for help along the road. When residents in the area went out to see what was happening, they saw Eiley still alive, bleeding profusely on the concrete pavement. The residents immediately notified the police and other family members, after which they rushed Jeffrey to the Dr. Otto Rodriguez San Pedro Poly-Clinic II, where he later succumbed to his injuries.
According to police, initial investigations reveal that Jeffrey Eiley, a tour guide of Marina Drive, and another male person known to him, were involved in an altercation on the beach. Police broke up the altercation. Eiley left the area and upon reaching the corner of Angel Coral Street and Tarpon Street a few yards away from his home, he was attacked by unknown person(s) who proceeded to beat him and then began firing several shots at him. Eiley apparently managed to escape, running along Coconut Drive, then through an alley leading to Barrier Reef Drive where he later collapsed and was found. Along the path, the attackers left their marks as several bullets, as many as six, was lodged on the buildings along the way. Police have since recovered eleven (11) 9-mm expended shells from the crime scene.
When police arrived at the clinic, they observed Eiley still alive and suffering from (3) gunshots wounds below the left elbow, below the right elbow and at the right tricep . All bullets had exited the body. He was pronounced dead at about 3:30AM. Police believe that the previous altercation led to the shooting and they are seeking one suspect, Rafael Juarez. As they believe that he is no longer on the island, San Pedro Police have issued photographs of Juarez at all major points of entry/exit throughout the country and district terminals.
Eiley's body has been transported to the Karl Heusner Memorial Hospital morgue where it awaits a post mortem examination.
About Jeffrey Eiley
In August of 2011, Eiley was featured in The San Pedro Sun after he helped save the life of an American professor who was retrieved from the water near Hol Chan Marine Reserve. Eiley managed to perform CPR on the professor, saving his life.
Jeffrey is the son of Susana and Norman Eiley, well known islanders of Ambergris Caye. His warm smile and love for the sea and his island home will never be forgotten. He touched the lives of so many in his short 30 years of life, and his tragic loss of life is a loss for the entire community that knew and loved him.
The San Pedro Sun joins the island in extending sincerest and most heartfelt condolences to the Eiley and Arceo family. May Jeffrey Eiley, beloved son, father and amazing friend, rest in peace.
Follow The San Pedro Sun News on Twitter, become a fan on Facebook. Stay updated via RSS