Justice for Sotz family
Tuesday, June 16th, 2015
The Caye Caulker Police Department (CCPD) is under new command following the arraignment of two and the interdiction of three, police officers due to police brutality which led to the death of an 18-year-old. Police Constable (PC) 628 Leonard Nunez and PC 819 Hallet King were jointly charged for the murder of Hilberto Sotz on Wednesday, June 10th by Chief Magistrate Ann Marie Smith. Sotz died under police custody on Monday, June 8th, and this led to a full on investigation of the department. In addition, Woman PC 1107 Bernadette Ramos, PC 1932 Edilberto Patt and former CCPD Officer in Charge, Corporal Kirby Palma, were placed in interdiction as investigations revealed they were on duty at the time of the incident.
The death of Sotz caused much controversy in Caye Caulker Village. As news broke out of the death, island residents took to the streets in protest. The Belize Police Department quickly stepped in, deploying additional police forces to keep the peace in Caye Caulker and launching an investigation on the death of Sotz.
The postmortem results indicated the cause of death to be "Vascular shock, pronounced massive heart thrombosis, acute post traumatic cerebral edema, as a result of trauma to the head and body." This provided the needed evidence to charge the culprits who are believed to have badly beaten Sotz during questioning for a previous burglary incidents. Apart from the murder charges, Nunez and King have also faced disciplinary charges by the Belize Police Department. Both men have been remanded to the Belize Central Prison until their court hearing on July 14, 2015.
"The Commissioner of Police and the Belize Police department stand by its commitment in maintaining a zero tolerance on abuse of person's rights as well as any acts of wrong doing by its officers," stated a press release issued by the department. Inspector Dehanne Augustine has taken command of the CCPD. She will be supported by a senior Non-Commissioned Officer, Sergeant Norman Benguche. Officers have been identified and deployed to replace those on interdiction to ensure continuous policing services are provided.
While it seems that justice has been served, the unfortunate event has left a father and a mother grieving. "I feel like if I'm no longer living. I adored my son, I love my son. I'm glad we got justice, but that won't bring my son back to life," said Carmelita Sotz, mother of the deceased. "They cut my son's life. They murdered my son, that's why I will not let this go. My son died for nothing," said Santorino Sotz, father of the deceased.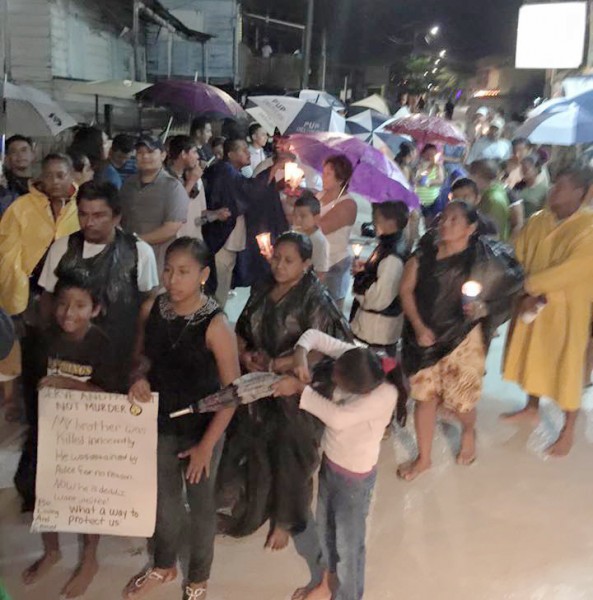 A candle light vigil was held on Wednesday, June 10th to honor the life of Sotz. Residents from both Caye Caulker and San Pedro converged at the Caye Caulker community basketball court in a show of solidarity against police brutality. "I have known Hilbert for so many years. He was a student at the school where I was principal. It really saddens me. He doesn't deserve this. God is control and my people I want to ask you to be peaceful. We need to send out a message out there that we are tired of this, and that violence is not the way to go," said Deputy Chairman of Caye Caulker, Enelda Rosado.
Hilberto Sotz was laid to rest on Saturday, June 13th.
Follow The San Pedro Sun News on Twitter, become a fan on Facebook. Stay updated via RSS