Island resident questioned on the murder of Gregory Faull
Friday, February 12th, 2016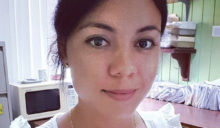 On Wednesday, February 10th, the San Pedro Police received special orders to detain Amy Herbert Emshwiller. The request came from the Belize Criminal Investigation Branch (CIB) in Belize City on Tuesday, February 9th. Emshwiller was wanted for questioning in the investigation of the murder of American national, Gregory Faull which is still being overseen by the CIB along with assistance from the Federal Investigation Bureau (FBI).
After police detained her on Ambergris Caye, Emshwiller was escorted to Precinct Three in Belize City to be questioned by both CIB and FBI personnel. Police are not disclosing the exact reason for Emshwiller's detention, but it is believed that it is because of her past relationship with a person of interest in the case, John McAfee.

Faull was murdered in November 13, 2012 at his home on Northern Ambergris Caye. McAfee, who was his neighbor at the time, was the only person known to have issues with Faull. Police maintain that McAfee, who fled the country immediately after the murder, is a person of interest and is wanted for questioning. Emshwiller was a girlfriend of McAfee's at the time of Faull's murder.
In 2012, Faull's daughter filed a lawsuit against McAfee and Emshwiller (plus another person: Samantha Vanegas) for orchestrating and abetting in the killing of her father. The case has yet to hear a verdict, and McAfee remains adamant that he did not play any part in the killing of Faull.
According to police, all angles of investigations into Faull's murder will be exhausted in attempts to solve the crime. In Belize, murder cases are indictable offences, and as such, investigations into these cases are never closed.
Follow The San Pedro Sun News on Twitter, become a fan on Facebook. Stay updated via RSS