Paguada brothers found guilty of Paul Jex murder; third suspect acquitted
Monday, July 24th, 2023
On Monday, July 24th, Delson and Tionne Paguada were found guilty of the 2018 murder of Jimell Paul Jex at the Supreme Court in Belize City. The third person accused of the murder, Timothy Carcamo, was acquitted due to identification issues.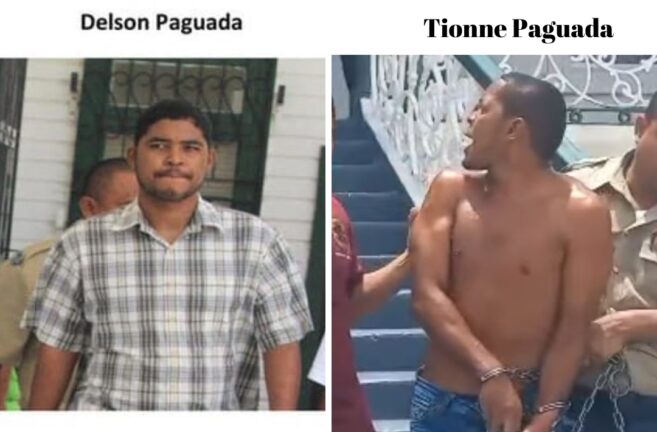 According to court reports, the main witness identified the Paguada brothers but was uncertain about Carcamo's involvement in the murder on January 23rd, 2018, at the entrance of the San Pedrito subdivision. Jex was reportedly shot five times in the chest, head, and other body parts. In the incident, another man named Dion Neal was shot but survived. The Paguada brothers, ages 24 and 21, have been fighting the case, maintaining their innocence, and claiming they were not on the island when the fatal shooting occurred.
However, the court reports indicate that Judge Pilgrim carefully examined the testimony of the crown witness. He said that while the testimony could not be doubted despite inconsistencies and discrepancies, he was satisfied with the identification by the witness of the Paguada brothers but not on Carcamo. He explained that the police did not conduct a proper ID parade on Carcamo. They showed the witness his picture from among other photographs instead. Pilgrim said this was not proper protocol. He explains that according to the law, for police to rely on a photo of a major crime suspect before an ID parade, it's unreliable in a trial. The witness said to have been unfamiliar with the third accused, yet she first thought he was linked to the crime. But during the court hearing, her testimony could not tie him to the murder, and the fact that Carcamo was not afforded a proper identification process, he was found not guilty.
When Justice Pilgrim handed the guilty verdict on the Paguada brothers, an emotional scene developed as Tionne reacted viscerally, shouting their innocence and that the main witness was paid to accuse them. They were escorted by police officers to a van parked outside the high court and remanded to the Kolbe Foundation-Belize Central Prison pending a sentencing date.
The Paguada brothers are well known to police, particularly Delson, who has been accused and remanded several times in the past. Some recent incidents for which Delson was charged include the murder of Jerry Espat in October 2021.  He was reportedly out on bail and returned to San Pedro, where he again was accused of another murder. This time it involved an American tourist, 23-year-old J' Bria Michelle, who was shot dead on December 30th, 2022. Police maintain she was not the intended target. On January 1st, 2023, police stated they arrested and charged Delson and Lucio Salazar for the tourist's murder.
Follow The San Pedro Sun News on Twitter, become a fan on Facebook. Stay updated via RSS