Three persons detained following Jimell Paul Jex's murder in San Pedro; Dion Neal survives attack
Wednesday, January 24th, 2018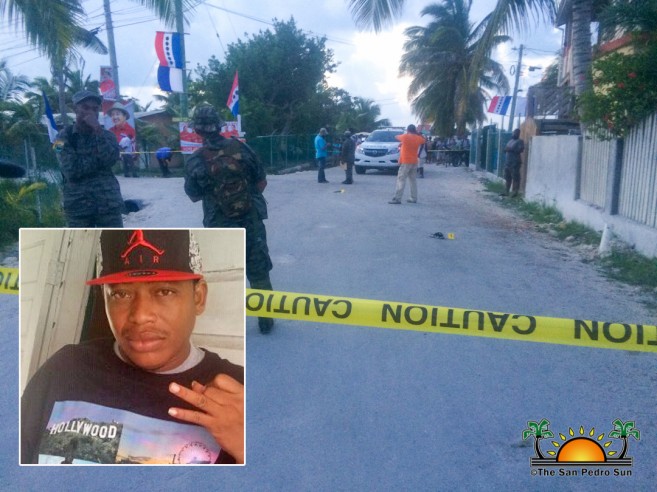 Police have detained three persons and are looking for two additional suspects in connection with the brazen shooting on Tuesday, January 23rd that left Jimell Paul Jex dead and his cousin Dion Neal injured. Jex was fatally shot in the head, while Neal received a gunshot to his lower back. The incident occurred at the entrance of the San Pedrito Subdivision. Neal, who survived the attack, was treated for his injuries at the Dr. Otto Rodriguez San Pedro Polyclinic II. As police continue to investigate, they attribute the shooting to an ongoing gang rivalry on the island.
During a police press briefing in Belize City, the official report stated that sometime after 5PM the San Pedro Police responded to a shooting incident at Crocodile Street (by the entrance of San Pedrito) where they observed the motionless body of a male person. He was later identified as Jimell Paul Jex, an unemployed resident of the San Mateo Area. The official note also spoke about the other person injured in the attack, who was identified as Dion Neal, a security guard from Caye Caulker. He received gunshot wounds to his body and was treated at the Polyclinic.
The initial investigation revealed that Jex and Neal were walking on Crocodile Street when they were approached by two persons armed with firearms who chased them, firing several shots in their direction. Jex fell to the ground when he was shot in the head, while Neal continued running towards downtown where he later collapsed and was transported to the Polyclinic.
The briefing confirmed that on Monday, January 22nd Jex had been detained at the San Pedro Police Station and was on trial at the San Pedro Magistrate Court, but was released the following day. Neal had also been to court for charges of 'Damage to Private Property,' and upon Jex's release, they left the court together.
According to an eyewitness that was heading home from work on the day of the shooting, she heard two shots and thought the sound was from firecrackers. But upon arriving at the entrance of San Pedrito Neal ran past her, claiming that he had been shot. At the same time, she noticed three young men running towards the lagoon, and that is when she saw Jex laying in the middle of the street. She said that she froze at the sight of blood streaming to the side of the street.
Another female witness, who asked to remain anonymous, claims to have been the first person to see Jex while he was still alive. According to her, she was getting ready to head out for her evening workout when all of a sudden she heard five gunshots. "I counted them and I said to my sister, they cannot be pop shots (firecrackers)," she said. "So I came out of my yard and went to the street and then I saw the body of a young guy lying in a pool of blood. It was devastating to me as it was the first time I saw something like this and so I tried to assist him because I could see he was gasping for air, but there was nothing I could have done for him. It was so sad." She stated that several persons called the police, who took between 20 to 25 minutes to reach the scene.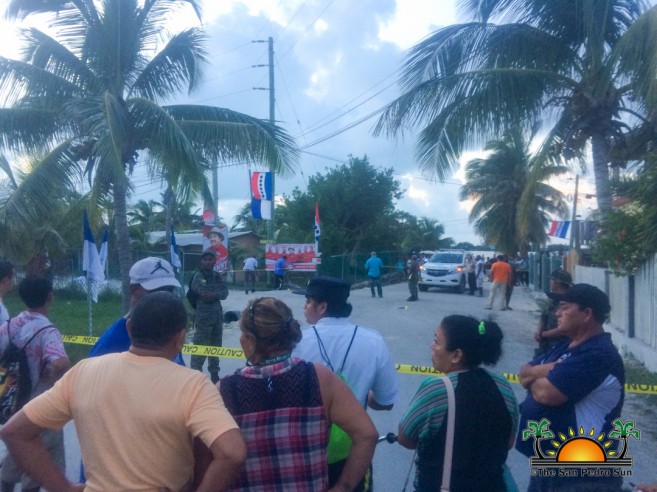 According to her, a few of their neighbors could not sleep in fear of something else happening. "It was hard for us; how can we have some cruel people shooting anyone? It doesn't matter if he was involved in anything – that's just cold-hearted," she said. "Now I am asking myself if I am safe in my own place. There is a shop right along the corner and sometimes I take my one-year-old baby to go shopping. What happens if I was to go to that shop around that time? It's very bad."
Residents in the San Pedrito subdivision are asking for more police patrols. Some eyewitnesses claim the perpetrators allegedly escaped on a boat that was docked on the lagoon side. "More patrolling is needed in San Pedrito, and what happens is that police do not realize that these culprits are using the lagoon to get away with any crime. The police know the dealings by this lagoon side, they could be patrolling all around this area but they are not doing it. San Pedro is really getting out of control," they said.
Reports are that Jex had recently moved to the San Pedrito Area and was trying to control the drug business in that subdivision. According to one source, this latest murder is part of a chain of murders that started with the killing of 30-year-old Jason Gillett in October of 2016. The next on the list was 44-year old Antonio Pagoada, who was murdered that same month. A year later in August of 2017 24-year-old Scott Charles was gunned down at his home in the Elliot Subdivision. Later that month, 34- year-old Armando Lopez was shot and killed in broad daylight in downtown San Pedro. The source added that the last murder related to this chain of incidents was the execution of 18-year-old Christian Contreras on Laguna Drive in October of 2017. It was revealed that one side of the gang rivalry happening on the island brought hitmen from Belize City to get rid of anyone close to Jex or Gillett.
Other residents also added that they had known Jex for a long time and that even though he had a bad past, he was trying to change.
Jex was no stranger to police and his brushes with the law can be traced to 2010 when he was charged with the murder of Aubrey Lopez, the son of former Belmopan Mayor Simeon Lopez. Aubrey, a teacher and basketball player was carjacked by a group of men. A gunman inside the vehicle reportedly shot him in the head and threw him out to die on the street. Police later caught up with Jex inside the car with a weapon believed to have been used in the murder. A witness gave a written statement pointing out that Jex was the gunman. He was on remand for four years until he was acquitted of the charge in 2014. During a trial that lasted three weeks, Jex denied committing the murder and continued stating that the reason why he was found in the car was that a friend of his had given him a ride. He simply argued that he was at the wrong place and at the wrong time.
After relocating to San Pedro, Jex ran into trouble with the law when he was caught with live ammunition in April of 2017. He did not only incriminated himself, but also his girlfriend, Tracy Betancourt. The discovery was made during a search at Jex's house where police discovered eight unlicensed 9mm rounds. He was arrested and charged with the offense of 'Kept ammunition without a gun license.' Betancourt was not present at the time of the discovery but was arrested and charged a few days after for the same crime. Betancourt who at the time was pregnant was given a bail of $7,500 by Crown Counsel Jackie Willoughby though the Firearms Act Chapter 143 Revised Edition 2000 which states that possession of unlicensed firearms and ammunition is a non-bailable offense. However, according to the police report, she was given the bail under the condition that she attend a scheduled date at the San Pedro Magistrate Court and then report to court every Friday while the case remained open.
Both she and Jex were scheduled to appear in court for the said offense on Wednesday, January 24th. Betancourt did make her appearance at the San Pedro Magistrate Court as scheduled. The San Pedro Sun tried to speak with her regarding her case and the recent murder of her boyfriend, but she declined the interview.
Since the beginning of the year, San Pedro has experienced three different shooting incidents, resulting in two fatalities and three injured persons. In the meantime, the Belize Police Department has deployed additional investigators and police officers to San Pedro to wrap up the investigation of this latest homicide. The presence of additional officers is also expected to deter any possible retaliation.
Follow The San Pedro Sun News on Twitter, become a fan on Facebook. Stay updated via RSS