Boxing: Belize triumphs over Mexico 5-1
Friday, November 25th, 2011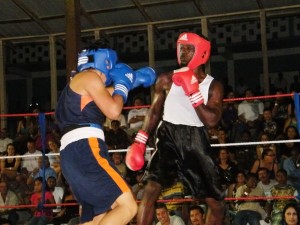 It was a night of excitement and adrenaline, when, on Friday, November 18th, boxing action was back in San Pedro. After the success of the Father's Day match held in June, King of King Productions once again brought in six Mexican boxers to pit against six of Belize's best. Sanctioned by the Belize Amateur Boxing Association, the six three-round bouts provided much entertainment to the crowd.
This time around, the Belizean boxers had more confidence, having trained for months leading up to the fights. While there were some obvious discrepancies in the size-height ratio, with the Mexican fighters seemingly shorter and smaller than their Belizean opponents, nevertheless, each fighter gave his all in the ring. Representing the Mexican team were Pedro Severo, Ramon Diaz, Francisco Rodriguez, Vicente Perez, Roger Flores and Tijade Jesus.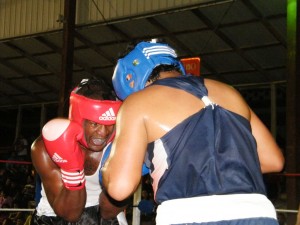 Belizean fighters Jimmy Jo Polonio, Maxwell Williams and Gilbert Omier lived up to the hype, winning their rounds with TKO's – Maxwell Williams took his victory within the first round of his scheduled fight. Mohamad Harmouch and Sherman Galvez both took their victory via decision, while Horace Cadle suffered the only defeat for the Belize team.
At the end of each match, Minister of Tourism, Civil Aviation and Culture, Honorable Manuel Heredia Jr. handed out medals to the fighters. Sponsors for the sporting event include Captain's Casino, Chris Berlin of Sunrise Realty, San Pedro Family Fitness Club (where the fighters trained), El Divino, San Pedro Belize Express, Ambergris Divers, the San Pedro Town Council, Ramon's Village Resort, Pedro's Inn, The Reef Radio, Skybox, Dzl Productions and The San Pedro Sun.
Congratulations to all the fighters for bringing the majority victory to Belize (5-1), and kudos to the organizers for another fun event.
Here are some videos and photos of the event:
Photo Gallery
Follow The San Pedro Sun News on Twitter, become a fan on Facebook. Stay updated via RSS