2015 Holiday Lighted Boat Parade Decorates our Caribbean Coast
Tuesday, December 22nd, 2015
Bigger, brighter, spectacular boats were on display for this year's Holiday Lighted Boat Parade. After first being canceled; then resurrected by a different group of organizers, the 2015 Holiday Lighted Boat Parade proved to be the best one yet. 15 decorated boats in the spirit of Christmas graced the eastern coast of Ambergris Caye on Monday, December 21st in a night of spectacular lights, food, cash and prize giveaways.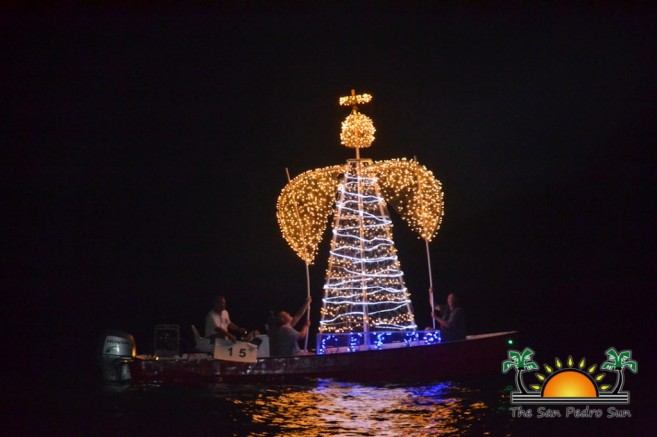 This year's boat parade was a collaborative effort of several island business with Dee Regis Vasquez from Wayo's Beach Bar and Aqua Vista Beachfront Suites at the helm. The parade was originally scheduled for Saturday, December 19th but was postponed due to inclement weather. Nevertheless, residents and visitors still made it out on the newly scheduled date to show support and enjoy what has become an iconic Christmas event in San Pedro.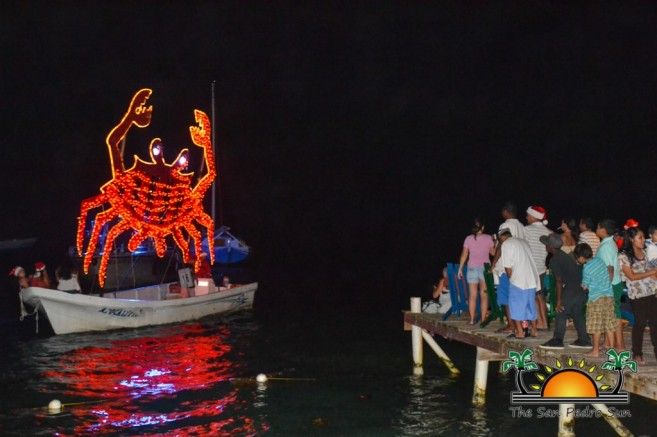 The parade started shortly after 5:30PM from Wayo's Beach Bar where all 15 boats lined up and flipped the 'on' switch to the sparkling lights. From crabby crabs to angelic angels, the themes represented in this year's boat parade displayed great creativity. After departing from Wayo's the parade headed north up to Coco Loco's Bar which was an official viewing station for the first leg of the parade. At Coco Loco's, the boats made a U-turn retuning south.

The boats then passed the second official viewing station at Palapa Bar at their new location on Wet Willy's dock. Here judges got their first glance at the boats. The boats then proceeded to Crazy Canuck's Beach Bar, which was also an official viewing station. At Crazy Canuck's, the boats made another U-turn returning north to Palapa Bar for the judges to get a closer look before tallying their votes. The parade ended at SandBar Beachfront Hostel and Restaurant, site of the award ceremony and after party.
Of course, there couldn't be an award ceremony without the winners, and that's where the trusty judges came into play. This year's judging panel consisted of San Pedro Mayor Daniel Guerrero, Miss San Pedro 2014-2015 Michelle Nuñez, Associate Editor of The San Pedro Sun Mary Gonzalez, Editor of the Ambergris Today Dorian Nuñez, San Pedro AIDS Commission President Felix Ayuso and guest judge Rochelle Lamb. After due deliberation, the winners were decided.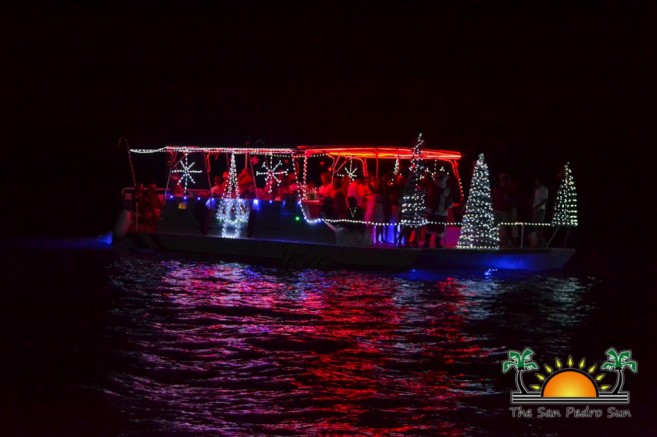 Taking the first place prize was Captain Rick Sutherland of 'Miss Zetti', sponsored by Ramon's Village Resort. Taking second place was Captain Wayne McRae of 'Way-Lin-Eh sponsored by Coco Loco's and Caye Coffee, while third place went to Captain Ben Popik of 'Mojo Rising' sponsored by Palapa Tours and Truck Stop. An award was also given to Best Small Boat which went to Captain Erik Henkis of 'Uprising' sponsored by The Phoenix. Honorable mentions also went out to ACES Charity Boat 'Miss Ness' sponsored by 12 Belize and Belize Diving Adventures, Captain Ben Robinson of 'Baby Boy' sponsored by Marbucks and Palapa Tours, Captain Jose Luis Zapata of 'Gaven' sponsored by Jose Luis Zapata Studios and Captain Kevin Smith of 'YOLO' sponsored by Kevin and Heather Smith.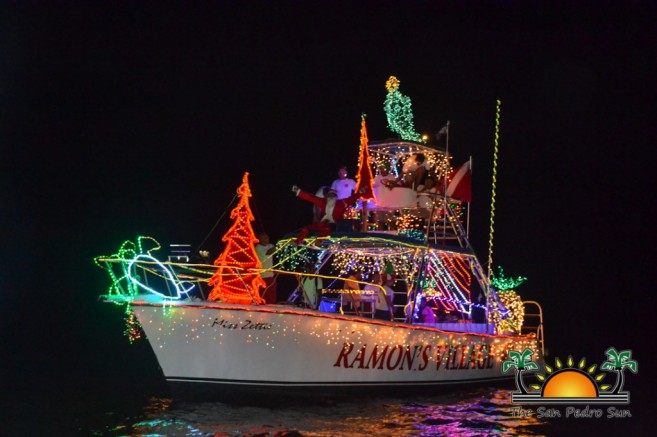 After the award ceremony, guest were invited to partake in 50/50 raffles and silent auctions at Sandbar. Lots to eat and drink were on sale along with music for a night of family fun. Proceeds of the 2015 Holiday Lighted Boat Parade benefited five charities. A grand total of $9,000 was raised: $3,342.50 for San Pedro Food Bank, $3,342.50 for Saga Humane Society, $1,017.50 for Ambergris Caye Elementary School, $897.50 for Belize Red Cross and $300 for Liberty Children's Home.
Organizers would like to congratulate the winners and participants. A big thank you goes out to all those who came out and showed support towards the event. Finally, organizers take the opportunity to thank all sponsors including: Sandbar Beachfront Hostel & Restaurant; Aqua Vista Beachfront Suites; Sandy Point Resorts; Wayo's Beach Bar, Crazy Canucks Beach Bar; Coco Loco's Beach Bar; Island Dream Tours; The Phoenix Resort; Palapa Tours; Belize Diving Adventures; Ramon's Village Resort; Palapa Tours; The Truck Stop; The San Pedro Sun; 12 Belize; Chuck & Robbie's; Lola's Pub; Palapa Bar & Grill; Caye Coffee; Paradise Theater; Tropic Air; Wild Mango's Restaurant; Black Orchid Restaurant; Lone Star Restaurant; Captain Shark's Marine Center; Belizean Melody; Go Yoga; Stella's Smile; LC Distributor; Castillo's Hardware; Banana Beach Resort; Coconut Carts; Projects Abroad; Reef Management & Consulting Services.
Follow The San Pedro Sun News on Twitter, become a fan on Facebook. Stay updated via RSS