Carnival Road March 2016: A parade of Patriotism and Culture!
Monday, September 19th, 2016
Heavy rain just minutes before the commencement of the annual Carnival Road March in Belize City, did not dampen the spirits of thousands of patriotic Belizeans on Saturday September 17th. The event is part of the September Celebrations and it started pre-dawn with the annual jouvert, culminating in the afternoon with a grand carnival parade, complete with elaborate, glittery and feathery costumes.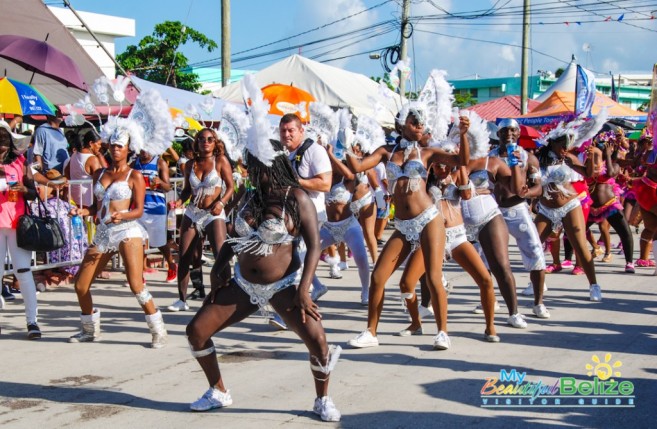 The morning jouvert set the bar high for the afternoon carnival road march, which left the Yarborough Area south of Belize City, and made its way along Central American Boulevard, culminating on Marine Parade at the BTL Park. From steel pan bands mounted on large double deck trucks, to blaring speakers playing Soca beats, the atmosphere was celebratory and filled with color and fun, as hundreds of dancers lit up the carnival route.

The gruelling temperature and humid atmosphere did not faze the thousands of spectators lining the parade route as they cheered on the dancers as they made their way to the BTL Park. Stationed at strategic points along the way were a set of judges, awarding points to the carnival groups for some fabulous prizes.

After over five hours of dancing and the bands showcasing their best moves, the winners of this year's road march were selected. In the Junior category, Sunshine Masqueraders won third place with a total of 361 points, while Collet Royal Revellers took second place with 396 points. Taking home the top prize with a total of 436 points was Jump Street Posse. For the Senior band category, Titans Mas Band won third place with 432 points followed by Mother Nature who claimed the second place with a total of 454 points. Winning the first place as champions of the Senior road march 2016 was Soca Moca with 465 points.

Following the announcement of the winners, an after party was to take place at the park, but it was cancelled due to a shooting incident at the end of the parade. However, despite that disturbance, Carnival 2016 has been declared another successful event, and Belizeans are eagerly looking forward to next year's once again!

The next big parade and celebration will be taking place on September 21st, Independence Day. San Pedro Town's parade is scheduled to start at 10AM at Boca del Rio, while Orange Walk's carnival parade is expected to start around 3PM, with official opening ceremonies starting at 1:30PM at Central Park.
Follow The San Pedro Sun News on Twitter, become a fan on Facebook. Stay updated via RSS