Vessel "So Sea" removed from the sea
Thursday, August 27th, 2015
After more than four months since grounding on the reef, the sailboat "So Sea" was finally removed on Tuesday, August 25th. The vessel had run aground on a portion of the reef near Hol Chan Marine Reserve on Wednesday, April 1st, but was later moved to a sea grass bed until preparations could be made for its safe removal from the Caribbean Sea. The Department of Environment (DOE), in collaboration with Hol Chan Marine Reserve, contracted Island Construction Company limited to carry out the removal. Since the vessel was no longer near any sort of reef system, the operation went smoothly and the sail boat was removed with little damage to the environment.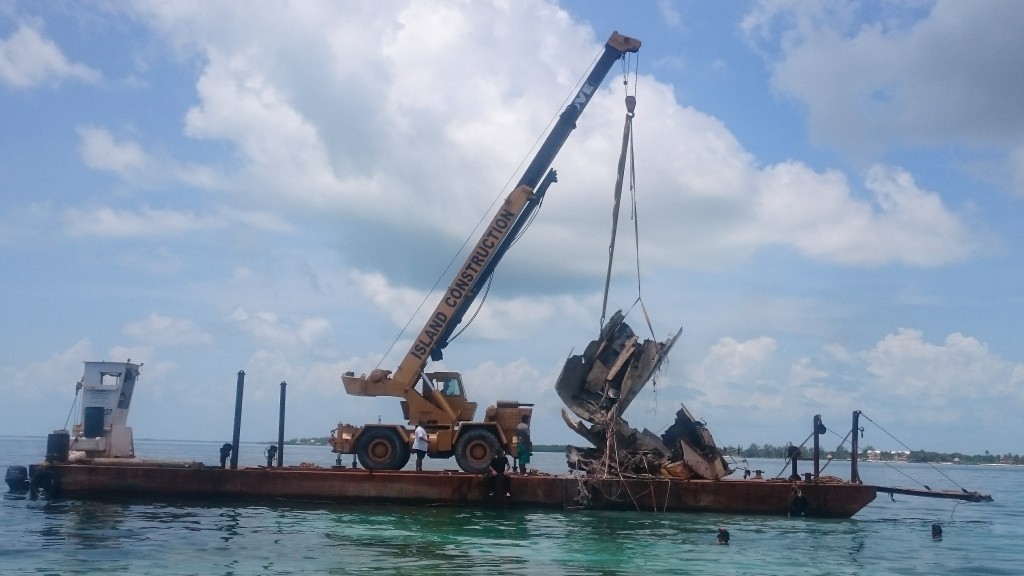 The vessel belonged to 76-year-old Carecen Charles O'Connor, who crashed his sailboat while attempting to enter the reef late in the night. O'Connor attempted to remove the vessel from the reef but due to inadequate marine conditions, failed at the attempt. He was then left to swim ashore, where he landed safely at about three miles south of San Pedro Town.
During the initial Environmental Damage Assessment, an attempt was made to bring the sail boat to land, but due to a damaged hull, it was not possible. Instead, the vessel was removed from the crest of the reef and placed in a nearby sea grass bed. As time went by the vessel partially sunk, requiring additional resources to be fully removed from the sea. Island Construction Company provided the necessary equipment and service to remove the sail boat without further damage.
Communication is now ongoing for the completion of the damage assessment and compensation to be met.
On another note, DOE has indicated that plans are already underway to remove the sail boat "Termaji" that has been grounded on the reef near Caye Caulker since December 30, 2014 in the coming months.
Follow The San Pedro Sun News on Twitter, become a fan on Facebook. Stay updated via RSS