Lobster Season reopens: predictions for the 2016-2017 season
Monday, June 13th, 2016
It's been almost four months since the lobster season closed to allow the spiny lobster populations to replenish. The reopening of the season is on Wednesday, June 15th and what better way to rejoice in San Pedro than with the 2016 Lobster Fest! During this time, residents and visitors indulge in their favorite lobster-themed dishes. The twelve-day celebration commences on Wednesday, June 15th and ends with a grand block party on Saturday, June 25th.
Under the Fisheries Act of Belize, regulated by the Belize Fisheries Department (BFD), the consumption and harvesting of the Caribbean Spiny Lobster (Panulirus Argus) is only allowed from June 15 to February 14. The Belize Fisheries Department reported that after the 2014-2015 lobster season closed, the quantity of lobster tails produced was 484,891.1 pounds in 2014, with the figures increasing to 535,863.2 lbs in 2015.

Spiny Lobster remains one of the top marine exports for Belize, with earnings reaching up to $15BZ million in past years. According to Mauro Gongora of the BFD, the lobster fishery looks stable, and the quota should be sufficient to provide for lobster fest. "It is projected that the season will be a normal season with a total of 439,000 pounds of tails produced for the 2016-2017 season," said Gongora.
Having enough lobster means more chances to discover unique culinary delicacies that star the versatile lobster. From pizza to ceviche, dip, kebobs, and even cheesecake, you'll never get tired of tasting lobster in different varieties. During Lobster Fest, the Lobster Crawl will see various day and night time activities for residents and visitors to enjoy. Participants are encouraged to get their Lobster Fest Passport stamped at all Lobster Crawl establishments. The more stamps you have, the more chances you have to win a vacation package for two to attend the San Pedro Lobster Festival 2017! The vacation package includes complimentary local airfare, hotel stays, tours, golf cart rental, bar tabs, dinners, massages and much more.
The Lobster Fest Central Park Block Party will take place on Saturday, June 25th, and will feature the musical talents of the Pannerifix Steel Band. Booths will provide a variety of lobster dishes and refreshing cocktails throughout the evening, and much fun activities. The official after party will take place on Sunday, June 26th at Caribbean Villas, with a beach party and sailing regatta.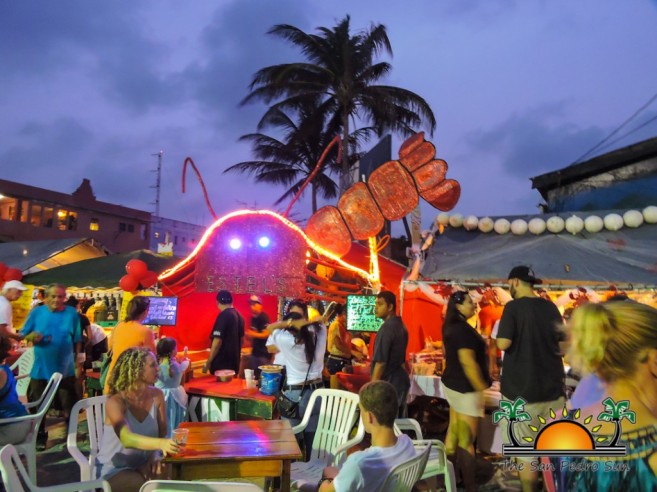 The following is the official schedule of events for Lobster Fest 2016:
Wednesday, June 15th- Amber Beach Bar & Grill (all-day)
Thursday, June 16th- Caye Coffee Roasting Co. (day) Pirate's Treasure Restaurant & Bar (night)
Friday, June 17th- Mesa Café (day) Estel's Restaurant (night)
Saturday, June 18th- Pirate's Treasure Restaurant & Bar (day) The Coconut Café/ Crazy Canucks (night)
Sunday, June 19th- The Dive Bar (day) Sandy Points Resorts at Costa Blue Dive and Beach Resort (night)
Monday, June 20th- Hol Chan Marine Reserve (day) Crazy Canucks Bar (night)
Tuesday, June 21st- Wahoo's Lounge (day) Pineapple's Restaurant @ Ramon's Village (night)
Wednesday, June 22nd- Chocolate Boutique (day) Pedro's Pizza (night)
Thursday, June 23rd- 12 Productions (day) Belize Truck Stop (night)
Friday, June 24th- Palapa Bar (day) Rain at Grand Caribe (night)
Saturday, June 25th- SEAduced by Belize (day) Block Party (night)
Sunday, June 26th- After party @ Caribbean Villas Sailing Regatta (all-day)
This is one event that you don't want to miss, so make sure to mark your calendars! If you have any questions regarding Lobster Fest, please contact Rebecca Arceo at 610-1697 or email her at [email protected]
The Fisheries Department will be closely monitoring the lobster fishing season for undersized species. Lobster tails must weigh four ounces or more to be considered legal for consumption. The vernier caliper (from center of eye to the starting of the tail) carapace must measure three inches or more for a whole lobster. Any fishermen caught with undersized lobsters will be prosecuted, and their catch confiscated. Fishermen harvesting undersized lobster face a $500 fine and other penalties depending on the level of the offence. Individuals or restaurants with lobster below the minimum approved sizes will be charged and fined for being in possession of undersized lobster. Lobster season ends on February 14, 2017.
Follow The San Pedro Sun News on Twitter, become a fan on Facebook. Stay updated via RSS