Garbage being used as landfill for San Pedrito street? Mayor says not so
Friday, March 3rd, 2017
Eyewitnesses have reported to The San Pedro Sun that San Pedro Town Council (SPTC) garbage trucks have been seen dumping trash along the new road that is under construction in the San Pedrito Subdivision. However, Mayor Daniel Guerrero denies that any such practise is in place. The road in question is just south of San Pedrito, which will connect that subdivision to the San Pablo area. The massive piles of garbage along the road in progress, which consist of old mattresses, discarded electronic items, old stoves and other non-biodegradable refuse have raised major health concerns.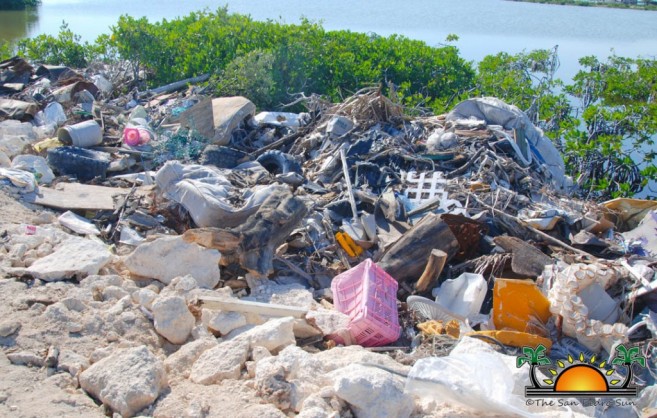 Guerrero admitted that the area has been used as a dump, but guaranteed that with the construction of the new road things will change. He acknowledged that garbage disposal has been a challenge and they will look at ways of trying to enforce the law against this unhealthy practice. He takes the opportunity to remind the island residents to stay away from this practice, and to work together with the Town Council in keeping the island as clean as possible.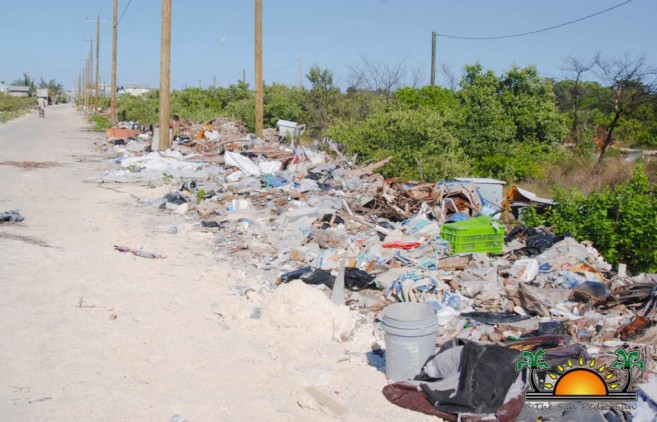 He further admitted that in the past, garbage has been used for landfill since the island did not have a proper way to dispose of trash, particularly when it came to large items such as refrigerators and other types of appliances. However, Guerrero indicated that most likely, this will not be the case in San Pedrito, as he is concerned about the damage this type of practice can cause to the environment in the long run. "We don't have any intentions to use garbage to build the road in that area. However, we need to find a proper way to dispose of that garbage," said Guerrero. "We are going to clean up that area so it does not continue to be an eyesore." He also mentioned that to the east of the road, there are lots who are owned by some residents of the island.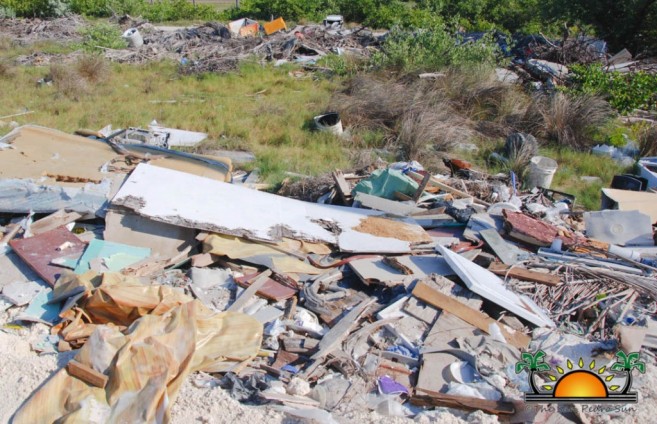 "Some residents that own land next to the road might have dumped garbage on their property for the purpose of using it as landfill. We cannot clean those areas since is private property, but the areas that are not we will clean them all," said Guerrero. According to him, at the moment there is no way to stop anyone from doing works on their properties including using waste as landfill.
Contrary to the Mayor's statement, the Department of Environment told The San Pedro Sun that this type of disposing garbage is considered dumping. They added that the local authorities do have the power to deter such practice, which can become a public health issue.

In addition, the Environmental Protection Act chapter 328 Subsection 13-(1) states that 'no Person shall dump or dispose or deposit any garbage, refuse, toxic substances or hazardous wastes in any place that may directly or indirectly damage or destroy flora, fauna, or pollute water sources and the environment.' The Act continues by stating that any person who contravenes with this law automatically commits an offence and shall be liable on summary conviction to a fine not exceeding $25,000 or imprisonment for a term not less than six months and not exceeding five years. The law also suggests both fine and imprisonment.

As the road approaches its final phase of construction in San Pedrito, the SPTC has indicated that it will be sending machinery and equipment to remove the garbage that can be removed and find the best ways to dispose of it. At the same time, residents are encourage to report anyone seen illegally dumping garbage anywhere on the island.
Follow The San Pedro Sun News on Twitter, become a fan on Facebook. Stay updated via RSS