SPTC to implement new recycling program
Saturday, November 19th, 2016
In order to properly address the on-going garbage crisis across Ambergris Caye, Mayor Daniel Guerrero is hoping to increase cleaning efforts by putting forth a new recycling program. Paper, glass bottles, Styrofoam, and plastic are not only unappealing, but they contribute to environmental and marine pollution, vector borne diseases, and various health hazards.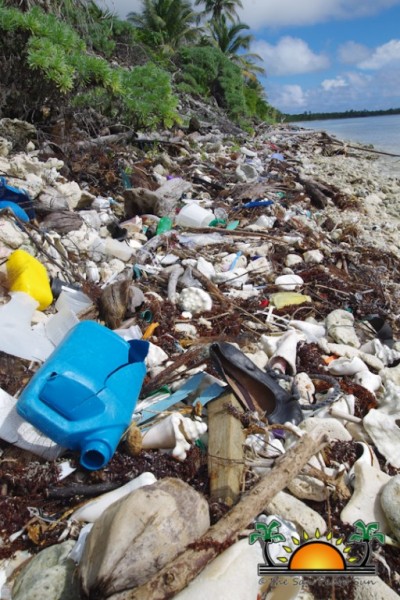 According to Mayor Guerrero, San Pedro needs to 'clean up' their act urgently. "San Pedro is Belize's leading tourist destination, and we are trying to maintain that. We want to implement this recycling program so that the town is clean, attractive, tropical and friendly," said Mayor Guerrero.
Although San Pedro does not have recycling bins, the San Pedro Town Council (SPTC) is looking to invest in purchasing these bins to reduce trash. The idea is for residents and visitors to place their recyclable items (paper, aluminum tin, and plastic) in separate bins around public areas.
Mayor Guerrero also told The San Pedro Sun that he is looking to emphasize glass bottle recycling. He wants to give glass jars, empty soft drinks, liquor and wine bottles a second life. He stated that the SPTC will be giving out incentives. "This program will be an asset to the community, especially to the underprivileged. The SPTC will pay you for your glass, and this might encourage students to collect glass bottles to be sold. I plan to move forward with these recycling programs, and develop scholarships for students," said Mayor Guerrero.
Mayor Guerrero believes recycling glass has many benefits. He is planning to implement a process that will refine recycled glass into two different sizes, and one will be used as sand to build roads, while the other could be used for adornment. He hopes by implementing these tactics, the region will benefit both economically and environmentally. Mayor Guerrero hopes that San Pedro can become an example to other similar municipalities and create a case study that proves that recycling should be a priority in Belize.
Upcycling trash to create art
Meanwhile, one person's trash is another person's treasure, and for crafter Jaunece Messervy, trash is a daily inspiration. In an attempt to help deal with the island's excessive garbage problem, she picks up recyclables, and transforms them into thought-provoking art or environmentally-friendly products. However, this unique spin on recycling garbage doesn't just give birth to interesting art, it also generates revenue for her. Messervy has made crafts from glass bottles, cans, plastic bags, old towels, plastic bottles, pallets, Styrofoam, cardboard, old bedding, dysfunctional refrigerators, and even tires.

"In 2012, my husband and I moved completely out of the United States. When I was on the island the first year, I would observe and see: what was in place for recycling, what was being addressed by the Government, and what was being taught to the students in school. As I walked San Mateo, Boca Del Rio and downtown, I would watch people think nothing of dropping their trash or items on the ground, and they just walk away. I would then walk and pick up a plastic bag full of trash within five minutes, and that's when I knew something had to be done. I started collecting these recyclables, and began creating crafts," said Messervy.
Many artists and crafters choose a specific medium to focus on, and Messervy enjoys working with glass. According to her, glass is not only readily available on the island, but quite versatile to use. "Glass is strong, useful, and it can be manipulated into items for beauty or everyday use. San Pedro has more bars per capita than any other business. You also see barges from the mainland bringing over containers full of styrofoam, plastic, and paper goods for businesses. Every bar throws more recyclable items away than any other businesses. I believe it should be the responsibility for every business owner to find all means to reuse or recycle items. Since I could have no influence on any of the enforcement of laws because I am only a resident, I needed to find something where I could feel like I was making a difference, and I chose glass," said Messervy.
Some of her glass crafts include candle holders, night lights, and hydroponic jars used for pre-planting.
Messervy previously worked with San Pedro High School students teaching the importance of recycling, and demonstrating ways to make crafts from recycled items. She hopes that through her crafts and art, she will spread awareness about the garbage crisis that needs to be terminated. She also hopes to partner up with the SPTC to address these issues. 'J's Clay Creations' can be viewed by setting up an appointment at 637-3480.
Follow The San Pedro Sun News on Twitter, become a fan on Facebook. Stay updated via RSS