DFC Eco Rangers are on a mission: Keep San Pedro garbage-free!
Friday, April 21st, 2017
The 'Development Finance Corporation (DFC) Eco Rangers' is a youth group formed in San Pedro Town with a grand mission to keep La Isla Bonita clean. The Rangers focus on cleaning, gardening, and beautifying their residential area in DFC. They have also been active in raising awareness to keep the island garbage-free by introducing various clean-up methods. Now, with the help and support of Adan Kay, Human Development Officer for San Pedro, and island resident Diane Klumb, the Rangers have evolved into a formal group with over ten members of varying ages.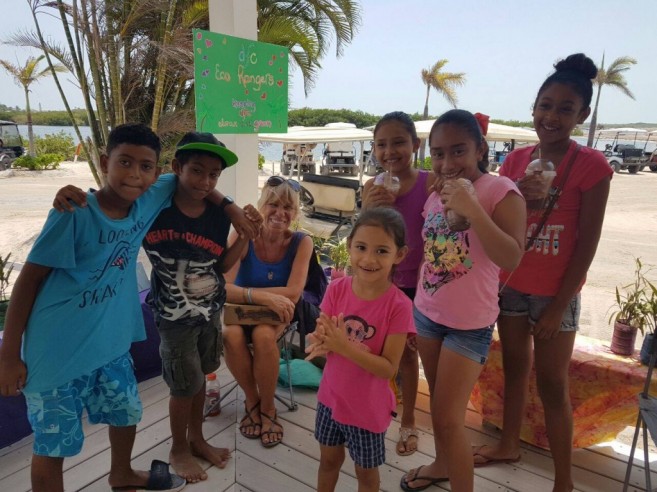 Kay told The San Pedro Sun that the Rangers Club formed a few months ago when his daughters began helping his neighbor, Diane Klumb. "My daughters and their friends would go over to my neighbor's house, helping her to paint and do various artwork. But since she also likes to clean her yard, and surrounding area, she would often pick up garbage on the streets scattered by dogs/cats. My kids starting helping her, and then they invited their friends to help, and that is how it began," said Kay.
The Rangers have been very active, even starting a garden and planting flowers in their area near Angelica's Store in DFC. Each Ranger is responsible for taking turns watering plants, cleaning the area of visible trash, placing painted five-gallon buckets that read 'Keep DFC Area Clean' in corners of the area, and even collecting bottle caps to start a recyclable mural project. Klumb said that the Rangers have successfully adapted to this lifestyle and have become so involved in cleaning that they even named their street the 'Leeward Circle'.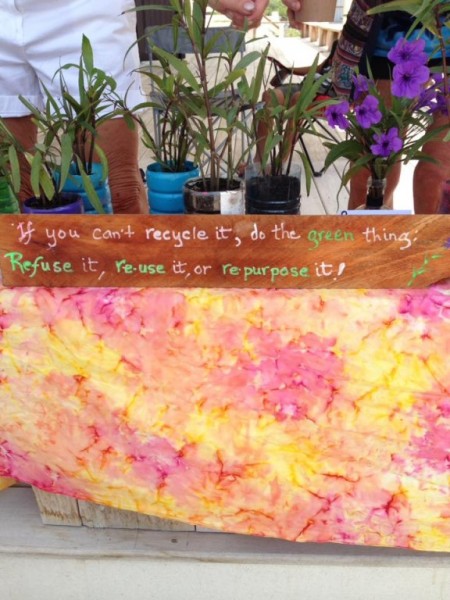 Now, as an established entity, the Rangers hosted their first fundraiser at Mahogany Bay Village's Market Day on Saturday, April 15th to raise funds to buy their members official t-shirts. From 11AM to 1PM, the Rangers sold 16 plants they grew themselves, hand-painted 'Don't Litter' signs, and even received a few donations, which raised a total of $260.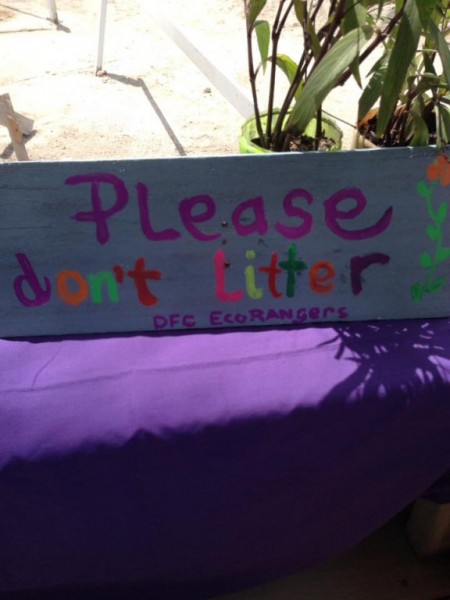 Kay stated that the kids are excited to receive their t-shirts, and are developing fun plans for the Rangers. "The Rangers have been effectively raising awareness on how to properly dispose of garbage, and this is a great way to get our youth involved. The kids are excited to get their t-shirts because they have been working hard together, and have united themselves in doing something positive for our community. The Rangers take pride in their actions, and now, whenever they see others throwing garbage, it becomes a reflex for them to advocate about the importance of keeping San Pedro clean. You can tell that the kids are inspired, and we know the Rangers will be expanding," said Kay.
As an adult supervisor of the Rangers, Kay said that the neighborhood residents have all pitched in to pay a yard worker to clean the bushy areas of Leeward Street. However, he stated that the Rangers would like to seek assistance from the San Pedro Town Council to provide their area with blue garbage drums, to enforce the law for residents to keep their yards clean, and to provide occasional cleaning services.
Apart from learning to keep the earth clean, the Rangers have also learned good morals and developed healthy habits. Kay stated that San Pedro, as a tourist destination, should not be struggling to stay clean. While many tourists have complained about the unsightly areas in town, it is up to the community to contribute to the upkeep and beautification of the island.
The DFC Eco Rangers are hoping that with their anti-littering strategies, other neighborhoods throughout San Pedro Town will be influenced to start their own environmental beautification club. So far, Addy Martinez, Principal at Isla Bonita Elementary School, has expressed interest in starting a Rangers club for her students who live in the area of San Juan/San Pedro Town. Until then, the Rangers continue to work together to reach their goals of keeping their areas clean and attractive.
Kay stated that another plant sale is in the works at The Truck Stop, in North Ambergris Caye. They hope to raise funds for their local gardening, and area beautification projects. If you have additional questions or information on how you can get involved, please call Adan Kay at the Ministry of Human Development at 206-2645.
Follow The San Pedro Sun News on Twitter, become a fan on Facebook. Stay updated via RSS