Island businesses going Green and switching to Biodegradable products
Friday, August 4th, 2017
With development escalating on the island of Ambergris Caye, tackling excessive garbage has been a major issue. Non-biodegradable items like plastic, glass bottles, Styrofoam, and aluminum accumulate on land and in the ocean, causing much harm to the environment. In an effort to reduce the strain on the environmental, several restaurants and bars in Ambergris Caye are switching from plastic and Styrofoam products to biodegradable alternatives. Moreover, they are hoping that their efforts can raise awareness about the ill-effects of plastic/Styrofoam to the environment.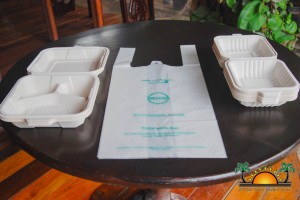 David Jenkins, Co-owner at Sandbar Restaurant, became motivated after seeing a viral video of a sea turtle having a straw removed from its nose. Since then, he has paved the way for other businesses to make the transition from plastic to biodegradable paper. "We loved the idea of using biodegradable, especially since we're a beachfront destination. We never liked using plastic because we usually make the effort to make sure the ocean is not congested with plastic. Hopefully more businesses do the same thing we have started, by switching to bio-degradable straws, containers, and to-go paper bags," says Jenkins.
Pollution from plastics goes beyond looking unattractive, as it also has a direct and deadly effect on wildlife, killing thousands of birds, sea turtles, and other marine mammals annually. When plastic debris finds its way into the ocean, it is ingested by fish who confuse it for food. People then eat this fish, themselves swallowing hundreds of small plastic pieces. United Nations Development Programme (UNDEP) states that single use plastics are a problem for the whole world. It is estimated that if the current consumption pattern continues, by 2050 there will be more plastic in our oceans than fish – measured by weight.
The owner of Hidden Treasure restaurant, Ruben Muñoz, has also taken to bio-degradable products. "We do a lot of takeout food, but we decided to go biodegradable for our delivery containers. We purchase most of our products from Ecofriendly Solutions Limited in mainland Belize. It's just a matter of trying to reduce our carbon footprint on the island. This is our way or doing our part. We don't want to contribute to the problem," said Munoz. "The costs are a little bit more, but overall, it will definitely be a help to the environment. I wish that other companies do the same. It would really cut back on a lot of waste material that ends up on our island and in our waters. It would be a win-win situation."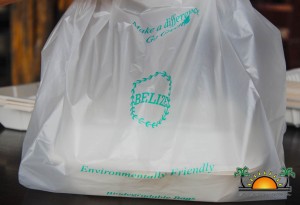 Mayor Daniel Guerrero told The San Pedro Sun that he supports all businesses who do their part in helping to eradicated garbage. "I think our entire island has to go green. We as humans need to appreciate the environment and we need to be more positive towards our planet. San Pedro is the youngest municipality in the country, but is the fastest growing and produces high quantities of trash," says Guerrero.
The Mayor also believes that it is time for Central Government to take action by increasing taxes on non-biodegradable items. "Relieving the taxes on plastic and Styrofoam is a matter that Central Government has the jurisdiction to make a change. Jorge Aldana, San Pedro's Community Development Office, has completed a survey of all plastic and foam on the streets. Because of the survey, we are preparing a position paper to suggest that the government comes up with an incentive to exempt all duty on biodegradable products and put a higher tax on plastic," explained Guerrero. He further explained that he has plans to visit all of the grocery stores on Ambergris Caye and encourage the owners to charge for plastic bags. That way, you discourage customers from using plastic, and encourage them to bring their eco-friendly bags.
In addition, Mayor Guerrero is also improving garbage collection on the island. He's bringing eight new trash compactors, restructuring the waste management system, and adding additional workers to keep the island clean. "We are working on our recycling efforts, especially with our Clean-up Campaigns. We will be recycling glass, plastic, and other materials. Recycling bins will be installed at schools so that children as young as preschoolers can be educated in proper garbage disposal."
Every business in the island is encouraged to go green. Currently, Ecofriendly Solutions Limited is the largest distributor in Belize for bio-degradable items, from non-toxic everyday cleaners to biodegradable disposables. They can be contacted via emails at: [email protected] or [email protected], or phone number 222-5082.
Follow The San Pedro Sun News on Twitter, become a fan on Facebook. Stay updated via RSS