Belize Chocolate Company announces "Go Straw-Less" campaign
Thursday, September 28th, 2017
With the aim of reducing the amount of plastic straws in the marine environment, The Belize Chocolate Company (BCC) has announced that it will start a "Go Straw-Less" campaign on Sunday, October 1st. The BCC is encouraging all their customers that buy a milk shake or cold drink to go straw-less. In return, for every customer that does so, the company will be donating $1 to Oceana Belize.
Straws often don't make it into recycling bins; the evidence of this failure is clearly visible on our beaches. Although straws amount to a fraction of ocean plastic, their size makes them one of the most insidious polluters. Marine animals often mistake the straws for food, and the small bits of plastic can become lodged inside them, causing much harm. Chris and Jo, the owners of BCC, told The San Pedro Sun that they wanted to do something to help minimize the amount of garbage in the environment. Beyond taking part in beach cleaning campaigns, and other environmental awareness campaigns, the owners have tried different strategies, to minimize the amount of garbage in the environment. They had tried using paper straws and eco-friendly cups, but they wanted to go further. "We hope that this campaign will have a positive turn out, and in turn motivate other businesses, to help minimize the amount of garbage on the island," said Jo.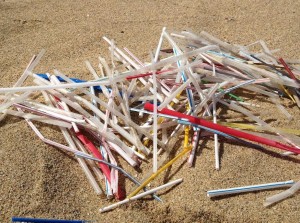 The BCC has also launched a 'Go Straw-Less" poster competition to any Primary or High School in Belize. The content is expected to raise awareness on the importance of preserving our environment within the upcoming generations. Prizes include chocolate gift certificates of $75 for first place, $50 for second place and $ 15 for the third place. For more rules and more information, email [email protected]
The Belize Chocolate Company joins, The Hidden Treasure and Sandbar Restaurants in leading the movement to preserve the environment through the switch to biodegradable products and promoting cleanliness on La Isla Bonita. They call on other businesses to join their efforts to preserve and protect Belize's environment.
Follow The San Pedro Sun News on Twitter, become a fan on Facebook. Stay updated via RSS