Human impact continues to threaten sea turtle nesting season
Saturday, May 13th, 2017
The sea turtle nesting season has commenced, and the Ambergris Caye Marine Turtle Program (ACMTP) has been scavenging for turtle nests in key nesting sites. As the nesting season runs May through September, ACMTP is asking the public to be extra cautious during turtle nesting season. After a recent trip to Punta Azul on Wednesday, May 3rd, ACMTP noted that large construction, excessive garbage, and sea walls may threaten this years' nesting season.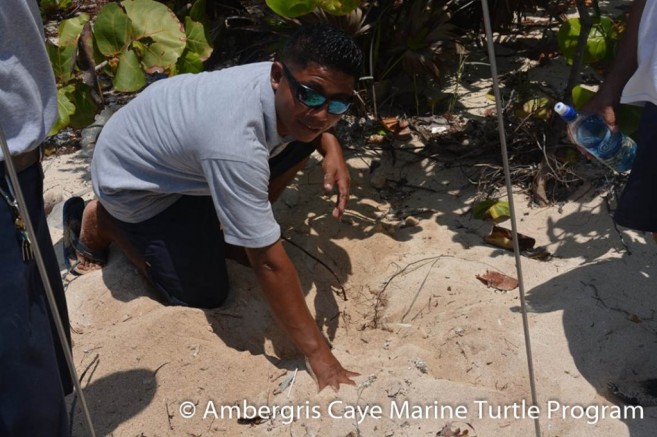 Marine Biologist and Hol Chan Marine Reserve Manager, Miguel Alamilla says these risk factors can reduce the number of turtle nests. "Over the years, we have seen less nesting activity. We suspect it is due to the development on Northern Ambergris Caye. Heavy machinery on the beach can impact turtle nests, which shifts the sand on the beach and can disturb the nests," said Alamilla.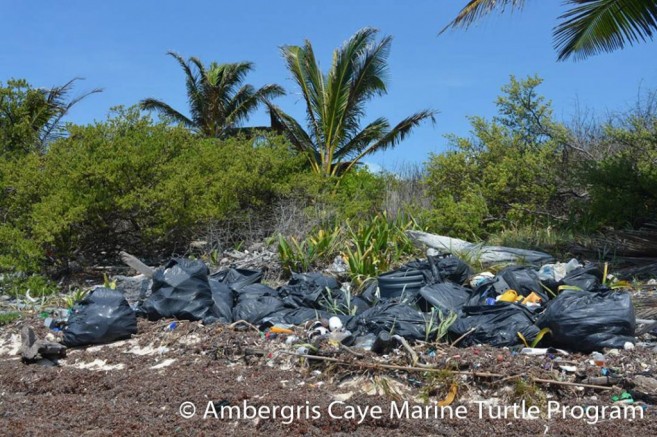 He said that in some cases, development can be a protection for nests, but property owners need to develop accordingly. Although Hol Chan has addressed the issue with the San Pedro Town Council, he says that there isn't much that can be done since there is no main road access. "It is a tricky situation, and sometimes, developers are not really aware. Heavy machinery, like a Bob Cat, can disturb buried eggs as it shifts the sand. We try to inform hotels and land owners to be mindful," said Alamilla.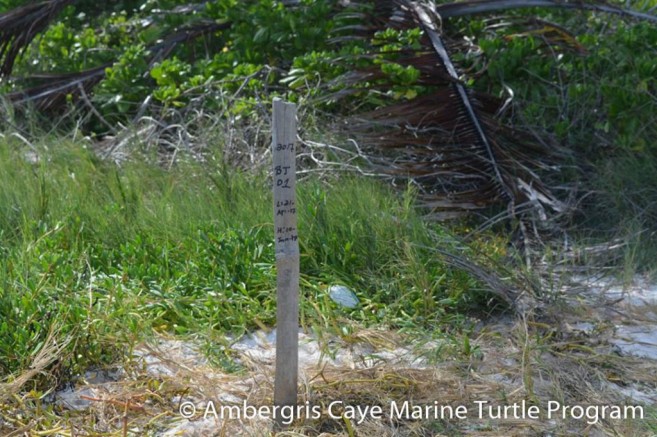 Since nestlings depend on the glare of the horizon to go off shore, artificial lighting is another problem, as it is known to disorient the nestlings and cause them to go further inland instead of the sea. Alamilla is suggesting that developers and beachfront property owners position their lights in a manner that does not affect the turtles.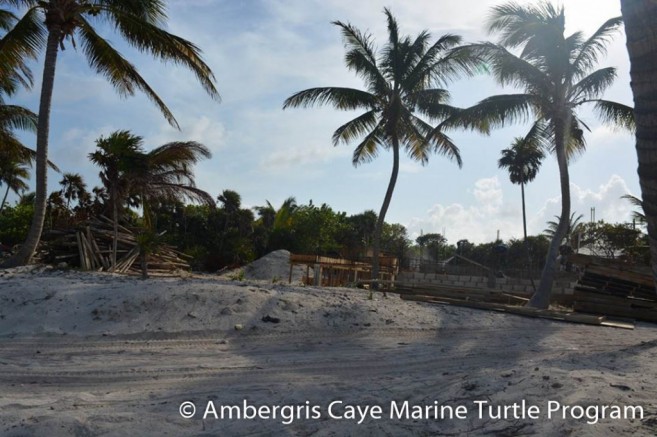 Although this is not a concern for main nesting sites in Robles or Rocky Point Beach, garbage, stray or unleashed dogs, and seawalls are also an issue. "When nesting females see loads of heavy trash, they make a false call and do not nest because it is too congested. Plastic has been also been a major concern for us. We have recorded cases where these turtles confuse plastic for jellyfish, eat it, and die. Seawalls cannot be modified, and because of that, it causes the turtles to lose their track. Pet owners are encouraged to contain their dogs. There have been cases of dogs roaming at night, and interfering with nests," said Alamilla.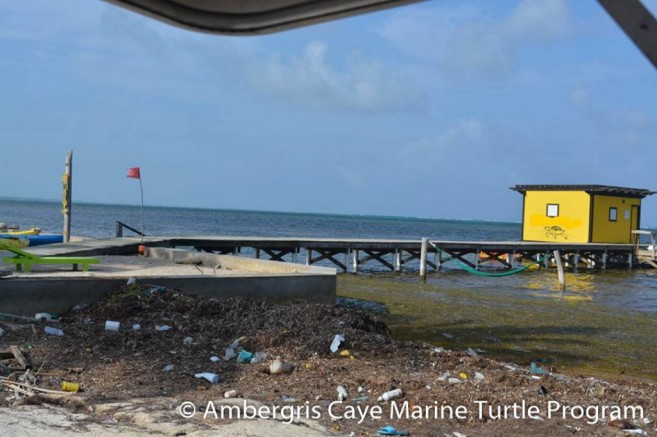 ACMTP reminds the public that the three varieties of sea turtles: the Loggerhead, the Green turtle, and the Hawksbill, are not only synonymous to Ambergris Caye, but they are an endangered species. Sea turtles take 30 years to reach sexual maturity, so turtles born three decades ago have had the benefit of being protected in Belize. Since 1993, the public has been reminded that it is illegal to disturb turtle nests or possess sea turtles poaching turtle nests or sea turtles is illegal. A person could face criminal charges if caught having turtle products, including the carapace, eggs. The selling or trafficking of any sea turtle can constitute an infraction that can result in a fine of up to $1,000 and up to one year's imprisonment.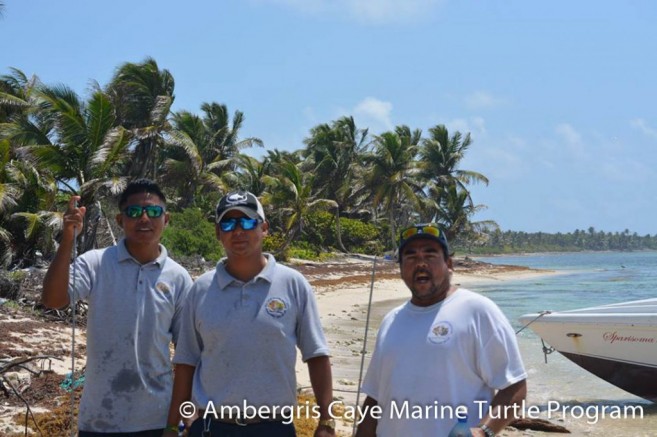 So far, ACMTP has discovered two loggerhead turtle nests, and is expecting a 'normal' season this year. However, ACMTP continues to monitor weather conditions and possible hurricane activity, hoping that Ambergris Caye is spared from another hurricane. Last year, Hurricane Earl made its landfall in Belize in August 2016, leaving behind a trail of destruction in coastal and mainland areas of the country. A total of 89 nests were observed in 2016, which was 20% less nest than in 2015. However, due to the hurricane, only 40 of the 89 nest laid hatched.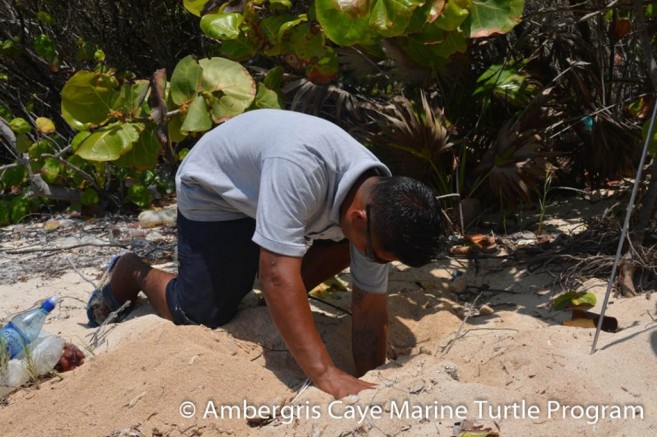 Despite that figure, ACMTP is optimistic that all of those years of sea turtle conservation will pay off, and hopes to see an upward trend in turtle nests. In the meantime, ACMTP will continue to monitor the beaches for more turtle nests.
Everyone is encouraged to practice caution when traveling the beach, as well as report stranded hatchlings, suspected turtle nests or turtle crawls along the beach to the Hol Chan Marine Reserve Office at 226-2247. For more information on the program, please visit their Facebook page at: www.facebook.com/AmbergrisCayeMarineTurtleProgram/
Follow The San Pedro Sun News on Twitter, become a fan on Facebook. Stay updated via RSS