SPRCS students enjoy marine exhibit
Tuesday, May 30th, 2017
In an effort to raise awareness on reef conservation, Carina Paz, 13 year-old Standard Six student at San Pedro Roman Catholic School (SPRCS), hosted a marine exhibit on Friday, May 26th. It was her second year hosting the exhibit, and Paz invited SPRCS's Infant One through Standard Six classes to observe, learn, and interact with many species that live inside the reef.

During the exhibit, Paz explained the importance of marine life, as they contribute to the health of the reef. With the help of Hol Chan Marine Reserve, the students had the opportunity to interact with a 'touch tank' filled with Belize's native sea creatures like the Queen Conch, star fish, sea cucumber, pencil sea urchin and various mollusks. The children took turns holding the creatures, while learning important facts about the species.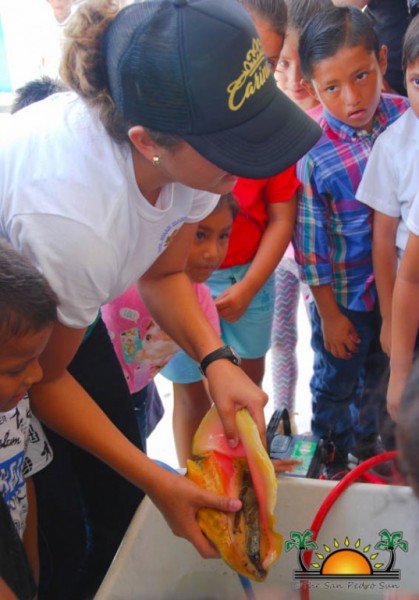 Paz explained what inspired her conservation efforts. "I fell in love with Belize's Mesoamerican Barrier Reef ever since I was a child. As a snorkeler and certified scuba diver, I greatly appreciate our marine life. I also participate in Hol Chan's Ambergris Caye Marine Turtle Program with Marine Biologist Kirah Foreman-Castillo, which made me fall in love with turtles. I assist them to search for turtle nests, while frequently monitoring them until the hatchlings make their way safely to the ocean. With the knowledge I gained on marine life, I wanted to do something for my school, and allow my peers to become familiar with these precious animals," said Paz.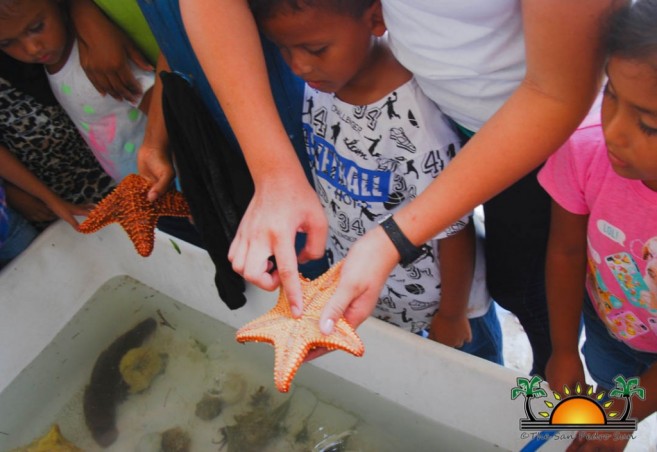 Paz stated the importance of educating the youth on sea creatures. "Our marine life is vast, and it took years for it to become what it is now. However, it can also deteriorate in a blink of an eye, so it is very important to preserve it. It is also the main attraction that supports our tourism industry. So the more we damage our reef and its animals, the less we will have to enjoy. That's why we need to educate Belizeans at a young age on the importance to protect it," said Paz.
She hopes that the students can retain the information shared, so they can teach others about marine conservation. She thanks SPRCS, Hol Chan, and the San Pedro House of Culture for allowing her to host this significant exhibit, and looks forward to holding similar events in the future.
Follow The San Pedro Sun News on Twitter, become a fan on Facebook. Stay updated via RSS