Blue Ventures and Belize Fisheries Department educate islanders on the impact of lionfish on the marine ecosystem
Wednesday, August 30th, 2017
On Wednesday, August 23rd a meeting was held at the San Pedro Lions Den, organized by Blue Ventures Organization and Belize Fisheries Department (BFD). With the goal of educating the public on the impact of lionfish to the marine ecosystem, the conference motivated everyone to create a market-based approach to lionfish control. Attending the meeting were restaurateurs, tour guides, fishermen, conservationists as well other members of the community.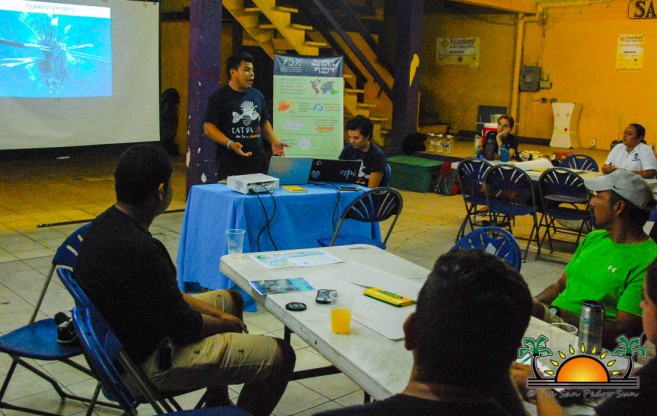 Along with other Non-Government Organization's (NGO) and agencies, the BFD developed the Belize Lionfish Strategy and Action Plan for Belize in 2009. These latest community consultations are in an effort to update the management plan. With a single female lionfish laying up to 2 million eggs per year, their staggering amounts in the marine ecosystem have a direct negative effect on our fish biomass. According to BFD representative Vanessa Figueroa, "A single lionfish is able to consume up to 30 juvenile fish per minute and expand their stomachs up to three times their normal size to accommodate the fish being consumed." If nothing is done to control the growth of the lionfish population, in a couple years the marine ecosystem will be filled with only lionfish. This will not only have a negative effect on the marine ecosystem but also on the economic stability of Belize. Following the presentation, an open discussion segment was held, wherein guests shared their ideas and views on how to control the invasive lionfish in Belize.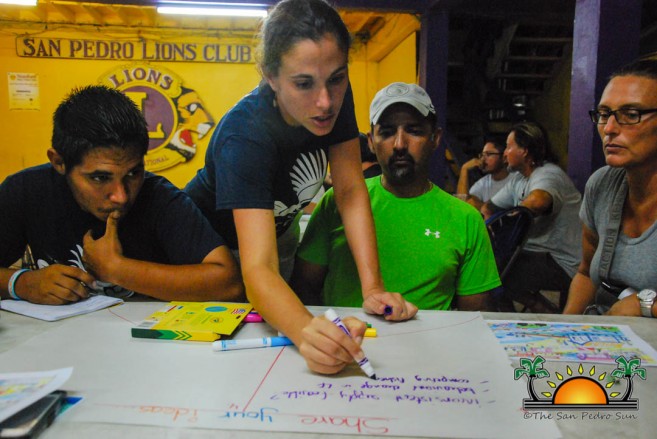 At the end of the night, the main points highlighted to further promote lionfish control included, the increased marketing of lionfish, changing behavioral patterns towards lionfish, offering inclusive tours to catch lionfish, increasing lionfish tournaments annually, and offering incentives to fishers and divers to catch lionfish.
Blue Ventures and Belize Fisheries Department thanks everyone who made the effort to be present at this informative community consultation.
Follow The San Pedro Sun News on Twitter, become a fan on Facebook. Stay updated via RSS