Lionfish jewelry: A creative solution to a continuous problem
Friday, May 26th, 2017
Lionfish jewelry crafter and Caye Caulker resident Dianne Enriquez was given the opportunity to represent Belize at the Global Environment Facility (GEF) Expanded Constituency Workshop in St. George, Grenada. As the GEF supports multi-stakeholder alliances to preserve threatened ecosystems on both land and oceans, she was able to network with other Caribbean constituents from Tuesday, May 16 to Friday, May 19th.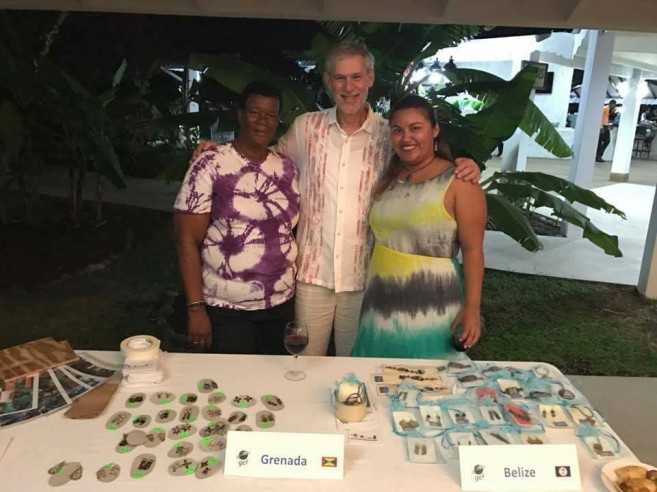 Enriquez told The San Pedro Sun that she learned a lot about sustainability at the workshop, and was even able give a presentation on how her group of 19 empowered crafters contribute to sustainable development in Belize. Through their coral reef conservation efforts, these crafters recycle lionfish tails, which are often discarded by fishermen, and transform them into unique handmade jewelry, such as earrings, bracelets, and necklaces.
With no known predators, lionfish continue to be an invasive species, which threatens Belize's marine life. The lionfish were believed to have been introduced into the Atlantic Ocean in the 1980's via the United States aquarium trade. With a lifespan of over 15 years and growing up to 20 inches, the lionfish is a voracious carnivore that consumes over 56 species of fish and many invertebrate species up to half its body size. The lionfish also possess venomous spines capable of deterring predators, and a single female lionfish can spawn over 2 million eggs a year.
Enriquez was thrilled with her experience in Grenada. "It is unbelievable that I was able to make it all the way to Grenada on my own. I represented both Belize and my group "Belioness". It was a great experience, as the workshop taught me a lot. I am so grateful for this opportunity because I was able to let them know that there are people in Belize who are doing their part to take care of the reef, and how I help the environment by using lionfish waste," said Enriquez.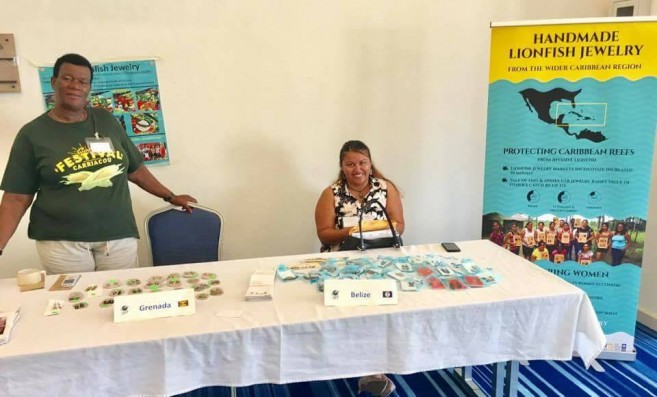 Enriquez furthered explained how her life has changed since creating lionfish jewelry. "I never thought I would make it this far, especially since I am a small island girl with no high school diploma or a degree. I also never knew that doing something I love would also have a positive impact to my country. I am very proud to say that I never gave up in life, and I am a firm believer that if you want something, you must work hard for it. I wanted something better for both my son and I, so I found the drive to become more independent. I was able to establish my livelihood by making lionfish jewelry a year ago, and here I am. We all live through tourism in some way, and I now live off of the reef, so losing the reef is like losing our lives," said Enriquez.
Enriquez thanks GEF, and all who have supported her initiative to help conserve the environment. Enriquez stated that she is planning to re-open her Caye Caulker jewelry store in order to display her handcrafted lionfish jewelry. For more information on Belioness, please check their Facebook page: Belize Lionfish Jewelry.
Follow The San Pedro Sun News on Twitter, become a fan on Facebook. Stay updated via RSS