Reef rehabilitation project starts on Ambergris Caye
Saturday, December 22nd, 2018
A reef restoration project has begun on the eastern coast of Ambergris Caye, in an attempt to replenish areas along the Barrier Reef where corals have died. The project is run under the San Pedro Tour Operators Association (SPTOA) and involves the Kids in Action Club, which certifies young divers every year. The program exposes children and adults alike to the marine environment and engages them in sustainable projects like this one. Currently, two nurseries consisting of two frames have been built and placed under the sea in front of the island, with over 100 coral plants/fragments on it. When they are mature, these corals will be moved to designated areas along the reef system.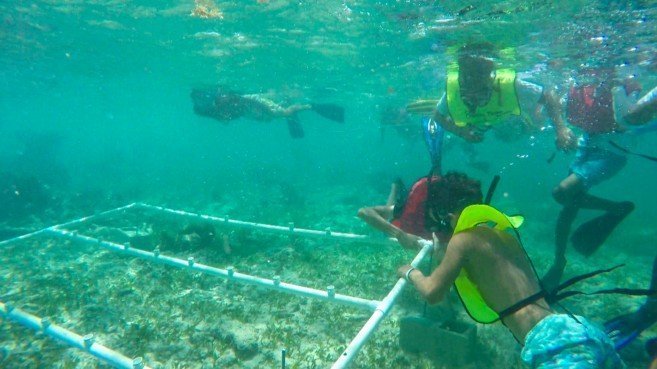 According to Everette Anderson, Chairman of the SPTOA, the project, which started in November, is focusing on three types of coral to be rehabilitated. These are the Elk Horn, Stalk Horn, and Fused Corals. Anderson said that these corals grow fast, and within six to eight months they are expecting to relocate the new corals from the nurseries. "Every two weeks we go and clean these frames (nurseries) to remove any algae that may affect the growth of the corals," said Anderson. "These type of corals are very fragile but very useful for the reef environment as it attracting many types of fish." He added that the project has the full blessing of the Fisheries Department and the Ministry of Environment.
Anderson added that before beginning the reef rehabilitation program, he and his team traveled to southern Belize, where there is a similar activity taking place by Laughing Bird Caye off the coast of Placencia. The reef rehabilitation at Laughing Bird Caye has been a successful one, and Anderson told The San Pedro Sun that they expect the same results on Ambergris Caye.
In the coming months, they expect to relocate the first mature corals to areas along the reef system where bleaching and other factors have significantly affected the reef. The project is considered a lifesaver, as the sustainability of the tourism industry on and around Ambergris Caye depends on the barrier reef. Anderson stated that a healthy reef is a must for the survival of the said industry.
The project is being overseen by Marine Biologist Miguel Alamilla and Scientist Valentine Rosado.
Follow The San Pedro Sun News on Twitter, become a fan on Facebook. Stay updated via RSS