Dredging halted in southern Ambergris Caye after excess of sediments drift towards reef
Sunday, November 1st, 2020
Authorized dredging taking place near the southern end of Ambergris Caye remains at a halt after allegedly breaching their permits. Concerned residents reported the incident and took aerial images showing a sediment plume drifting towards the barrier reef. A silt curtain should have contained the silt. Although the dredging took place outside the Hol Chan Marine Reserve's boundaries, their team responded to the reports.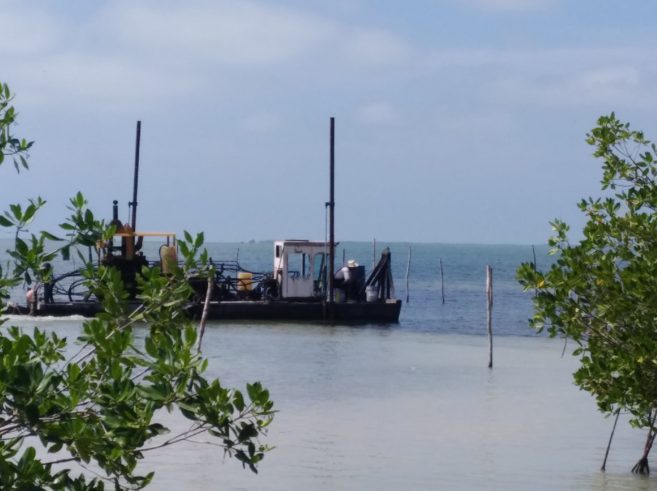 When observing the dredging, the Hol Chan officials noticed that the required silt curtains were not in place. After sharing this information with the Mining Unit, a site inspection reportedly took place on Monday, October 26th. After the inspection, the Hol Chan team was informed that some permit breaches were identified but did not elaborate on what those were. They shared that the Mining Unit was informed by the dredging company that the silt curtains had malfunctioned. They are in the process of repairing such equipment, but before they can continue with the activity, they must contact the Mining Unit to get clearance.
When contacted for a comment, the reclamation project developer replied, "We would like to thank the community for their patience as we recover much-needed sand for our schools and roads.  We discovered a tear in our silt screening system and ceased operations; we then removed all of our equipment from the sea.  We immediately contacted the Fisheries Department and are currently working with them and the Mining Commission to resolve the issue."
According to Hol Chan, their permit is good until the end of this year. Sediments reaching the reef can kill corals, and the reef is already experiencing bleaching. An excess of such residues can add further stress to this vital ecosystem.
Follow The San Pedro Sun News on Twitter, become a fan on Facebook. Stay updated via RSS