Unauthorized large-scale dredging project remains inactive; charges could follow after detailed probe
Friday, October 9th, 2020
A recent follow-up on the unauthorized dredging off the west coast of Ambergris Caye – and within the Hol Chan Marine Reserve (HCMR) – indicates that the project remains inactive after it was halted on September 25th. This was confirmed with the management team of HCMR, who recently conducted a site inspection with members of the Department of Environment (DOE), Fisheries Department and the Mining Unit. Project assessments were made, and a deeper investigation is underway in order to build a legal case and possibly move forward with a law suit against the development.
The San Pedro Sun was made to understand that the project is an alleged subdivision comprising of several lots along the coast. However, the project has been deemed illegal, as the management team at HCMR found out that it has no permits from the Mining Unit to do any dredging, nor does it have any environmental clearance from DOE to do anything on the ground. Following the recent inspection involving DOE, Mining Unit, Fisheries Department and HCMR, each entity will make its own assessment and establish a case.
HCMR investigation focusing on the maritime aspect
No update has been forthcoming from the other governmental bodies – only from HCMR, who told The SPSun that they are working on the maritime aspect of the issue to see if the development is inside the reserve. According to them, they are working carefully alongside the Lands Department to find out how much of the development is inside the reserve.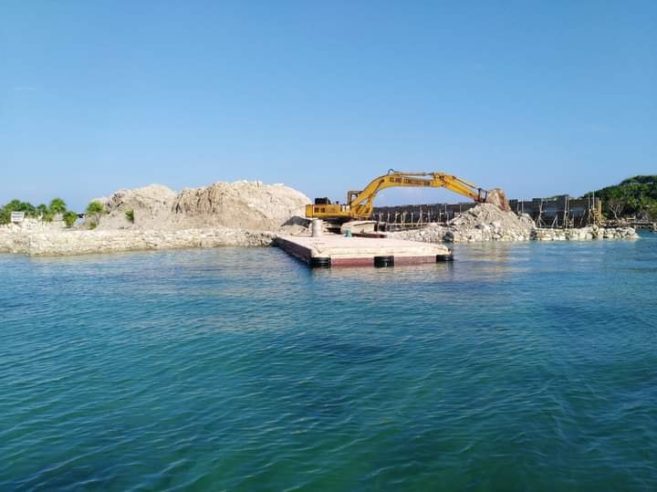 The HCMR had been trying to stop this illegal project for months despite filing reports to the other authorities mentioned in this article. Developer/s were reportedly served with verbal and formal Cessation Orders, but the project continued.
Project stopped and workers arrested in late September
After approaching the problem in a synchronized fashion, the management team at HCMR issued a Cease and Desist Order, and arrested employees that were on duty. At the police station, the arrestees were all released from custody via a station bail and were to appear at San Pedro's Magistrate on October 5th, but with no Magistrate on the island at the moment, the hearing will take place at an unknown date.
As the relevant authorities continue their diligent investigation, The San Pedro Sun will continue following this developing story, and provide an update whenever it is made available.
Follow The San Pedro Sun News on Twitter, become a fan on Facebook. Stay updated via RSS