Belize and Mexico strengthen relations with several new agreements
Friday, February 5th, 2016
Friendly relations thrive between Belize and Mexico, whose citizens along the Rio Hondo share many family ties across the border; and continue to grow with 13 new cooperation agreements signed in 2015 and four more under negotiations. The only fly in the ointment was international fugitive David Miguel Nanes Schnitzer, who not only subverted the system to obtain Belizean citizenship as "David Banes" in 2012 and lie low in Belize for over two years, and even when detained by Belizean authorities cooperating with Interpol, Nanes Schnitzer was able to escape extradition to Mexico, when Belize's Supreme Court granted him bail.
Mexico's Ambassador to Belize, His Excellency Carlos Quesnel Melendez did not did not dwell on the issue, saying only that the government of Mexico recognizes Belize as an independent state and respects Belizean rule of law, when the Mexican Embassy hosted the Belizean media to a luncheon at the Institute of Mexico in Belize City on Wednesday, January 20. He noted that Mexico already had an extradition agreement with Belize, which the Mexican government had recognized as already in force, but which apparently the Belizean government had not yet ratified.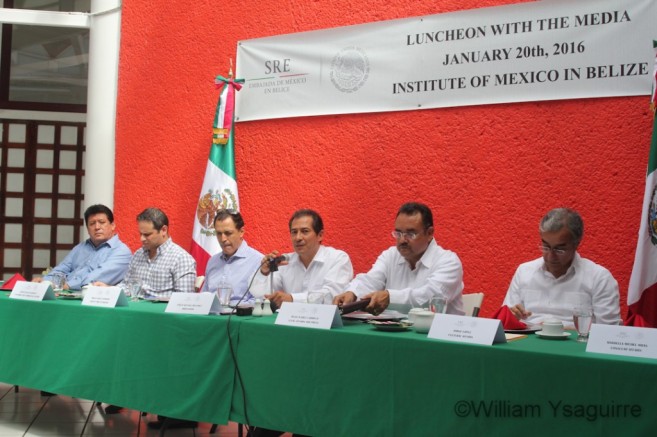 Ambassador Quesnel Melendez went on to highlight the nine new agreements signed by Belize's Foreign Minister Hon. Wilfred "Sedi" Elrington during his visit to Mexico in July 2015, and four others he subsequently signed; as well as four more the Mexican government hopes to conclude negotiations for and sign this year.
Belize's tourism industry also stands to benefit from an Air Transport Agreement between Belize and Mexico to establish a legal framework for air operations, to expand tourism, trade and business opportunities.
The Meso-American Barrier Reef System (MBRS) and its many colorful fish are a major tourism attraction and a tremendous economic asset to Belize, which will benefit from an cooperation agreement between the University of Belize and the National Autonomous University of Mexico (UNAM), for UB's Environmental Research Institute (ERI) to cooperate with UNAM in joint research on coral reefs, climate change an coastal ecosystem, with an exchange of libraries of information on these topics. The ERI Director is also scheduled to visit Puerto Morelos Unit for an exchange on coral reef protection.
Of special interest for Belize's tourism industry is a study of the uses for Sargassum in the Caribbean, undertaken by the Center for Research and Development in Port, Coastal and Marine Engineering (CIDIPORT) of the Autonomous University of Tamaulipas (UAT). UAT also entered into an agreement for academic cooperation in research projects on climate change with the Caribbean Community Climate Change Center (CCCCC) in Belmopan. These include studies on environmental vulnerability and sustainable development, early warning systems and coastal ecology.
Ambergris Caye "Isla Bonita" is Belize's premium tourism destination and its territorial protection by the Belize Coast Guard Service will be facilitated by an operational agreement, under the United Nations Convention on the Law of the Sea, with the Mexican Navy to allow for the innocent passage of vessels of both forces through the Chetumal Bay area.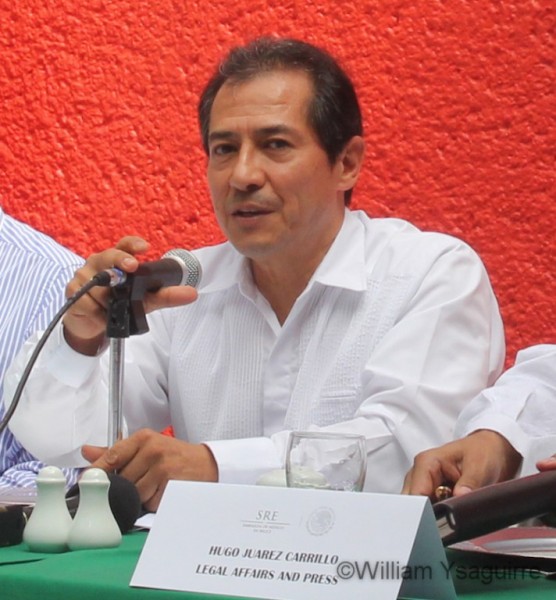 Belize's Social Security Board is benefitting from a memorandum of understanding signed with the Mexican Institute of Social Security for technical cooperation on best practice in social protection, with bi-national seminars and workshops to improve the professional skills of their staff.
The Belize Intellectual Property Office (BELIPO) is also learning best practices on protection of intellectual property through an agreement with Mexico's Institute of Industrial Property (IMPI) to share knowledge and experience on raising public awareness about intellectual property for education institutions and the private sector, including small and medium-sized enterprises.
The Belize Bureau of Standards is also benefitting from an exchange of legal and regulatory framework on consumer protection issues, through an agreement with the Mexican government and its Federal Consumer Protection Agency (PROFECO).
The Belize Zoo is also benefiting from an agreement for the exchange of scientific and technical information about wildlife and conservation, research and training of staff, with Mexico City's Environmental Secretariat and its General Directorship of Zoological Parks and Wildlife.
Belize and Mexico have also established a Moratorium to suspend all drilling and extraction activities for hydrocarbons, pending the establishment of an Agreement on Transboundary Hydrocarbon Reservoirs. The agreement also provides for a negotiation group to be established, to work out an agreement for the efficient, safe and equitable extraction of petroleum reservoirs which may straddle the Belize –Mexico boundary.
Minister Elrington also subsequently signed an agreement for BELTRAIDE to promote trade and investment in Belize, through the sharing of information with their counterpart agency: PROMEXICO.
Some 23 Belizean children diagnosed with cancer have already benefitted from a cooperation agreement between the Ministry of Health, Belize Cancer Society and the Health Services of Yucatan, through which child cancer patients can receive specialist cancer treatment at the O'Haran hospital in Merida.
The protection of human rights in Belize was also strengthened though an agreement for the Ombudsman's office of Belize to collaborate with Mexico's National Human Rights Commission (CNDH) to organize joint workshops and seminars to share information on good practice, the treatment of migrants in detention centers, and the investigation of wrongdoing, injury and abuses of authority by enforcement agencies. CNDH officials may visit Belize this year to further this exchange.
Belize had also agreed to establish a negotiation group to exchange and analyze technical information about possible hydrocarbon reservoirs, which may straddle the Belize-Mexico boundary.
Quesnel also noted that Mexico is presently negotiating four other cooperation agreements; (i) a partial scope trade agreement with reciprocal preferential tariffs, (ii) an agreement for the recognition and accreditation of academic qualifications of Belizeans and Mexican students and to establish academic equivalencies between the educational systems of both countries,(iii) a Mutual Legal Assistance Agreement (MLAT) and (iv) and a transportation agreement on the operation of international freight, passenger and tourism motor carriers.
The MLAT treaty is of particular importance, since both Belize Customs and Mexican authorities recognize the porosity of the Rio Hondo border with regard to informal trade of many commodities in demand by Belizean consumers, which in turn provides a medium for the illegal trafficking of narcotics, weapons and even human trafficking. This was high-lighted by the recent assassination in Chetumal of a notorious underworld figure, "El Espanol", who was reportedly responsible for much of the illegal smuggling of cigarettes into Mexico, and who somehow had managed to take up residence in the Corozal Commercial Free Zone (CFZ). Recent large seizures of millions of contraband cigarettes believed to have originated from the CFZ, also highlighted that the sheer quantities of cigarettes imported into the CFZ reportedly far exceed what might be expected to be consumed by Belizean consumers, inviting the suspicion that these cigarettes are intended for illegal smuggling into Mexico.
Quesnel noted that Mexican and Belizean health authorities continue to cooperate to promote the good health of their citizens by reducing the consumption of cigarettes and tobacco; and such illegal contraband of cigarettes was regrettable.
Mexico also continues to help Belize's development through technical cooperation, sharing of best practices and training in sheep production and ruminant nutrition, agro-processing, coconut production and its uses, and in the training of Belize Bureau of Standards staff in the management of Liquid Petroleum Gas (LPG).
Mexico's National College for Professional Technical Education (CONALEP) continues to support similar education in Belize with a focus on training unemployed youth to stimulate Belize's economic growth.
The Mexican Agency for International Development Cooperation (AMEXCID-SRE) is leading the Initiative for a Mesoamerica without Hunger, to enhance food security and nutrition, by promoting rural land development for sustainable production in agriculture, livestock and aquaculture, and farmers' access to markets to reduce poverty.
With thousands of Belizeans visiting Chetumal and other parts of Mexico each year, Mexico has implemented a Regional Visitor's Card with facilitates the rapid processing of visitors at immigration posts with a simple swipe of the card; and over 16,000 Belizeans already have such cards. However, the cards are presently only issued at the Mexican border crossing, and Ambassador Quesnel said he was recommending to federal authorities for facilities to be introduced so the cards may be issued at the Embassy in Belize. As to the $10 fee sometimes requested of Belizeans who wish to avoid the long lines at the Mexican immigration posts, the Ambassador said the federal government officially frowns on this practice; which it is seeking to discourage, since this fee is not required of one-day visitors.
Follow The San Pedro Sun News on Twitter, become a fan on Facebook. Stay updated via RSS