Tropic Air cancels international flight routes –GOB's Increased Departure Tax takes the blame
Friday, August 11th, 2017
The Government of Belize's (GOB) decision to increase Belize's Departure Tax was met with resistance from the very beginning. Now, four months after its approval, tourism stakeholders reiterate their stance that an increase from BZ$78.50 (US$39.25) to BZ$111.00 (US$56) is having negative impacts on Belize's tourism product, mainly overnight tourist arrivals. Most recently, Tropic Air discontinued three of its international flight routes as a result of reduced passenger rate due to the increase in departure tax. Stakeholders are of the mind that if the GOB does not rectify this issue, there will be further negative impacts on the tourism industry.

Tropic Air's Chief Executive Officer, Steve Schulte, indicated that the decision to cancel the flight routes came after in-depth analysis of their performance over the last four months since the increased Departure Tax was mandated. "There is no clear path to sustainably serving these markets under current economic and regulatory conditions. It is most unfortunate for those who have come to depend on these regional links, that in the end, we were unable to sustain the growing losses," stated Schulte.
In a press release issued on August 10th, the Belize Tourism Industry Association (BTIA) expressed its solidarity with Tropic Air Belize, its longstanding member and industry partner, in relation to their decision to discontinue the regional flights to Chetumal, Merida and San Pedro Sula, Honduras, as of September 2017. "Tropic Air's decision is sufficient evidence that tourism arrivals may be negatively impacted by the increase in the departure tax. Belize must remain competitive regionally and globally to increase tourist arrivals and to promote the growth of the tourism industry. We must recognize the fragility of our tourism industry by safeguarding its future through the development and implementation of the right policies to promote sustainability, competitiveness and growth," stated the press release. The BTIA calls on the Government of Belize to repeal the Amendment to the PACT Act that resulted in the departure tax increase, in order to give the tourism industry a continued chance to grow and flourish.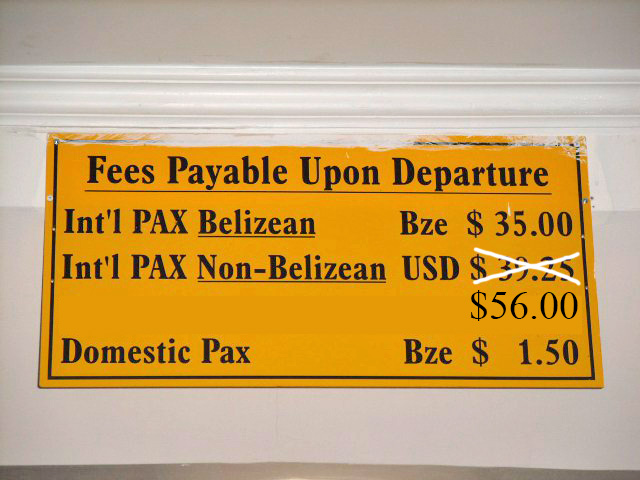 The increased fee came into effect on April 1, 2017. Considered the highest departure fee in Central America, GOB implemented this new measure to increase revenue for the approved fiscal budget. Their hopes are to raise a projected $11 million dollars within the next four years, which will be deposited into the Consolidated Revenue Fund.
However, tourism and business stakeholders are certain that the negative impacts of Prime Minister Dean Barrow's decision will outweigh the positive. "Belize is already a tourist destination with high costs in comparison to the region. Belize must remain competitive, not more expensive as a destination. At its current level, the Departure Tax is already expensive for a family or group of visitors coming into Belize. If GOB gets its way, Belize would have one of the highest levels of Departure Tax in the Central American and Caribbean region. Countries like the Bahamas and Costa Rica have rescinded proposals for increasing departure fees due to the negative impacts it would generate to their tourism industry. Belize needs to take heed," stated BTIA in a Position Paper to GOB submitted on March 15, 2017.
Up to press time, the GOB has not issued any response to Tropic Air's decision to cancel their flight route.
Tropic Air reminds all passengers having ticketed reservations for flights with Chetumal, Merida and San Pedro Sula as part of their itinerary will be contacted and arrangements will be made for their travel to be completed or for refunds to be issued.
Follow The San Pedro Sun News on Twitter, become a fan on Facebook. Stay updated via RSS