Prime Minister's Statement on the 2021-2022 Budget and Union Negotiations
Monday, April 12th, 2021
Statement to the Nation
Prime Minister Hon. John Briceño

Video: https://youtu.be/EeEGxvVPwNo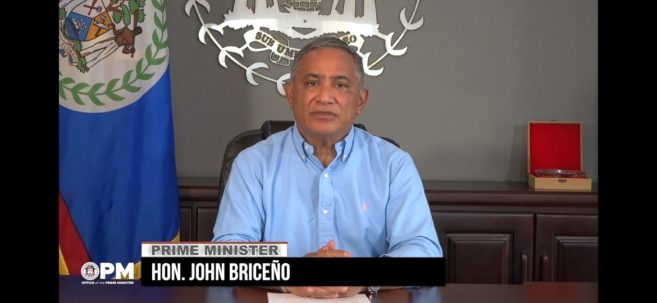 My fellow Belizeans,
Beginning in early February, the Government embarked on widespread consultations as an integral part of the preparation of the budget for fiscal year 2021–2022.
This is consistent with my Government's commitment to consult stakeholders on major issues affecting the welfare of our people and nation.
These consultations have taken place against the backdrop of the dismal state of the economy and public finances. Many of you will have experienced dramatic slowdown in business activity, job losses, pay cuts, and business closures. The fact is that the economy contracted by 14 percent and 64,000 Belizeans lost their jobs in 2020-21. It is imperative and urgent that we re-energize the economy and create thousands of jobs.
On the issue of Government finances, the story is just as dismal. In fact, it is worse. Government collected far less in 2020-2021 than was projected.
Total recurrent revenues and grants are projected to fall by 28 percent; GST collections fell by 32 percent. On the expenditure side, total spending fell by only 15 percent, far below the 28 percent drop in revenue. There is a huge gap between revenues and expenditure. The primary deficit is approximately $300 million dollars. In effect, we do not have enough money to pay salaries, rent and the light bills. Like the economy, the need to return public finances to a sustainable path cannot be overstated.
On Friday, the House of Representatives will meet, and I will read the Government's budget for fiscal year 2021-2022. I will detail my Government's carefully crafted plan to lift the economy from its near moribund state and explain the measures we propose to implement in order to end the contemptible, obscene and reckless UDP spending of the people's money.
But before Friday's speech, we felt that it was important to update you on where we are with the Unions.
I would describe the consultations as full, frank, and courteous. I thank all those who have participated in the consultations. In light of the dire financial position of the Government, we took a close look at every aspect of Government's revenue and expenditure with a view to righting the ship of state. To do this, we must increase revenue and cut expenditures.
We will propose a 31 percent cut in expenditure on goods and services by the Government compared to the last Budget. This is expected to reduce expenditure by $77 million. We will also propose a 10 percent cut in the expenditure on Subsidies and Transfers compared to the last Budget. This will reduce expenditure by $19 million. Additionally, we expect to negotiate substantial savings upwards of $50 million dollars on the Superbond to reduce Government's debt-service outlay.
In the context of these reductions, it is wrong to regard our consultations with the Unions as only about a wage adjustment. The consultations covered a lot more. It is important to explain why the discussions were wide-ranging, and to explain the context in which they were held.
Let me frame the challenge.
Government is the biggest employer in Belize. There are 15,000 public officers including 4,000 plus employed in the education system and 4,900 in the security and border services.
In 2008 when the PUP left office, the wages and pensions bill was $262 million dollars. In 12 years under the UDP the wages and pensions bill skyrocketed to $677 million dollars, an increase of 177 percent or an increase of $415 million dollars.
I repeat, the Government has been borrowing about a million dollars per day to pay salaries, pensions, and expenses for goods and services. Last month, we were again forced to borrow $30 million dollars to meet expenses.
Earlier today, the Financial Secretary informed me that the Central Bank confirmed that after mid-April salaries are paid, the Government will have insufficient monies and will be forced to borrow again to meet its obligations at the end of April.
The position is critical; public finances are on life support!
The raw and unpolished truth is that we inherited a broke and plundered treasury from the UDP. After careful analysis and consultation, we remain convinced that a salary adjustment of $60 million dollars is absolutely necessary. Additionally, we propose to continue the increment freeze, which will account for another $20 million dollars annually.
Unfortunately, the Unions have not, so far, agreed with us that these adjustments are needed. It is important for all of us, union members included, to know that the Government has provided the Unions with all information that they have requested. If they complained that information has been kept from them it is not so. Indeed, our consultations have been open and transparent.
Additionally, we put forward numerous proposals in our attempt to win support of the Unions. For example:
We proposed that public sector workers and teachers would work (4) hours less per week; they in return asked for 5 hours and we agreed.
We secured the agreement of the Central Bank to extend leniency on defaulting loans until the end of 2021;
Both the DFC and the National Bank have agreed to make available five million dollars in loans to public officers and teachers;
We have agreed to waive stamp duty on mortgage transfers by teachers and public officers;
We offered to protect the lowest income earners from core wage adjustment;
We proposed reducing further the salaries and benefits for Ministers and Ministers of State, Representatives and CEOs;
We agreed to accelerate the Reform Agenda including the Whistleblowers' and Unjust Enrichment Laws; and
We supported the Joint GOB/Social Partner Monitoring Committee to assess the performance of the Budget every 6 months.
In short, Government made every reasonable concession to garner support from the Unions.
My fellow Belizeans, my Government was elected to office with a massive mandate to bring change. We were elected to fix the economic and social problems created by the UDP administration. The people of Belize have voted overwhelmingly against business as usual. Therefore, we intend to deliver on that mandate.
After assuming office, I reported on more than one occasion that the UDP had bankrupted the country and that we would have to experience a period of austerity, before we return to economic dynamism and growth.
Some people said, because of the austerity measures we had implemented, we would lose the municipal elections.
They were wrong.
The PUP received a historic mandate as the Belizean people in every district reaffirmed their faith and confidence in our party and in Plan Belize.
Today I was informed that the Joint Unions are preparing for industrial action. That is their right. As it is our responsibility to ensure that we continue to provide the needed services to our people, and we shall do so.
To defeat COVID-19, fight poverty, grow the economy, create jobs, provide low-cost housing, and provide affordable education, we must first accept the reality of our financial predicament, and implement a plan that will deliver us from this difficult place where we are. I will explain our plan on Friday in the House of Representatives.
My Government remains open to constructive suggestions that are consistent with the urgent need to reduce expenditure and to increase revenue. We cannot continue with the reckless borrowing for it will destroy us all. If we unite and support a plan to restore our Belizean jewel to economic prosperity, we will all win.
Como un gobierno … con un mandato sin precedentes…y elegidos para gobernar…tenemos la responsabilidad de gobernar para todos los beliceños. Tenemos la obligación de velar por el bienestar de nuestro pueblo en general.
Y es por esto… que hoy después de hacer todo lo posible para que los sindicatos entiendan y trabajen con nosotros para reponer la economía del país…hemos tomado la decisión de proseguir con el presupuesto que se les pre/sen/to.
Todo esto después que hemos hecho todo para satisfacerlos y justificar las decisiones.
Ha llegado la hora de seguir adelante y enfocarnos en sacar a nuestra gente de esta obscuridad.
Nuestro plan es bueno…no fácil…pero equilibrado… y esta diseñado para forjar una sociedad trabajadora, productiva y viviendo una vida saludable y digna.
Pero para que logremos este objetivo necesitamos a todo beliceño.
¡De esto debemos salir juntos!
Thank you and may God bless Belize.
Follow The San Pedro Sun News on Twitter, become a fan on Facebook. Stay updated via RSS