SPTC donates to San Pedro Cancer Society
Tuesday, November 17th, 2015
The San Pedro Cancer Society (SPCS) was the recipient of a donation from the San Pedro Town Council (SPTC) on Wednesday, November 11th at the Town Hall. Mayor Daniel Guerrero along with Councilor Ruben Gonzalez, who is in charge of the Health portfolio for the island, presented a cheque of $5000.06 to the president and members of the SPCS. The donation was the result of a fruitful effort from a dollar drive organized by the staff of the SPTC in honour of Breast Cancer Awareness Month on Saturday October 31st.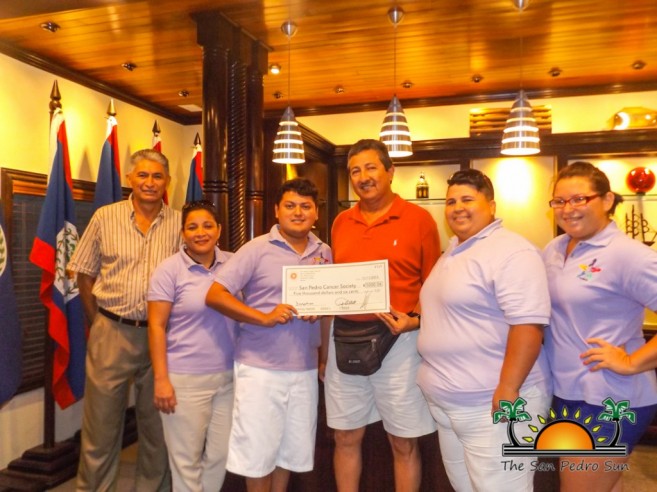 President of the San Pedro Cancer Society, Miguel Perez expressed his gratitude for the donation, and plans on putting it to a good use for the benefit of people suffering from the deadly disease. "We welcome this donation and will be looking at all ways how we can use it to benefit cancer community on the island. The plan is to invest it in something that in the long term can help immensely the society. So whether it is for help with equipment for the polyclinic, or other ways, we plan it to spread it out as much as possible for the benefit of patients and the community," said Perez.
According to Councilor Gonzalez, the donation came about as one of the activities organized for October, Breast Cancer Awareness month. "Health is my portfolio as Councilor at the Town Board, so the staff and myself came up with an idea of doing a health fair at the Dr. Otto Rodriguez Polyclinic. At this fair, pap smears and breast examinations were conducted in order to detect any signs of this disease on the participants. The event had a good turnout, as we had a total of 15 pap smears and 19 breast examinations for that day," stated Gonzalez. He further indicated that at the same time, the dollar drive was taking place. "The next part of the activity was the organization of a dollar drive to raise funds. This took place in two sections of the Town, by Central Park, and Coconut Drive, which included staff stationed by Ramon's and Bowen and Bowen. All monies collected from that drive were given to the Cancer Society in order to assist them in their endeavors," ended Gonzalez.
Gonzalez encourages everyone to take advantage of the free services at the clinic, especially on Mondays when the exams are done. However, he stated that when it comes to emergencies no one will be denied of the service during any other day of the week.
The SPTC would like to thank everyone who contributed to the dollar drive. Special thanks go to the businesses that sponsored the sweet treats during the examinations at the fair and to the staff of the polyclinic and the SPTC.
Follow The San Pedro Sun News on Twitter, become a fan on Facebook. Stay updated via RSS