San Pedro Town prepping to combat Zika
Friday, April 22nd, 2016
Zika has spread across Latin American and Caribbean countries, and the World Health Organization (WHO) has declared it a global public health emergency. For an extended period of time, Belize was the only country in Central America considered free from the outbreak. However, in the past week, news circulated that Zika was linked to the country. Since the recent reports of local and one international transmission of the virus, the Center for Disease Control (CDC) has issued a travel advisory for Belize under "Alert—Level 2, Practice Enhanced Precautions."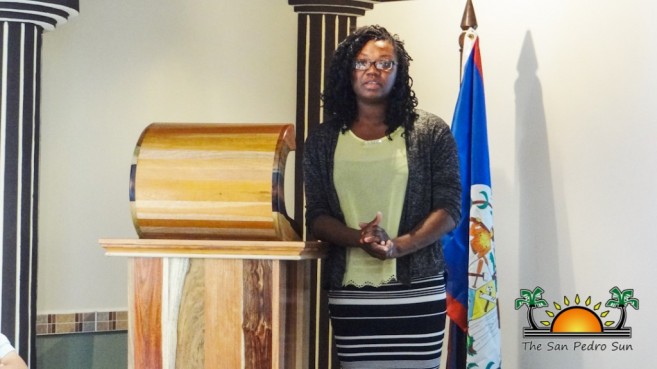 In an effort to strengthen the capacity of municipal authorities, The San Pedro Town Council (SPTC) held an informative, two-course training on Thursday, April 9th and Friday, April 10th. The training took place at the SPTC Conference Room with stakeholders from the health department, education sector, police and fire department, members from the 'Child Advisory Board' (CAB), UNICEF representatives, government officials and media personnel.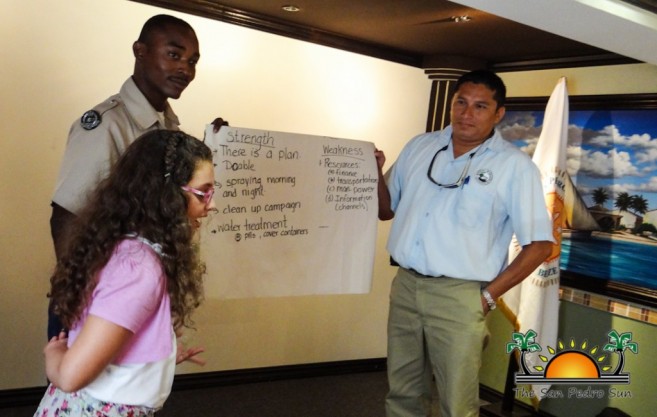 WHAT IS ZIKA?
The Zika virus is a disease spread by the female Aedes Aegypti. In Belize, it is referred to as the "zebra" mosquito, and it is responsible for spreading other leading diseases such as Dengue and Chikungunya. The Zika virus can transmit to any individual through a bite of an infected mosquito. These mosquitoes thrive in warm and hot climates, and are active throughout the day.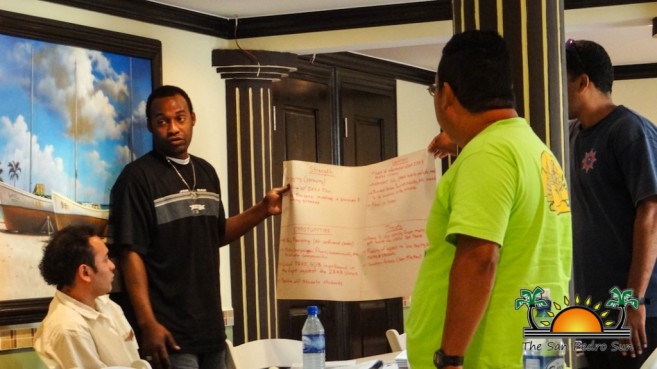 SYMPTOMS OF ZIKA AND EFFECTS
Most individuals infected by the Zika virus are not immediately aware, as they seldom show signs of the disease, and if infected, symptoms usually last for two to seven days. The most common indications of Zika include: mild fever, skin rashes, red eye, muscle and joint pain and headache. At the moment, there is no specific treatment or vaccine available and the best prevention is protection against mosquito bites. Health officials recommend the use of condoms or abstinence as Zika can also be transmitted sexually.

THREATS OF THE VIRUS TO PREGNANT WOMEN
Before, speculations and theories were drawn from studies showing the correlation between Zika and birth defects. However, on Wednesday, April 13th, scientists from the CDC have now confirmed that Zika causes microcephaly, a condition that results in newborns having abnormally small heads, and could also cause other neurological disorders. According to the Director of CDC, Tom Frieden, M.D., M.P.H., "This study marks a turning point in the Zika outbreak. It is now clear that the virus causes microcephaly." Since the CDC confirmation, women who are pregnant and their partners are urged to take precautions to avoid infection and visit their healthcare facilities to receive valuable information about the reality of Zika.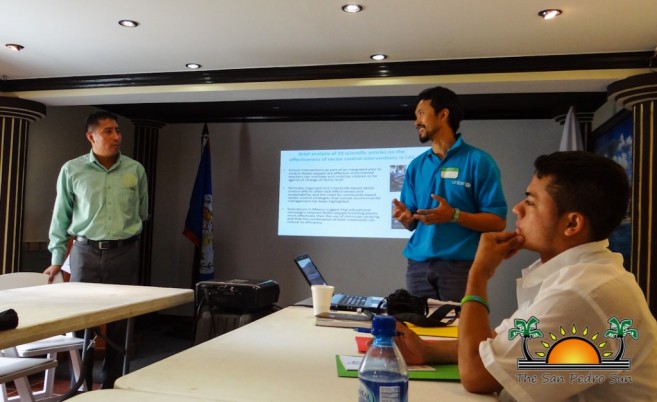 SAN PEDRO RESPONDS WITH ACTION PLAN
Currently, San Pedro is actively producing a municipal action engagement preparedness and response plan to combat Zika and promote vector control interventions that prevents the spread of the virus. The dynamics of Zika is rapidly changing, and so far, San Pedro is the only municipality in Belize to instill a plan as it relates, not only regarding Zika, but all vector borne diseases.
Jorge Aldana of the SPTC expressed his concerns about the welfare of the island. "It is not a matter of "if" Zika is in Belize. In reality, it's only a matter of time before Zika debuts in our country and we are creating a plan to prepare if Ambergris Caye has a confirmed case of the virus," said Aldana.
Child-friendly representative of UNICEF, Denise Robateau, presented a lecture on Zika prevention interventions implemented in Belize. Since San Pedro is a child-friendly municipality, Robateau, along with the SPTC took the initiative to reflect their plan to involve the youth and their creativity.
As the plan for San Pedro is broken down into four areas: the actual drafting of the plan, the educational component, eradicating mosquitoes, and preparing for confirmed cases, the SPTC is looking to target the student population by having educational campaigns and several activities. "We will use children to voice child friendly ads as it relates to mosquito-borne diseases and children are San Pedro's largest group that could help successfully promote awareness about preventative methods," said Aldana.
According to the statistics given, "Forty-one percent of San Pedro's population are children from the ages of five to 24. The majority of them are students enrolled within nine preschools, seven primary schools, San Pedro High School and San Pedro Junior College," shared Aldana.
In the coming weeks, the SPTC will be proactive in educating children by visiting schools and lecturing inside classrooms. The SPTC will be sharing flyers that include information relating to mosquito borne diseases, distributing educational kits, and a poster competition is being arranged.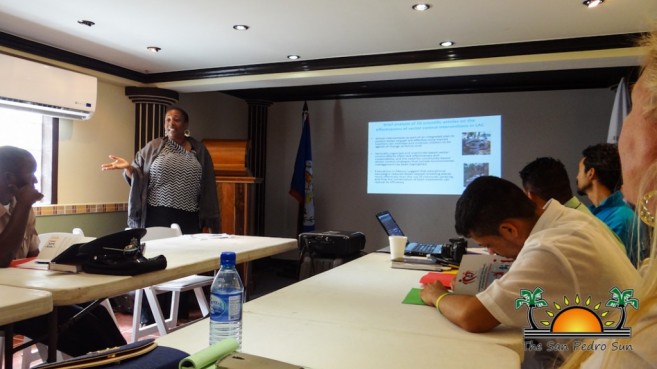 COMMUNITY STANDPOINT PLAYS A MAJOR ROLE
UNICEF C4D Specialist and native of Thailand, Dao Suwannachairop, presented on communication and community engagement risks in response to Zika. He discussed tools that have a better chance at promoting behavioral changes on individual and social levels towards effective vector control.
In conjunction with mosquito-control measures, the most powerful weapon against Zika is knowledge. Dao emphasized the importance of having the entire community actively engaged in the eradication of Zika and other vector borne diseases. "Eliminating and controlling Aedes Aegypti mosquito breeding sites reduces the chances that Zika, chikungunya, and dengue will be transmitted," said Dao.
This where the community plays in a major role to avoid mosquito breeding sites by removing standing water in outdoor containers (bottles, aluminum tins, flower pots, and containers that collect water). Another way to prevent the Zika virus is for the community to avoid accumulating garbage, unblocking drains that gather standing water, and using screens in windows and doors.
The SPTC will be conducting a massive cleanup campaign in all 11 subdivisions in San Pedro. As for a long-term plan, the SPTC is seeking creative ideas to encourage community participation. They will also be teaming up with the San Pedro Police Department to penalize residents by taking them to court if they neglect or litter their yard with trash.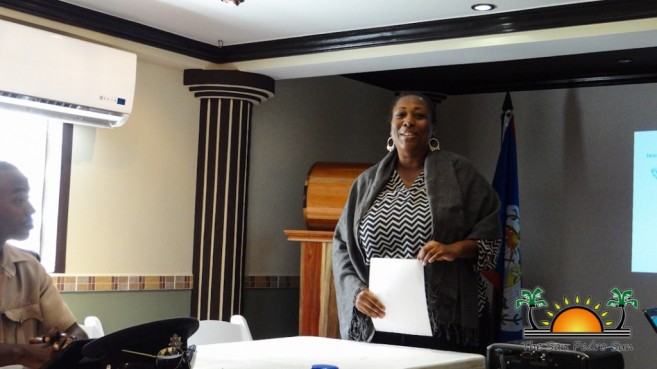 WAYS TO PREVENT THE SPREAD OF ZIKA
Those residing in affected areas, travelers, and pregnant women should prevent mosquito bites at all costs. By covering exposed skin with long-sleeved shirts, pants, and hats, one reduces the risk of becoming infected. The use of repellents and sleeping under mosquito nets are strongly advised by health authorities.
The SPTC urges the entire community to cooperate and get rid of potential breeding sites by eradicating stagnant water in yards. A mature female can lay up to 100-200 eggs in their lifetime and it only takes a small amount of water in a bottle cap for mosquitoes to lay their eggs. "San Pedro has 128 households that depend on private water catchment. The SPTC will have pills available for those interested in purifying their water from infestations," said Aldana.
The SPTC is confident that with the support from the community, San Pedro will do an effective job in reducing the outbreak of Zika. If you or someone you know have symptoms of Zika or if you are an expecting mother, please visit Dr. Otto Rodriguez' Polyclinic located at Manta Ray Street or call 226-2536 for further assistance.
Follow The San Pedro Sun News on Twitter, become a fan on Facebook. Stay updated via RSS