San Pedro holds Breast Cancer Walk/Run Awareness campaign
Tuesday, November 1st, 2016
On Saturday, October 29th The San Pedro Town Council (SPTC) organized a 'Breast Cancer Awareness Walk/Run.' Over a hundred participants gathered at the foot of the Sir Barry Bowen Bridge at 5:30AM and joined the many Belizeans across the country in spreading awareness about this deadly disease.
For a registration fee of $10, participants not only helped to spread awareness but they also raised funds for the San Pedro Cancer Society (SPCS) which assists island residents battling the disease. This year, the SPTC also offered a 'Pink Package,' for a fee of $50, which included a breast cancer awareness water bottle, t-shirt, and cap.

Before the event started, Councillor Hector Alamilla thanked everyone who joined the effort and came out to show solidarity. He briefly explained the importance of the activity and how vital it is to get educated on breast cancer, which continues to affect women worldwide each day. After the short welcome by Alamilla, the crowd proceeded with the activity. Some ran, while others walked, heading north all the way up to the area known as Belizean Shores and then back to the Sir Barry Bowen Bridge.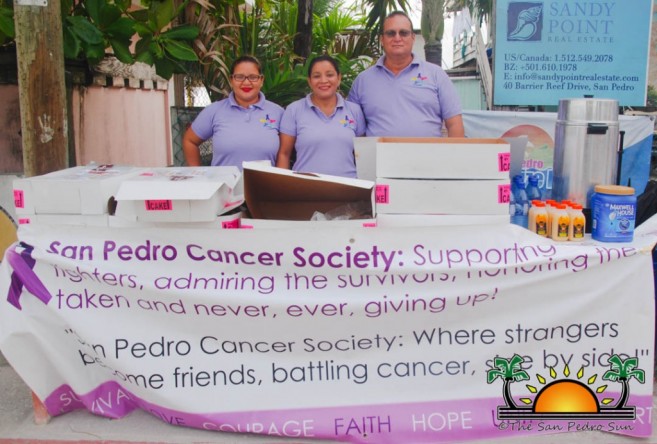 At the end of the event the SPCS provided everyone with refreshments and snacks. According to SPCS president Gonzalo Muñoz the event was very successful, and they thank everyone who came out to support. "Over the years, Breast Cancer diagnoses, in Belize among women have been increasing," Muñoz said. "Even though it is very common, it is also the most detectable, thus, it is important to raise awareness due to what the statistics have proven, that there are more women are suffering from this disease." He pointed out that early detection can lead to full recovery, and thus strongly encourages women to get regular check-ups.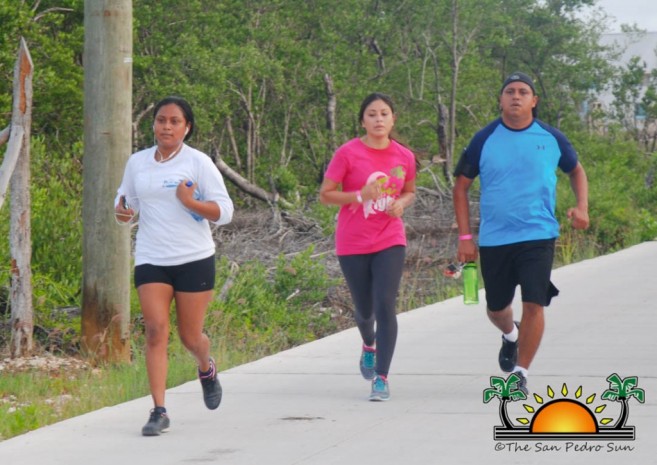 Free examinations can be done at the Dr. Otto Rodriguez San Pedro Polyclinic II, located at Manta Ray Street. Since breast cancer can be genetic, women are strongly advised to be examined every six months, especially if their mother or grandmother had breast cancer.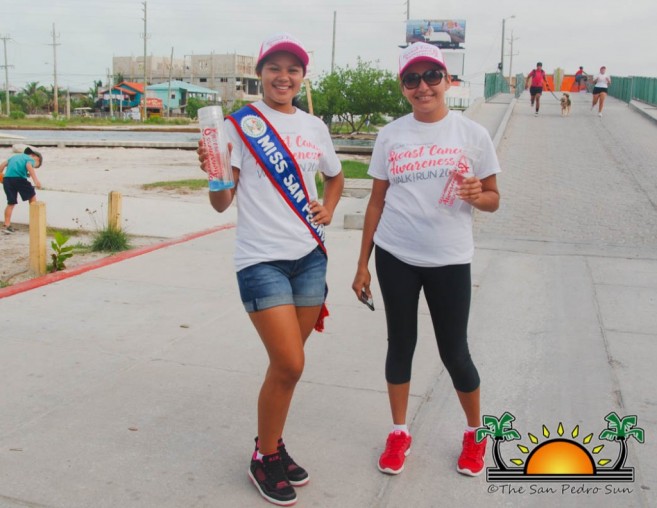 All proceeds of the event went to the benefit of the SPCS, and their future projects. Since the SPCS is active in launching campaigns, particularly towards women, they will hold more breast cancer campaigns in the future. "We gearing up for our biggest event, which is the annual Cancer Walk in February, and done simultaneously worldwide. In the meantime we are active and looking at ways how we can better assist the people on the island that are suffering from cancer," said Muñoz.
Muñoz thanked the SPTC for organizing such important event and as well everyone who came to participate. The organization welcomes support/sponsorship, and anyone that may want to assist the SPCS can feel free to contact President Muñoz at 601-5543.
Follow The San Pedro Sun News on Twitter, become a fan on Facebook. Stay updated via RSS