John McAfee detained in Guatemala and his political asylum denied
Thursday, December 6th, 2012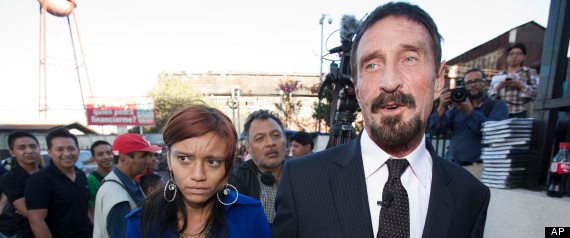 Authorities in Guatemala have arrested John McAfee. The 67 year old anti-virus pioneer is wanted for questioning in Belize but fled to Guatemala, arriving in the country's capital on Tuesday accompanied by his Belizean girlfriend Samantha Vanegas. In Guatemala, McAfee confessed to have entered the country illegally and had requested political asylum through his attorney Telesforo Guerra.
The multimillionaire and businessman is wanted in Belize for questioning in regards to the murder investigation of his neighbor, 52 year old American national Gregory Faull. Faull was found dead with a shot to the back of his head on November 11th.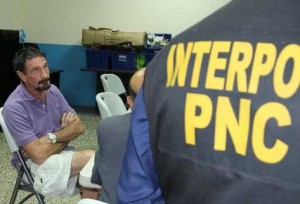 "We made the decision to deny (the asylum) and we will not give it to him, it is a right of this state," said Foreign Minister, Harold Caballeros. Meanwhile, Guatemalan President Otto Pérez Molina explained that the request was denied because of his background in Belize, where he has been photographed heavily armed. According to the Government of Guatemala, they have already notified McAfee's attorney of the decision and explained that McAfee will be deported as soon as they resolve an appeal by his lawyer. Minister Caballeros said that the Guatemalan government received a correspondent from their Belizean counterparts requesting that McAfee be transferred to Belize. "The gentleman has not been charged with a crime, he is simply wanted for questioning," reaffirmed Caballeros.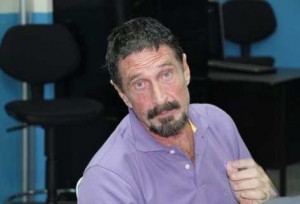 McAfee and his girlfriend have been at the immigration department, located in Zone 5 in Guatemala City, since he was detained by Interpol and Immigration officials Wednesday night at his hotel room. The Prensa Libre reports that an officer of the U.S. Embassy visited with McAfee and informed him that there is not much that the embassy could do, but they would see that his treated in a dignified way.
McAfee, who has access to internet from the shelter blogged and said "My mood is brighter; I took a couple of hours of sleep. Sam is fine."
Meanwhile Guerra made an application before the Tribunal Court (Juzgado de Turno de la Torre de Tribunales) against Interior Minister Mauricio Lopez stating that McAfee's arrest is considered "illegal." Guerra also said that will be making formal complain to the Ombudsman at Human Rights Department for violating the rights of McAfee.
In a more recent turn of events, our colleagues at The Prensa Libre reported to The San Pedro Sun that McAfee's Attorney has applied to a Judge at the Tribunal Court for McAfee to be granted an extension to remain in the country because he apparently suffered a cardiac arrest earlier today.
Follow The San Pedro Sun News on Twitter, become a fan on Facebook. Stay updated via RSS