Police Report
Sunday, September 11th, 2016
Drug Trafficking
On Monday, September 5th at 4:35PM, acting on Special Branch intelligence a joint team of Special Branch and Criminal Investigation Branch personnel intercepted a yellow Mazda Protégé four door Taxi at the corner of Caribeña Street and Barrier Reef Drive, occupied by a female passenger later identified as 19-year-old Tracy Betancourt. She was sitting in the front passenger side of the vehicle with a brown cardboard box in her lap. As a result, she was ordered out of the vehicle and a search was conducted inside the box which revealed four wrapped parcels consisting of cannabis. Betancourt was then escorted at the San Pedro Police Station where the drugs was weighed and amounted to 1,875 grams or 4.13 pounds. She was formally arrested and charged for Drugs Trafficking.
Found Drugs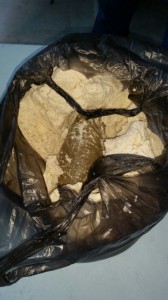 On Sunday, September 4th at 9:20AM acting on Special Branch intelligence a joint team of Special Branch and Criminal Investigation Branch personnel visited the Thunder Bolt Dock. Police retrieved a black plastic bag containing corn masa from the boat. A search was then conducted within the masa which led to the discovery of a wrapped parcel in brown plastic tape and green plastic bag. The said parcel was cut open which revealed suspected Cannabis. As a result, the package was taken to the San Pedro Police Station where the drugs was weighed amounting to 120.9 grams. The drugs were labeled as found property.
Aggravated Assault/ Possession of unlicensed firearm and ammunition
On Saturday, September 3rd at 12:30PM, 42-year-old Dorianny Perez of San Pablo area, San Pedro Town reported that at 7AM while she was looking for her cellular phone she asked her common-law husband Stephen Nunez if he had her cellular phone which caused him to get angry. He then reportedly pulled out the cell phone and placed it on the bed and she took it and she went into the other room. Stephen reportedly followed her and pushed her then reportedly pulled out a firearm and pointed it at her. Following the report police searched his apartment which led to the discovery of one chrome with black plastic grip ATM pistol with small chrome magazine loaded with three 380 live rounds. Police have since arrested and charged 35-year-old Stephen Nunez for the offences of "one count Kept unlicensed firearm, one count of Unlicensed ammunition and Aggravated Assault".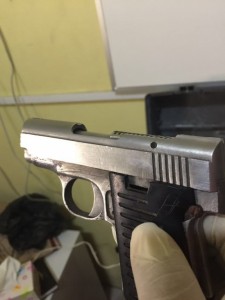 Theft
58-year-old Edwina June King presently residing in San Pedro Town reported that on the Monday, August 29th she took off her three gold rings (a Diamond gold Baggets with a citrine on the top with insignia Nova to its side valued at $40,000, a gold men's ring with a sapphire diamond on the center valued at $12,000, a pearl ring with diamond chips valued at $200. All to a total value of $52,200.00) and placed them on top of a coffee table inside her room. On Thursday, September 1st she realized that the rings were missing from her room. Police are investigating.
Possession of unlicensed firearm and ammunition
On Saturday, September 3rd at 7:10PM, acting on Special Branch intelligence, a joint team of Special Branch and Quick Response Team personnel stopped and searched two male persons who were seen coming off the Ocean Ferry Boat from Belize City. They were identified as 21-year-old Akeem Augustus and a 15-year-old minor, both of Hattieville Village. A search was conducted inside a black, blue and white school bag which led to the retrieval of a black plastic bag containing a black rusty .38 revolver Smith and Wesson Brand model # 85 with no visible S/N along with seven S&B rounds, one Aguila round and two GFL rounds; a total of ten .38 live rounds of ammunition. Both persons were formally arrested and charged in the presence of a Justice of the Peace for Kept Firearm and Ammunition without a gun license and were remanded. Information received indicated that a resident from San Pedro Town was bringing in both persons to commit an Armed Robbery.
Follow The San Pedro Sun News on Twitter, become a fan on Facebook. Stay updated via RSS