Deputy Party Leader Honorable Gaspar Vega resigns
Friday, March 11th, 2016
First Deputy Party Leader of the United Democratic Party (UDP), Honorable Gaspar Vega has officially submitted his resignation. This was confirmed early on Thursday, March 10th, via a press release from the UDP Secretariat.
In a letter dated Wednesday, March 8th, 2016, Vega, who is also the Deputy Prime Minister of Belize and holds the portfolio of Minister of Agriculture, Forestry and Fisheries, informed the party of his decision not to stand again for his Orange Walk North seat in the next General Elections.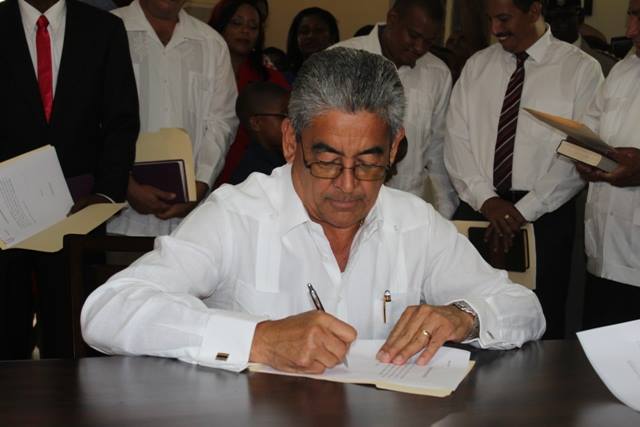 According to the UDP, Vega informed them that in view of this early notification of his retirement from electoral politics, he feels it is right that he not continue as First Deputy Party Leader. Furthermore, he mentioned that he is no longer prepared to accept the four year endorsement as First Deputy of the party.
Vega decided to make the announcement prior to the scheduled UDP convention which is to take place on Saturday, March 20th. At the convention he would have been endorsed as first deputy, nevertheless, the convention will proceed only to endorse, for the next four years, the Party Leader Rt. Honorable Dean Barrow; the Second Deputy Leader, Honorable Erwin Contreras; the Party Chairman Alberto August; and the Deputy Party Chair Fern Gutierrez.
The UDP National Party Council will be meeting shortly after the convention to decide on the procedure and timing for a special election to choose the new First Deputy Party Leader who will succeed Vega.
"I will continue to "faithfully serve the United Democratic Party and will do whatever….in the interest of the betterment of the party," he said. "I will work arduously with my successor to ensure another victory for the great constituency of Orange Walk North."
The UDP expressed its gratitude to Vega for his long and successful tenure as First Deputy Leader. Additionally, the party commented on how outstanding Vega has been in his constituency. "No one worked harder, especially in the North, to achieve the record electoral success of the UDP, and Honorable Vega is worthy of great praise and thanks," the party stated.
Furthermore, the party indicated that Vega's decision regarding his tenure as First Deputy Party Leader, has nothing to do with his position as a Minister of Government and that he remains in the Cabinet of Belize.
Follow The San Pedro Sun News on Twitter, become a fan on Facebook. Stay updated via RSS